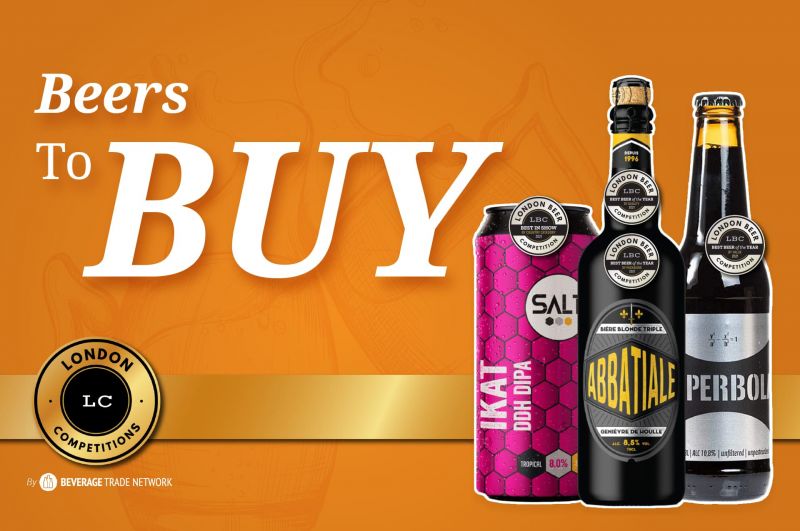 10/12/2021 Here are the top 8 beer suggestions for the On-Trade to stock. These were tasted and reviewed by the UK's leading buyers on Quality, Value, and Packaging.
For any beer brand to earn its place on an on-trade list, it not only has to taste great, and appeal to discerning beer aficionados, but also be marketable, and not just brewed in the vague hope that it will somehow find a big enough audience prepared to buy and sell it. If you're feeling baffled by the beer category- and it's not surprising if you are, given the sheer number of brands and varieties jostling for attention - this is where the London Beer Competition can prove such a boon as it judges all entries on these very criteria – quality, value for money and packaging.
[[relatedPurchasesItems-40]]
While the big international brands still hold sway, smaller brewers are increasingly gaining a foothold amongst consumers who are seeking out authentic, hand-crafted, local, high-quality products. So much so, in fact, that so-called "big beer" has in recent years upped its efforts to capture a slice of the business with "crafty" beers and marketing.
However, a 2020 YouGov survey revealed that beer drinkers increasingly believe genuine craft beer should be produced by small indie brewers and not large global manufacturers. And while the volume growth in craft beer is slowing, its value is increasing, as it is regarded by consumers as a premium product worth shelling out for.
No and low-alcohol and free-from beers are also set to be one of the fastest-growing elements of the market, as drinkers increasingly try to slash their alcohol consumption. Consumers are also becoming more conscious of buying beer made by brewers with strong ethical and environmental credentials.
Providing the right range is key to maximising sales, and with more drinkers now wanting to experiment, particularly in the ale category, getting the balance between choice and quality is essential. Here is a selection of award-winning brews from the 2021 London Beer Competition that are more than worthy of a listing in your beer offering.
Abbatiale Genièvre de Houlle
Why you should list it:
Awarded Beer of the year at this year's London Beer Competition, as well as Best Beer by Quality, this premium brew from France's Brasserie des Sources would make a classy addition to any on-trade list. Enhanced by a generous blend of spices, juniper berries and a dash of Houlle juniper, it is refermented in an opaque bottle that protects it from the light, further refining its unique flavour. Mitch Adams, beer and cider buyer for Euroboozer and one of the judges described it as having "big honeyed sweetness, full-flavoured deep rich golden ale, and beautifully packaged."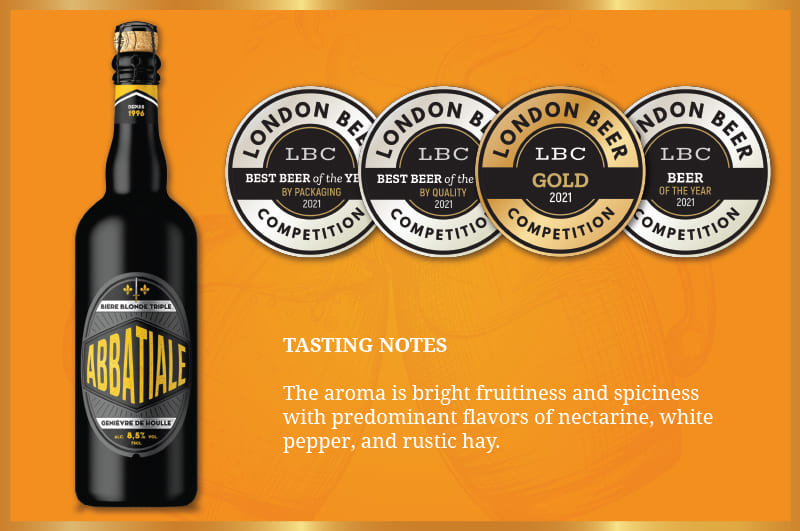 • Producer Name: Brasserie des Sources
• Points: 94
• Country: France
• Category: Strong Belgian Ale
Ikat DDH IPA
Why you should list it:
Not only did the Yorkshire-based Salt Beer Factory walk off with Brewery of the Year, but it also scooped the Best in show by country (United Kingdom) award, so you can be assured that any beer from this craft brewer is going to be top-notch. At a weighty 8% abv, its Gold-award winning DDH DIPA Ikat beer is certainly a full-bodied brew to be reckoned with, boasting tropical flavours such as guava, mango, passion fruit and lychee, giving way to mellow notes of honey for a smooth but bold finish.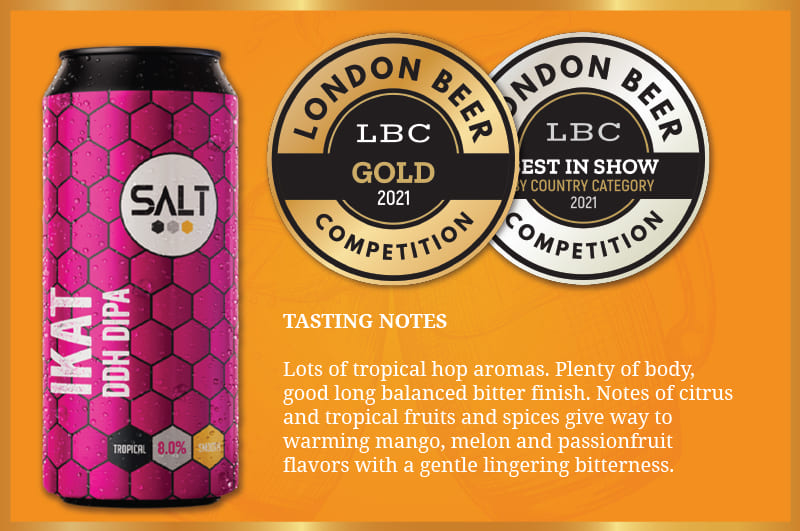 • Producer Name: Salt Beer Factory
• Points 94
• Country: United Kingdom
• Category: Strong American Ale
Great Skanderborg – Castrum
Why you should list it:
Great Skanderborg Castrum is a spin-off from the original IPA from the Danish brewer Skanderborg Bryghus and is packed full of tropical fruit flavours such as sabro, eukaunot and loral hops. And with an abv of 11.5%, it packs a mighty punch, helping it to be awarded Best in Show by Country (Denmark), to add to its trophy cabinet.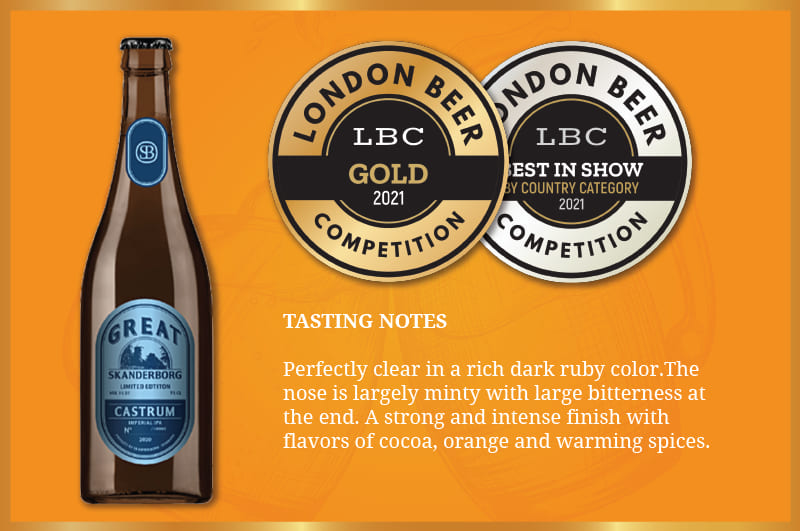 • Producer Name: Skanderborg Bryghus
• Points: 93
• Country: Denmark
• Category: Strong American Ale
Tripel Karmeliet
Why you should list it:
This medium-bodied, classic golden Belgium Tripel by Brouwerij Bosteels was awarded both a gold medal and Best in Show by Country (Belgium) at the London Beer Competition, impressing the judges with its refined and complex aromas of herbs and citrus and the rich, soft sweetness of lemon cake. First brewed in 1996, it is made from a three-grain recipe - wheat, oats and barley –and has an abv of 8.4%.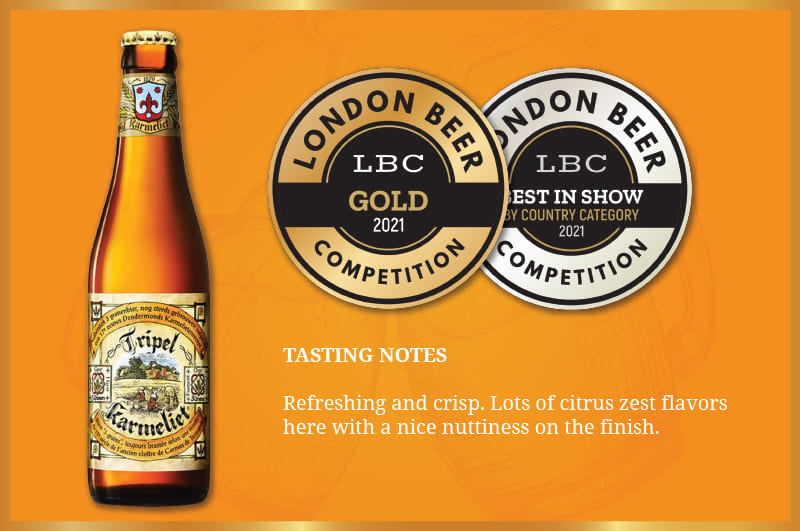 • Producer Name: Brouwerij Bosteels
• Country: Belgium
• Points: 93
• Category: Trappist Ale
Porter Baltycki Trzech Kumpli
Why you should list it:
Dubbed "black gold", Baltic Porter is a taste sensation, full of liquorice, caramel, chocolate and treacle flavours. At 8% abv it's no lightweight in the alcohol stakes either, but a creamy sweetness balances this perfectly. Awarded a Gold medal at the London Beer Competition, the Tarnów-based Trzech Kumpli Brewery also walked off with Best in Show by Country (Poland).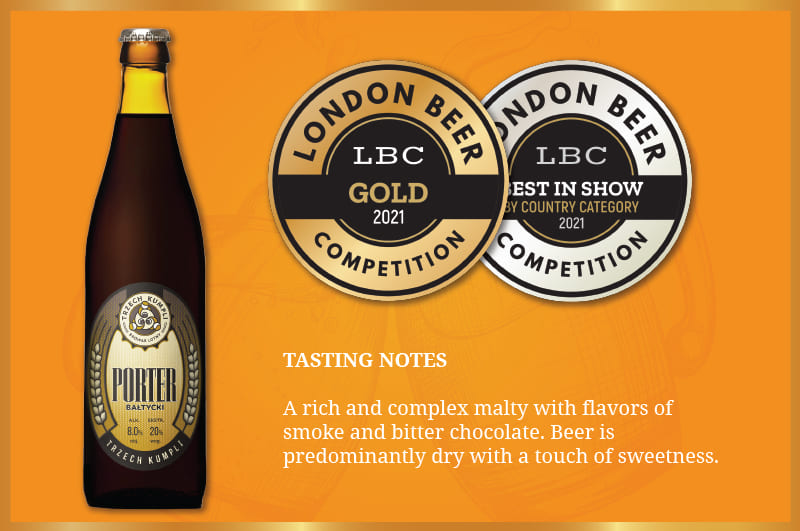 • Producer Name: Trzech Kumpli - Browar Lotny
• Points: 91
• Country: Poland
• Category: Strong European Beer
Hyperbola, Lepi Decki Brewery
Why you should list it:
This unfiltered 10.8% abv draught by Croatian brewery Lepi Dečki, established by entrepreneur Danijel Radek in 2016, is a perfect combination of dark, thick beer that is a delicious combination of the sweet and bitter and makes a particularly good match with chocolate desserts. Not only did the judges deem it worthy of a Gold Award, but they also pronounced it the Best beer by Value.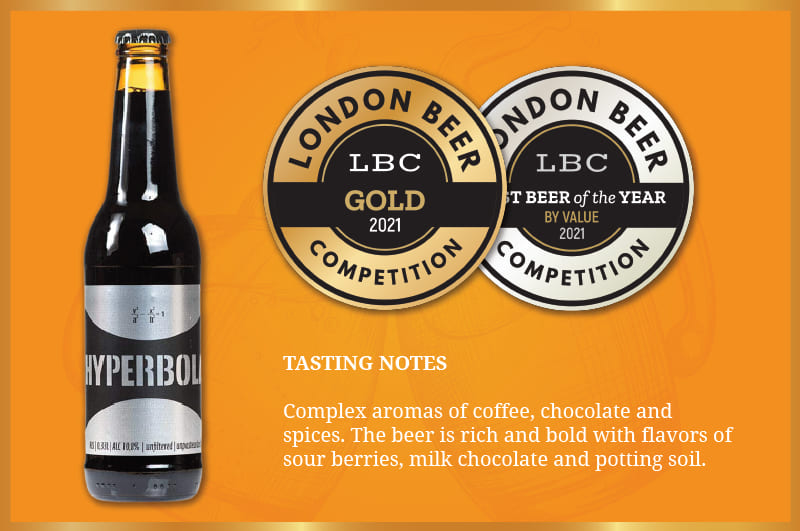 • Producer Name: Aggero Doo
• Country: Croatia
• Points: 91
• Category: Dark British Beer
La Dark Soul, Brasserie du Bois Blanc
Why you should list it:
This 9% abv dry Imperial stout from Canadian brewer Brasserie du Bois Blanc was awarded a Gold medal at the London Beer Competition, and admired by the judging panel for its coffee and dark chocolate flavours and fresh hops of simcoe and citra. It makes the perfect match for red meat, dark chocolate and desserts.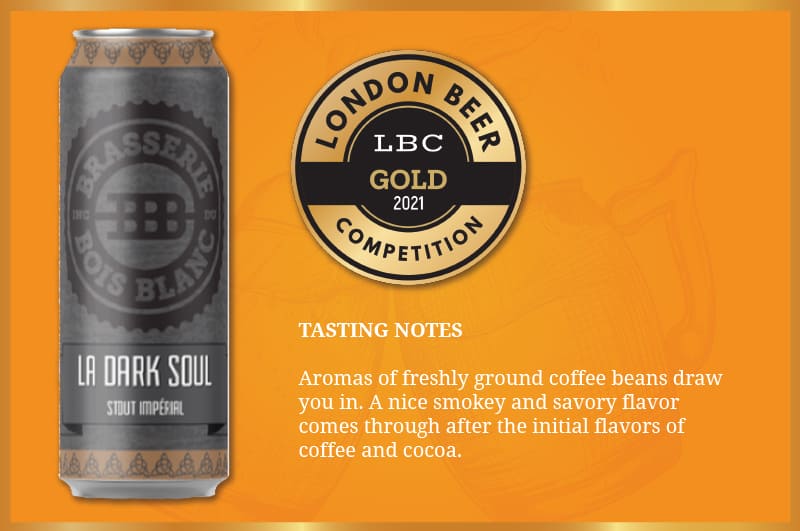 • Producer Name: Brasserie du Bois Blanc
• Points: 90
• Country: Canada
• Category: American Porter and Stout
1820 Porter, the Beerblefish Brewing Company
Why you should list it:
This 1820 Porter from London-based social enterprise Beerblefish Brewing Company wouldn't look out of place in a Victorian porterhouse, with the modern-day recipe barely changed from the early 19th Century. Scoring 90 points at the London Beer Competition, bagging it a Gold Award in the process, this vegan, unfiltered, unfined beer is packed with malt, wheat and chocolate notes, and makes a great match for cheese or chocolate.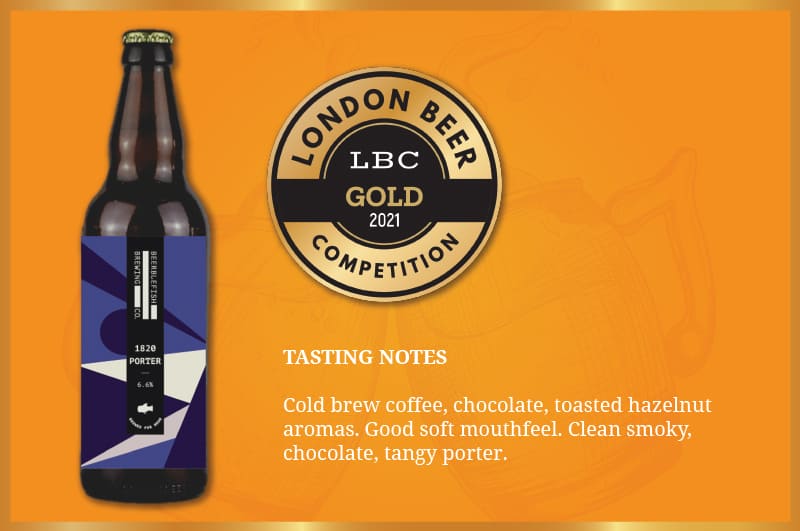 • Producer Name: The Beerblefish Brewing Company Limited
• Points: 90
• Country: United Kingdom
• Category: Brown British Beer
TAGS: