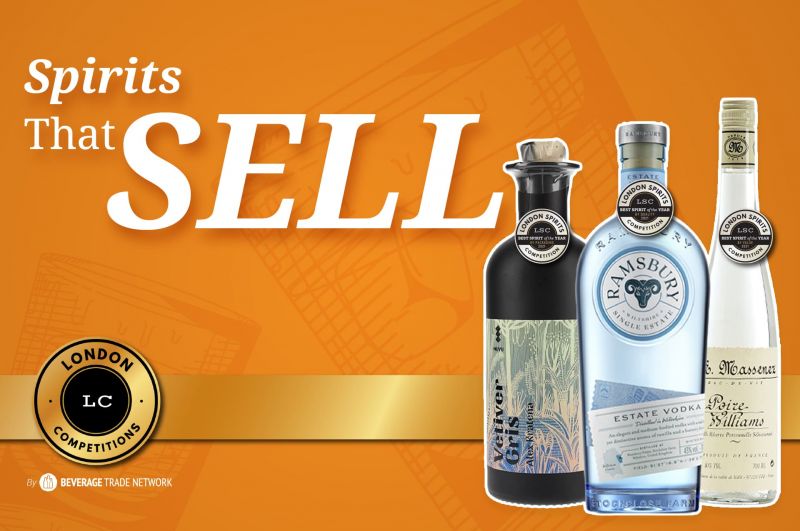 10/12/2021 Here are the top 10 spirits suggestions for the On-Trade to stock. These were tasted and reviewed by the UK's leading buyers on Quality, Value, and Packaging.
With the enormous growth in artisan and hand-crafted spirits in the UK, spurred on by consumers' growing interest and concern for the provenance of their food and drink, there has never been more choice in the market. Allied to this the huge plethora of international brands jostling for attention and the choice can seem mind-boggling when it comes to devising a comprehensive spirits list.
[[relatedPurchasesItems-23]]
So whether you specialise in a particular spirit or want to offer a range across the board, where do you turn? You could do worse than take a look at some of the winners of the London Spirits Competition, now in its fourth year, and the only event of its type that rewards distillers and spirit brand owners for making products that tick all the boxes when it comes to how a professional bartender or spirits drinker would select which product to buy.
You can be assured that all those spirits awarded medals will be quality products that not only taste great, and are best in class, but offer great value for money, but most importantly are guaranteed to appeal to your guests, rather than simply gathering dust and taking up valuable shelf space on your back bar.
Here is a selection of some of the Gold winners which would make a worthy addition to any spirits list.
Ramsbury Single Estate Vodka
Why you should list it:
With its "field to table approach", Ramsbury Estate in Wiltshire prides itself on its sustainable practices allowing every bottle it produces to be traced back to the very field where the grain was grown. Its Single Estate Vodka, holder of the Vodka of the Year Award is produced from wheat grown on the estate and is a rich and smooth 43% abv spirit that ticks all the boxes. It certainly impressed the judges, with Ludovica Fedi, head bartender at the Gleneagles hotel describing it as having a "sweet aroma with marshmallow notes, creamy body with interesting milk chocolate notes, while fellow judge Kieran Grieves, head of drinks development at the Cairn Hotel Group admired its "golden sultana, raisin and sweet vanilla" flavour, pronouncing it to be "sublime".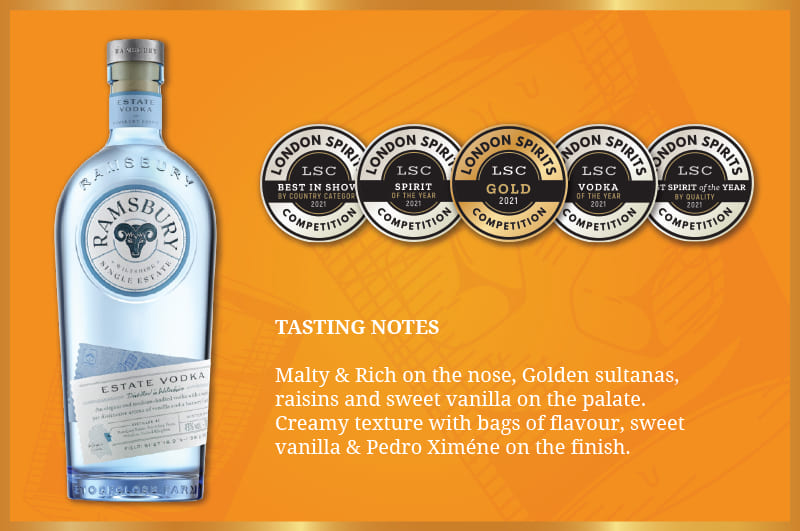 • Producer Name: Ramsbury Brewing & Distilling Co
• Points 96
• Country: United Kingdom
• Category: Vodka
Botanic Australis Navy Strength Gin
Why you should list it:
From the Mt Uncle Distillery in Queensland, this navy strength gin with an abv of 57% certainly packs a punch, and makes for a wonderfully refreshing G&T. Founder and head distiller Mark Watkins believes his use of all-Australian botanicals gives his gin an interesting edge, saying the aim has always been to create "the quintessential Australian gin". The higher alcohol content enables the spirit to hold more botanical oils and flavours including lemon-scented gum and lemon myrtle, which gives the spirit unusual cloudiness.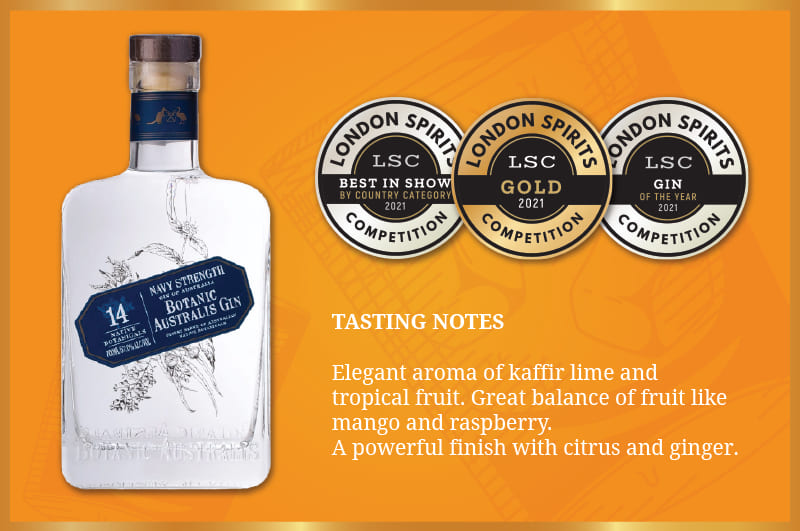 • Producer Name: Mt. Uncle Distillery
• Points: 94
• Country: Australia
• Category: Gin
Monmouth Gin
Why you should list it:
Given the huge popularity of gin, there's always room on your back bar for a range to give guests some choice, and this premium variety from the Monmouth Gin Company in the Wye Valley in Wales makes for an interesting addition to any collection. Handcrafted using botanicals local to the area, the gin includes sweet woodruff, elderflower, blackberry leaf, and Scots Pine along with coriander, grapefruit, and juniper to create a fresh, crisp gin with leafy forest flavours and delicate floral notes.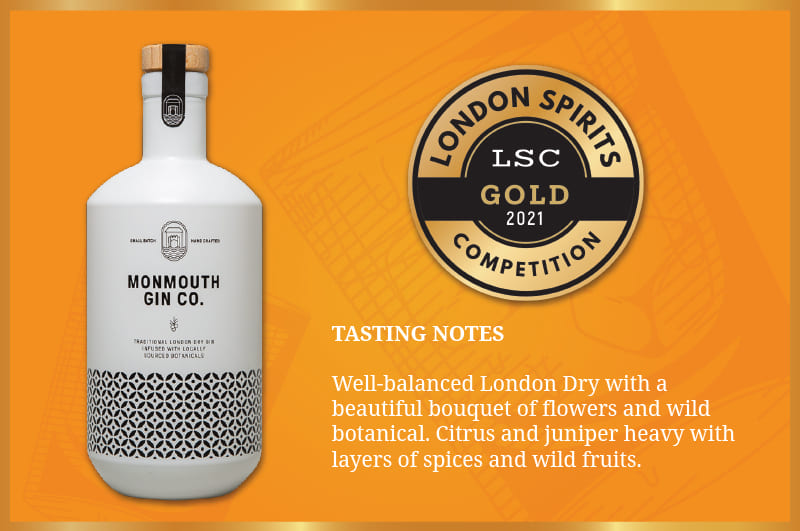 • Producer Name: The Monmouth Gin Company
• Points: 93
• Country: United Kingdom
• Category: Gin
G.H.Q. Scottish Vodka
Why you should list it:
Scotland may be better known for its Scotch whisky, but this vodka from Aberdeenshire-based GHQ Spirits scooped a Gold medal at the London Spirits Competition, more than holding its own amidst stiff competition. Described as having a "bold nose with clean small grains and a touch of maltiness", the vodka, which was awarded 92 points in the competition, makes a great match with Mediterranean style tonics and ginger ale.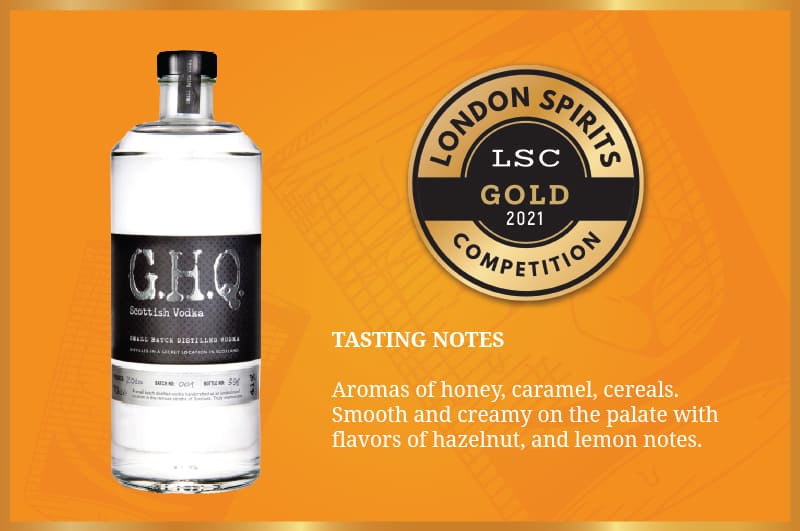 • Producer Name: G.H.Q. Spirits
• Points: 92
• Country: Scotland
• Category: Vodka
Rum Nation Guatemala XO Rum
Why you should list it:
Increasing demand for higher quality rum and the huge interest in cocktails should be reason enough to reserve a place for this award winner on your spirits list. Awarded Rum of the Year by the judges at this year's London Spirits Competition, Rum Nation's Guatemala XO is made from molasses and virgin sugar cane juice and aged in bourbon casks at sea level, where it benefits from the tropical climate. After four years it is then laid to rest for a further 18 months in two different types of sherry barrels, giving it a rich, sweet and velvety flavour.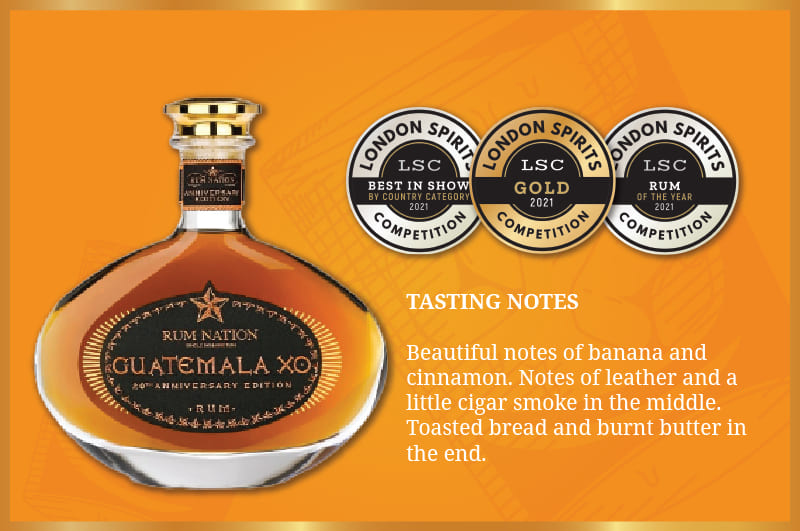 • Producer Name: Rum Nation International
• Points: 94
• Country: Italy
• Category: Rum
Dingle Distillery Fourth Single Pot Still Release
Why you should list it:
Kerry-based Dingle Distillery claims to put quality, artisan whiskey production at its heart and is one of the first of a new breed of distilleries in Ireland. Awarded Whisky of the Year at the London Spirits Competition, this Fourth Single Pot Still Release is matured exclusively in Pedro Ximenez casks which results in a complex, vinous spirit, with notes of dried fig and candied citrus peel.
• Producer Name: The Dingle Distillery
• Points: 94
• Country: Ireland
• Category: Whisky
A de Fussigny Grande Champagne VSOP
Why you should list it:
As demand soars for France's national spirit, distillers are continuing to innovate in the category, producing some bottles of superb quality. The stellar A de Fussigny, which dates back to 1814 and is situated on the banks of the Charente River, is one such example. Its Grand Champagne VSOP, which was awarded Cognac of the Year at the London Spirits Competition, is made using Eaux-de-vie from the Grande Champagne region and is matured for a minimum of four years. The area is renowned for producing Cognacs which are known for their exceptional depth of flavour and complex flora aromas, and this is no exception.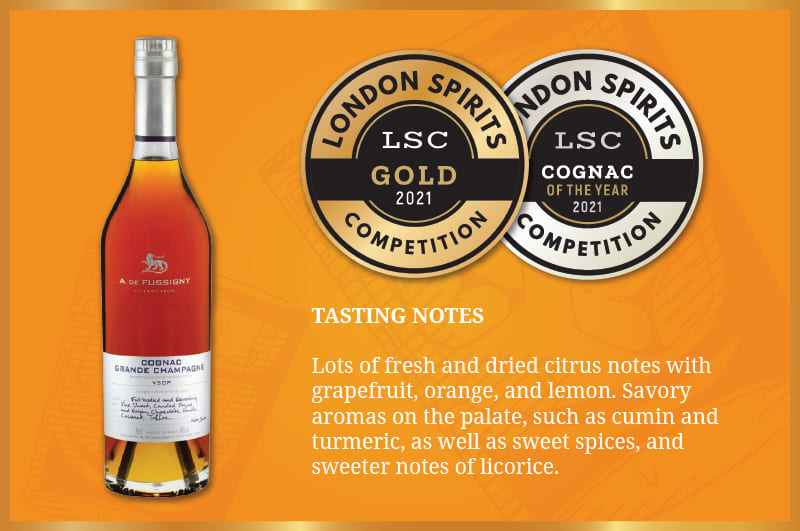 • Producer Name: A De Fussigny
• Points: 93
• Country: France
• Category: Cognac
Izo Tequila Extra Anejo Cristalino
Why you should list it:
The surging interest in cocktails has given the tequila market a massive boost, and one brand that stands out from the crowd is the Mexican Izo Extra Anejo Cristalino. Awarded the best tequila at the London Spirits Competition, it is made from wild-harvested blue agave which is native to the Mexican state of Jalisco, twice distilled, and then aged for a further three years in wooden barrels to produce an authentically aged Extra Anejo. A final charcoal filtration process results in the bright crystal clear "cristalino" appearance, much admired by the judges, along with its subtle smokiness and bouquet of herbs, fruit, and spices.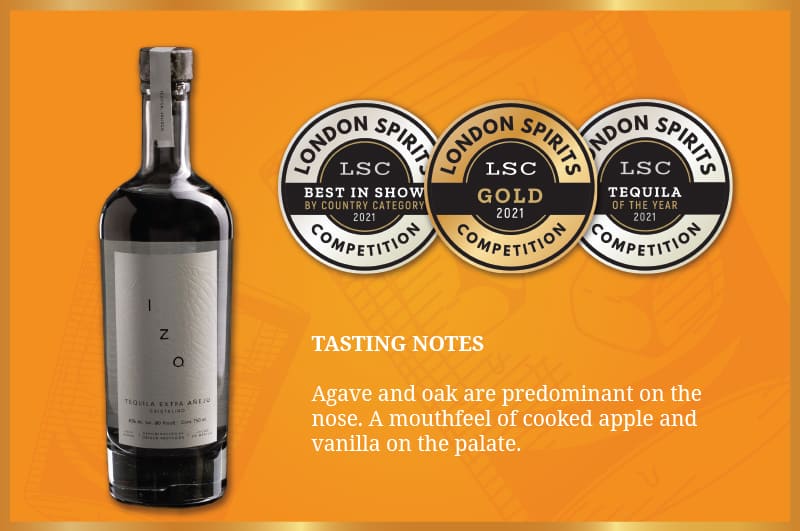 • Producer name: Belzmart Group
• Points: 90
• Country: Mexico
• Category: Tequila
St Rémy Signature Brandy
Why you should list it:
St-Rémy, the world's leading French brandy producer, is on a mission to attract a new, younger breed of brandy drinker by breathing new life into the brandy category with the launch last year of its latest release, St Rémy Signature Brandy. Aimed to inspire 21st-century cocktail aficionados, both behind the bar and at home, the 100% French spirit won over the judges at the London Spirits Competition, awarding it the Brandy of the Year Award and commending it for its sweet aromas of vanilla, coconut, and almond, along with woody notes enriched with honey, nut and butter flavours.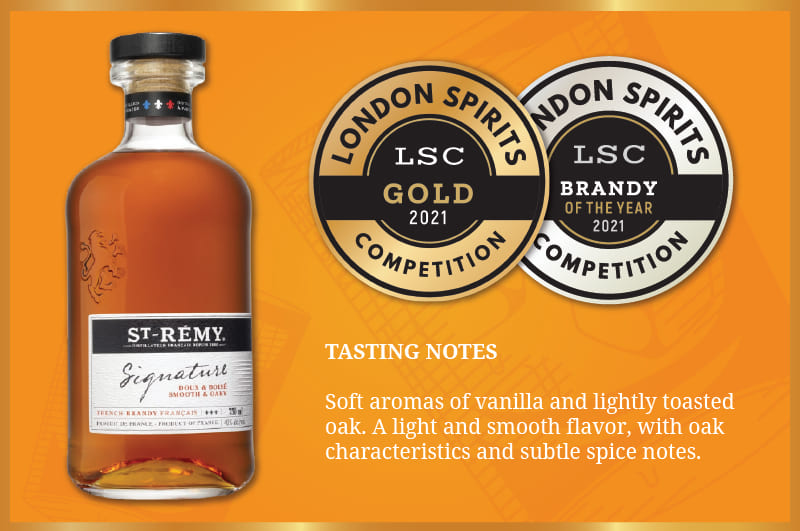 • Producer name: Rémy Cointreau
• Points: 93
• Country: France
• Category: Brandy
Muyu Vetiver Gris
Why you should list it:
With woody, earthy notes including cedarwood, vetiver, and patchouli, this modern liqueur by De Kuyper Royal Distillers wouldn't sound out of place on a perfumers' shelf. Hardly surprising when the team behind this modern liqueur deliberately combined a boutique perfume attitude with a cocktail philosophy, aiming to bring "extraordinary ingredients to modern bartenders". Inspired by the Amazon Rainforest, this Dutch liqueur, awarded Liqueur of the Year at the London Spirits Competition produced using all-natural ingredients is specifically designed to be used for cocktails, and only uses responsibility sourced ingredients and environmentally friendly practices in its production.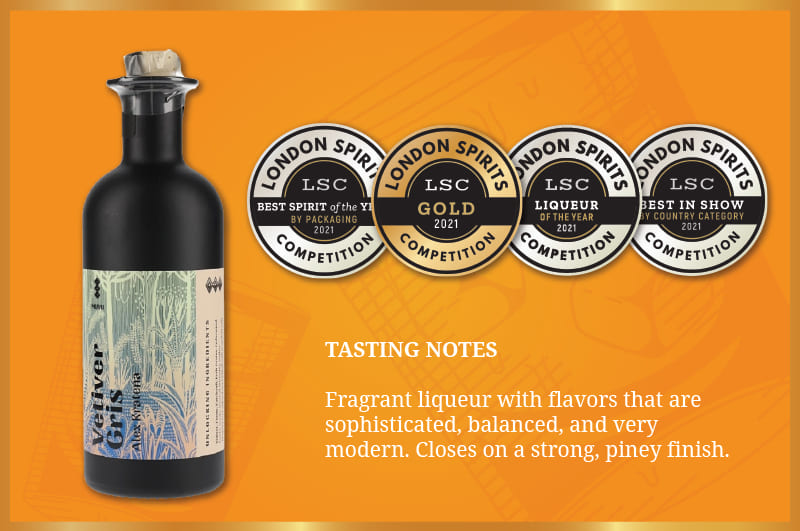 • Producer: De Kuyper Royal Distillers
• Points: 93
• Country: Netherlands
• Category: Liqueurs
TAGS: