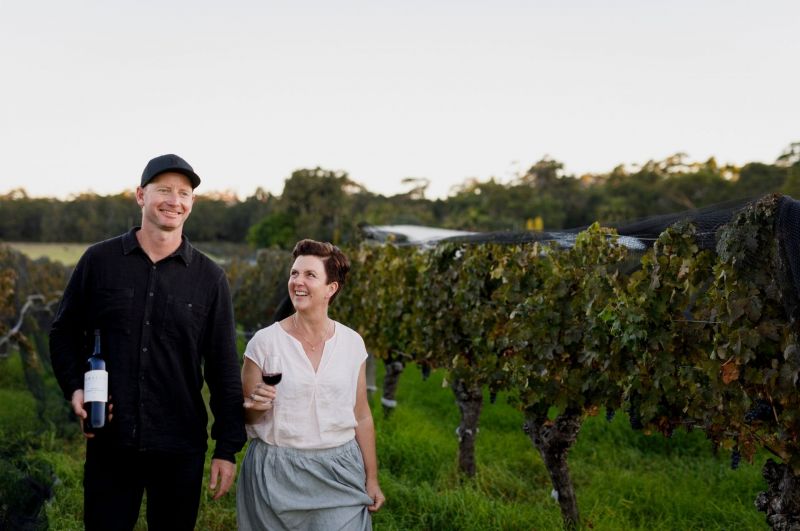 09/04/2022 The keenly contested competition sees Australia's Gralyn Estate take top prize with its Artizan Rare Muscat.
After weeks of nail-biting anticipation, and much deliberation from the judging panel, the results are finally in, with the prized London Wine Competition's Wine of the Year award going to Margaret River-based Gralyn Estate for its Artizan Rare Muscat.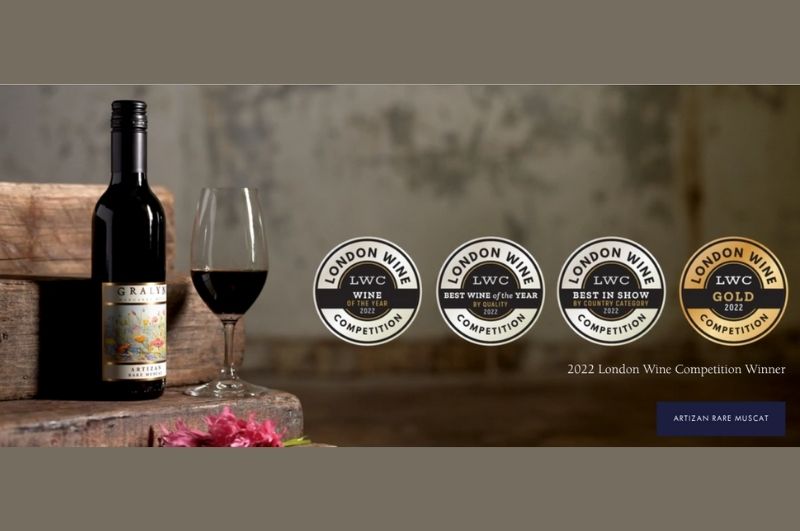 Image: Artizan Rare Muscat "Wine of the Year" - London Wine Competition - 2022; Source: Gralyn Estate.
Co-owners Annette and Scott Baxter said they were "thrilled" with the news and "honoured" to receive the accolade. "It's always a nice surprise to hear you've done well but being awarded 'Wine of the Year' is something special!" they said, though this is not the first time that the Artizan Muscat has been recognized, being Gralyn Estate's most highly decorated wine, winning 12 trophies to date, along with numerous gold medals.
"The Artizan Rare Muscat is a special piece of our family history which my parents initiated many years ago for the love of fortified wine," said Annette. "Fortified winemaking has always been a passion of ours with our first fortified produced back in 1978, 60 gallons in a concrete tank! How things have changed…"
Founded by Graham and Merilyn Hutton in Wilyabrup in 1975, Gralyn Estate first opened its cellar door in 1978, and their daughter Annette and her winemaker husband Scott took over the reins two years ago. "We are boutique, crushing between 30 and 40 tonnes per year and sell the majority of our wine direct from our cellar door," she said, adding that the first release of Artizan was almost 20 years ago when the Solera came of age.
[[relatedPurchasesItems-38]]
"The wine we see today has evolved and developed since our beginnings. We feel these awards will highlight to consumers the outstanding fortified wines produced in the South-West corner of Australia. Our brand has always had a very high reputation for our Chardonnay, Shiraz, and Cabernet Sauvignon and it is lovely to see our aged fortified resonate so well with respected judges and sommeliers."
Good quality fruit is key to making great wine, according to the Baxters, and patience is also essential when it comes to the old barrel-aged styles which have an average age of around 20 years. The art of blending and freshening to produce the final wine is also an important skill "The Artizan is a luscious, fortified dessert wine made predominantly of muscat. It is vibrant, deep amber-brown with a green rim. On the nose: lifted and layered with spice, butterscotch, and fruit cake. Many years of maturation in old oak casks has imbued richness and rancio complexity, while an intense raisin and toffee flavor sustain a long, clean finish. These wines are precious as there is considerable loss each year from evaporation, what's described as Angel's Share, and this gives the wine its power."
While the Baxters are passionate about their wine, they also understand the importance of good branding and packaging, which both play a key role in the marketability of any wine competing in the marketplace with thousands of others. "We believe the packaging certainly plays a role in marketability and in this case, the name of the wine 'Artizan' works in harmony with the label and wine. A limited release with original label artwork by Gralyn Estate co-founder Merilyn Hutton."
The Baxters also ensure that Gralyn Estate is an attractive place for visitors, known not only for its superb range of wines but also for its beautiful flower gardens. "We plant the estate with seasonal cottage garden style flowers to attract beneficial insects and native wildlife to our vineyard," they explain. "Attracting beneficial insects and pollinators to our organically farmed vineyard assists in keeping our vineyard free from unwanted pests."
Gralyn wines are currently only available directly from the Estate and in Singapore via Malt Wine Asia, though the winery will be participating in a forthcoming Wine Australia event where they will be seeking distribution in the UK and other selected markets.
The London Wine Competition, now in its fifth year, is internationally recognized and judged by a top team of wine experts with an impeccable pedigree, who have been chosen not only for their knowledge but also for their experience as trade buyers. They comprise a panel who have direct current responsibility for drinks buying with this year's competitions seeing several new judges added to the already impressive panel that the organizers, US-based Beverage Trade Network (BTN), have put together to assess the big increase in entries, up from 1100 in 2021 to 1300 this year.
The judging panel includes a clutch of Master of Wines including Peter Mitchell, MW, and wine director at Jeroboams; Tim Tiptree, MW and international director of wine at Christie's; MW at Berry Bros &. Rudd; and David Round, MW, and director at Big Fish Little Fish.
Judges also include a wide range of top bartenders, owners, and managers from the hospitality, retail and wholesale sectors with representations from Dukes Hotel, the Connaught Bar, Soho House, Gleneagles, the Goring, Sofitel, Browns Hotel, Annabel's Club, Petersham Nurseries and the Ritz, to name just a few. With such a prestigious line-up of judges who demand the very best in their professional lives, the judging process is renowned for its rigour.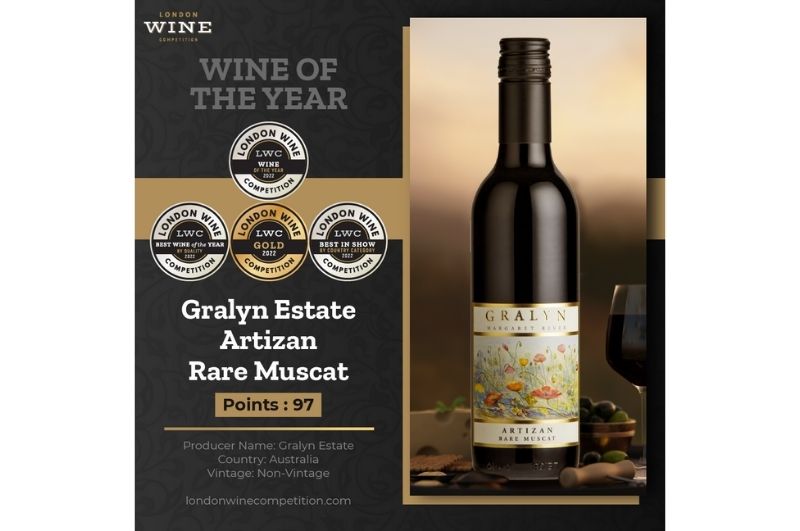 Image: Artizan Rare Muscat "Wine of the Year" - London Wine Competition - 2022
While delighted with their win at the London Wine Competition, the Baxters are not resting on their laurels. They are planning on planting six hectares of new vineyards this year, extending their prime old-vine block which was established in 1975. The new planting in the spring will include Muscat, Shiraz, Cabernet Sauvignon, Malbec, and Chardonnay. "Margaret River's reputation is built on first-class Cabernet Sauvignon and Chardonnay and soon to be Muscat!
"As viticulturists and winemakers, we are proud to carry the Gralyn Estate story forward to another generation, with a focus on the land we call home and the quality that has run deep through the Gralyn Estate story since 1975."
Header Image: Annette and Scott Baxter, Co-owners, Gralyn Estate.
TAGS: