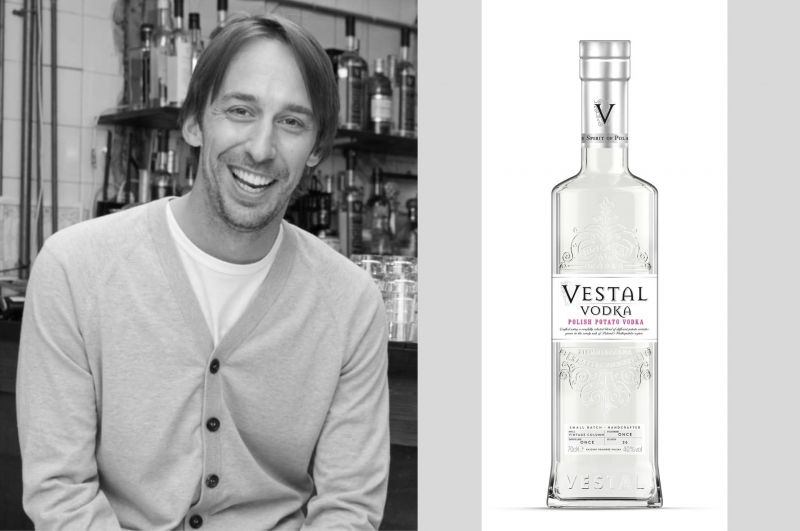 06/04/2022 Second, only to Russia in terms of annual consumption, Poland certainly knows a thing or two about vodka, which is heavily imbued in the country's heritage and culture. 
Given vodka's Eastern European origins, it doesn't come as much of a surprise that the winner of the Vodka of the Year at the 2022 London Spirits Competition announced yesterday is the Polish Vestal Vodka brand produced by Halewood Artisanal Spirits. Launched in 2010, Vestal Vodka has enjoyed incredible growth since its inception and is now available in 15 global markets, including the UK, Poland, the US, and Australia.
But unlike many other vodka brands, which have pursued a relentless strategy of purity, which has resulted in what Vestal dismisses as "tasteless, manufactured spirits suitable only for mixing", Vestal prides itself on the fact that it has rebelled against this path, choosing instead to focus on terroir which is usually only associated with wine production.
The distiller grows its own potatoes used to make its 40% ABV vodka in the fertile land of the Kaszebe and Podlasie regions of the country, ensuring that only the very best varieties are used, and then harvests them young.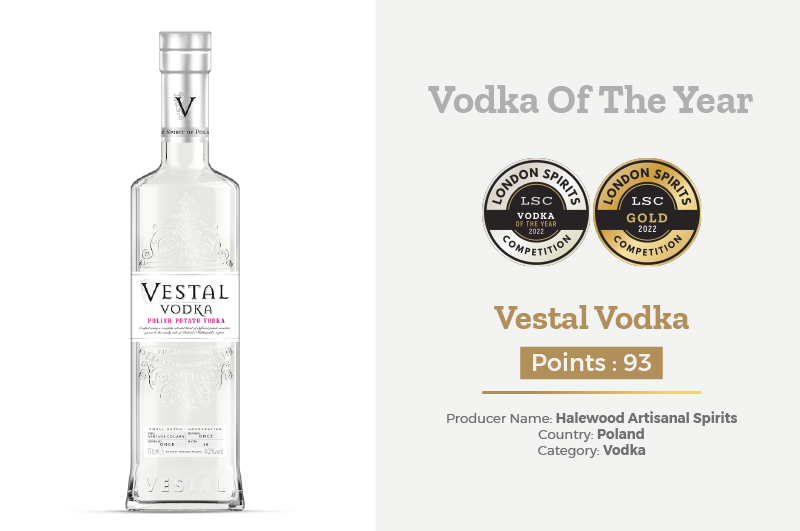 Image: Vestal Vodka - Vodka of the Year, London Spirits Competition - 2022
The distillation process is then carried out just once, in a vintage 26 plate column still, and filtered through charcoal, to preserve the distinctive aromas and flavors of the potatoes. Perfect neat, or mixed in a cocktail, the vodka is a top-quality spirit with something quite unique – an actual flavor. "On the nose, you'll detect elegant floral notes, reminiscent of red apple skins, while the palate will initially celebrate traces of lime and kiwi followed by the pleasant surprise of mint choc chip ice cream," claims the tasting notes.
Founder of the brand William Borrell expressed his delight at scooping the award for Best Vodka. "This is incredible news for us," he said. "It's amazing to be recognized by such a prestigious competition as this, and particularly one that places so much importance on quality and excellent value, which is what we really pride ourselves on with Vestal." As to the future, Borrell says he is keen to keep building on the success of the brand. "We want to continue to grow our presence both within the UK and international markets," he confirmed.
[[relatedPurchasesItems-39]]
One of the country's most prestigious drinks awards and now in its fifth year, the London Spirits competition recognizes the very best in spirits, not only for their taste but also for their market viability and packaging, as judged by an expert team of drinks industry professionals.
A record number of entries - over 2,500 from 80 different countries - were entered into the competition this year, all vying for the much-coveted bronze, silver, and gold accolades, a 50% increase on last year. The top panel of judges, comprised of some of the world's leading figures from the hospitality sector included representatives from the country's most prestigious restaurants, bars, and hotels such as the Ritz, Le Manoir, Gleneagles, the Goring, the Connaught, and Claridges. Judges from the retail and wholesale sector were also represented, with individuals from Enotria, Selfridges, and Berry Bros & Rudd and a clutch of Master of Wines completing the exacting judging lineup, spending two days sniffing, swirling, tasting, and spitting their way through the vast array of entries.
Tom Byrne, one of the judging panel and head bartender at the Hoxton in London's Holborn said that the sheer number of entries made the judging process "tough", particularly with the vodkas, which sas "as expected". "The liqueur and flavored vodka category surprised with the quality, and interesting pricing for New Zealand and Australia- everything seemed a bit more expensive," he noted.
Judged on three key criteria – quality, value, and packaging, and scored on a 100-point scale, those spirits that score 90 plus points are awarded a Gold medal while spirits that accrue 76 – 89 points receive a Silver. Bronze award winners are those drinks that assemble between 65 – 75 points.
In the UK Vestal Vodka is currently available online at Amazon and The Whisky Exchange, as well as in top London department stores Fortnum and Mason, and Harvey Nicholls.
The Vestal Vodka range also includes a Black Cherry and a Raspberry and Blackcurrant variant.
TAGS: