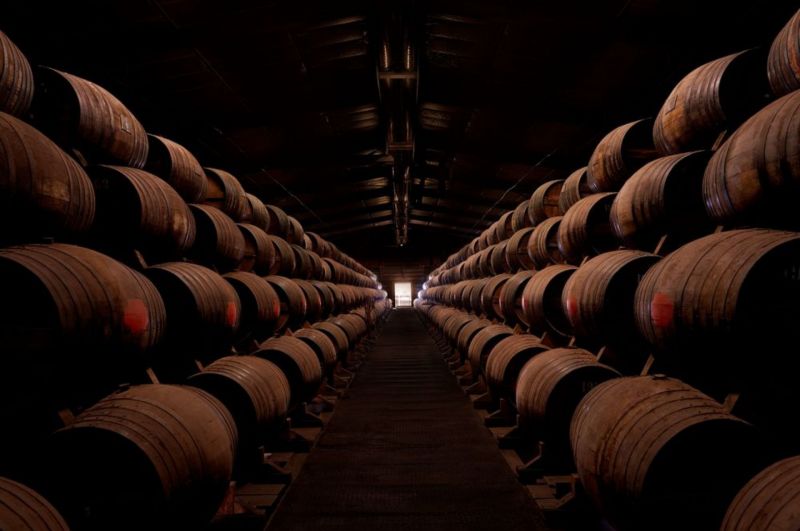 01/12/2021 Hervé Buzon, International Marketing Director at St-Rémy's shares how the huge interest in cocktails in recent years has given brandy a new lease of life.
With a history dating back to 1886, St Rémy is a veteran of the spirits market and considered one of the top French brandies by many connoisseurs. But with the launch of a new line, St Rémy Signature, the brand has high hopes of reinvigorating the sector, by attracting a new generation of young drinkers to the market. And after winning the Brandy of the Year award at the London Spirits Competition, St-Rémy is set to go from strength to strength, according to the company's international marketing director Hervé Buzon, who tells us how the huge interest in cocktails in recent years has given brandy a new lease of life.
[[relatedPurchasesItems-23]]
What differentiates St Rémy Signature in a very crowded market?
St-Rémy Signature stands out because it is a distinctive spirit in a distinctive bottle. The packaging and the liquid were created to rejuvenate the brandy category and attract a younger audience of non-brandy drinkers. St-Rémy Signature's double maturation delivers spiced notes, first, followed by roundness, balance, and sweetness. The very strength of St-Rémy Signature is its versatility and its ability to open a new field of creativity for bartenders and mixology aficionados.
The bottle is also elegant, with notable features including an embossed lion on the bottle itself, a cork stopper with a second engraved lion on the top, and a grip at the neck that highlights the brandy's French origins with a tri-colour Lys flower. The label is clean and refined, with a deliberate craft look and feel to seduce a new generation of brandy drinkers.
What does winning at the London Spirits competition mean for the brand?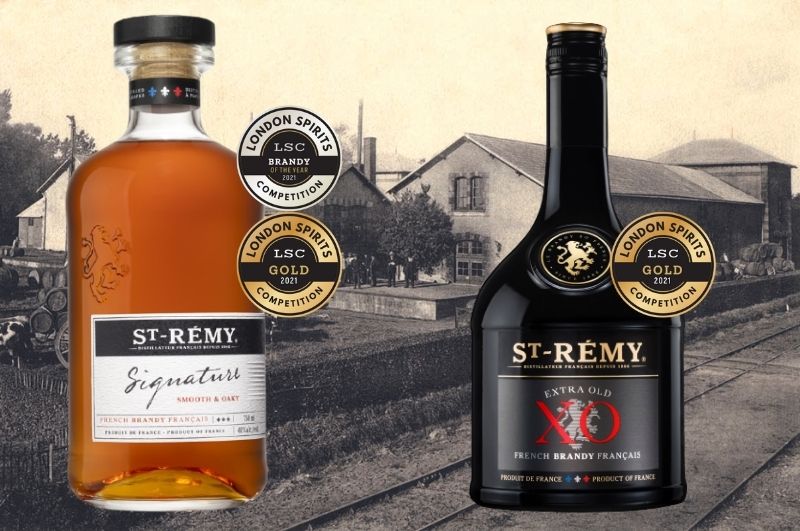 "These two awards – best Brandy of the Year, and a gold medal for St-Rémy XO, are all the more prestigious as they were awarded by a jury made up of bartenders, mixologists and consultants, according to the quality, taste, price, value for money that our brandies offer, as well as their design." - Hervé Buzon
Tell us a bit about the brand's history?
The St-Rémy distillery was founded in 1886 in Machecoul, in the Loire Valley. At that time, the vineyards in the Charente region of France were badly damaged by phylloxera. In search of raw materials, the entrepreneurial Paul-Emile Rémy Martin II identified Machecoul where the Muscadet grapes were close to the Folle Blanche used for his Cognac. That same year, he set up a distillery to produce high-quality brandy, and St-Rémy was born.
Today, St-Rémy is recognised as the number one French brandy in the world, with a 17.7% value market share (IWSR 2020). We are proud of being 100% French from grapes to bottle, only using French Wines, distilled, blended, matured, and bottled in France.
Which are your key markets?
Canada is our number one market, accounting for around a third of our total sales. Despite a long and strict lockdown, the off-trade is doing extremely well for the second year in a row. St-Rémy, already brandy leader with about 50% market share ( IWSR 2020) – continues to grow, and particularly for our St-Rémy XO expression. We have just launched St-Rémy in the UK (2020) and so far, we are getting great feedback from the field. We are also very glad to see that we have been appointed Best French Brandy with a score of 9.8 on uk.findthisbest.com.
What are the key consumer trends affecting your brand?
The brandy sector has long been the preserve of established spirits drinkers, and we are now seeing a trend away from this. After a year of at-home cocktail-making, brandy seems to be targeting a younger demographic by moving into the cocktail sphere. Brandy clearly has an opportunity to present itself as not just a spirit to be enjoyed neat, but also a delicious base for mixological creativity.
New brands and expressions, driving more value to the market, are developing on craft cues and home cocktails trends. St-Rémy transcends the category: we are the fastest growing brand within the top 10 brandy brands (MAT Nielsen July 17th, 2021) and while in the short term, the brandy market showed a slight decrease vs 2020, St-Rémy continues to grow significantly at +7% after double-digit growth in 2020.
What impact has the huge interest in cocktails had on the brandy market?
Our newest expression, St-Rémy Signature, has huge mixological potential, with infinite possibilities. We created it for bartenders to experiment with, and hope that cocktail bars seize this opportunity to create bold new offerings once customers can return to the on-trade.
Why should a bar or restaurant stock your brand?
St-Rémy, is very suitable for cocktails because of its fruity and harmonious style, while St-Rémy XO is very versatile and can be drunk neat, on the rocks as well as in many classic cocktails such as an Espresso Martini, Old Fashioned, Sidecar, etc. And because it offers very good quality for money, it allows the trade to come up with very good cocktails for consumers without cutting down on the margin. It's a win/win situation!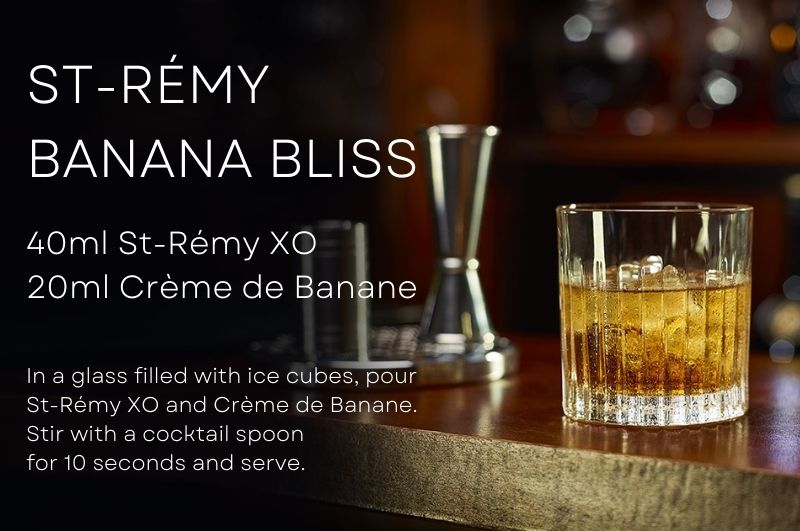 St-Rémy Banana Bliss cocktail recipe. View other delicious cocktail recipes by St-Rémy.
Can you share any future plans for the brand?
This year, we have two new launches from the St-Rémy Cask Finish Collection; the St-Remy Sauternes Cask Finish and the St-Rémy No2 Barbados Dark Rum Cask Finish.
The first is made with Brandy finished in oak casks that previously held Sauternes - French sweet white wine, made mainly from Semillon and Sauvignon grape varietals. With only 7,880 bottles made, this deliciously smooth Brandy makes clear the world-leading expertise and innovation of St-Rémy Brandy and its Master Blender, Cécile Roudaut.
The Barbados Dark Rum Casks Batch N°2 gets its name from an ageing stage in a new selection of drums that previously contained dark rum from Barbados, and this collection is limited to only 4,600 numbered bottles. More editions from the St-Rémy Cask Finish Collection should follow in the coming years.
TAGS: