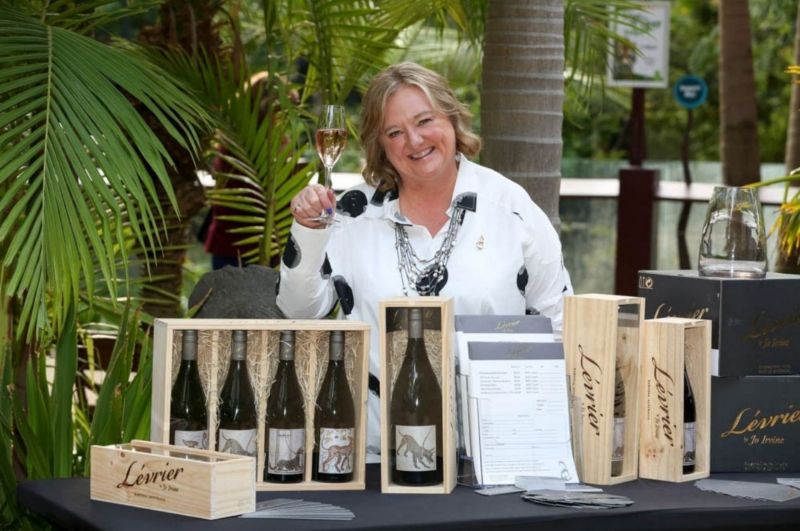 01/12/2021 Celebrate life with Lévrier by Jo Irvine as she tells us how the business coped during Covid and won wine of the year at the 2021 London Wine Competition.
A passion for wine and a love of greyhounds resulted in Australian winemaker Jo Irvine combining her two great loves in the launch of her own wine label in 2017, Lévrier by Jo Irvine. The first release from Lévrier, which is French for greyhound, was the Lévrier Meslier Sparkling Rose, one of the rarest sparkling varietals in the world.
Since then Irvine has gone from strength to strength, winning many awards for her wines produced in small batches in the Barossa Valley, including, most recently, Wine of the Year at the London Wine Competition. She tells us how the business coped during the Covid pandemic and her future plans.
[[relatedPurchasesItems-38]]
Tell us about your award-winning wine and what makes them stand out?
I simply love the way the local Barossa soils influence our older vines in a way that really shows off the varietal aromatics and flavours of Cabernet Sauvignon. I do my best to understand the wine's needs during fermentation, then select the best possible French oak barrels for at least two years of maturation and continue to be a caretaker for the next two years before bottling. My 2015 vintage was released earlier this year (2021) and two to three years in bottle prior to release certainly helps the wine to integrate. My packaging is unique too. I was told never to put dogs on a label but it is in my nature to do things differently.
Barossa is well known for Shiraz but I want to keep this historical variety in the spotlight here in the Barossa, creating a style that develops generosity and complexity over time before release. I enjoy drinking Cabernet more than Shiraz so why not make a wine that I like to drink.
What does winning at the London Wine competition mean to you?
After spending years with my small team creating my Lévrier collection from the vineyard sites, working with specific varieties, focusing on my desired styles, right up to putting together my final packaging, I am genuinely delighted to be recognised internationally with this award.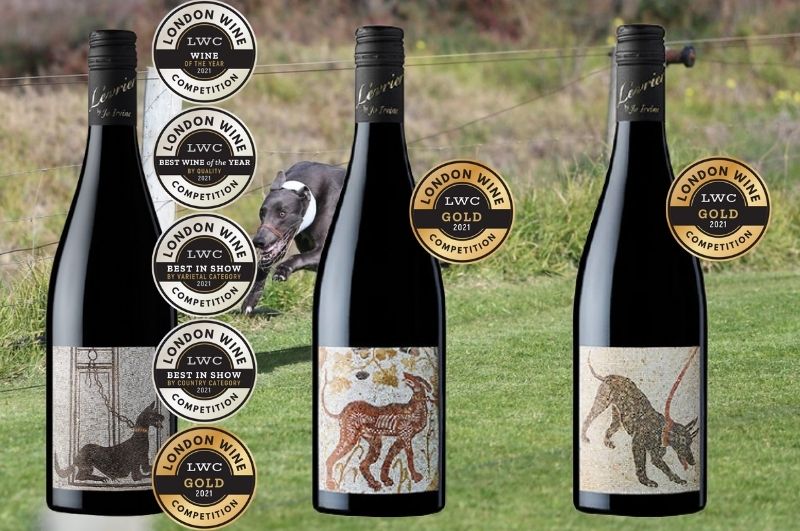 "I am proud that my 2015 Anubis Barossa Cabernet Sauvignon scored so highly and to get Wine of the Year and a total of three gold medals at one show (one each for my Zinfandel and Shiraz too) feels amazing." - Jo Irvine
Our brand is about to turn four years old in October, so it means a lot to have such global recognition within a short period of time.
What is the size of your annual production and how does that compare over the past couple of years?
For Cabernet, five to six tonnes annually depending on environmental factors during vintage. Our vineyard is around 1.5 hectares.
What are the key varietals you produce?
Currently, I make a sparkling Meslier Brut Rosé from Adelaide Hills fruit, and as far as I am aware I am the only winemaker in the world currently making sparkling wine using 100% Meslier grapes as a pure varietal.
I also make Barossa Pinot Gris, Chardonnay, Cabernet Franc, Merlot, Shiraz, and Zinfandel which allows me to showcase the diversity of varieties grown in the Barossa Valley.
How was the 2021 harvest in terms of yield and quality and what challenges did it present?
2021 was a good harvest. Good rains before flowering led to good fruit set and good cropping levels, average yields, and exceptional quality.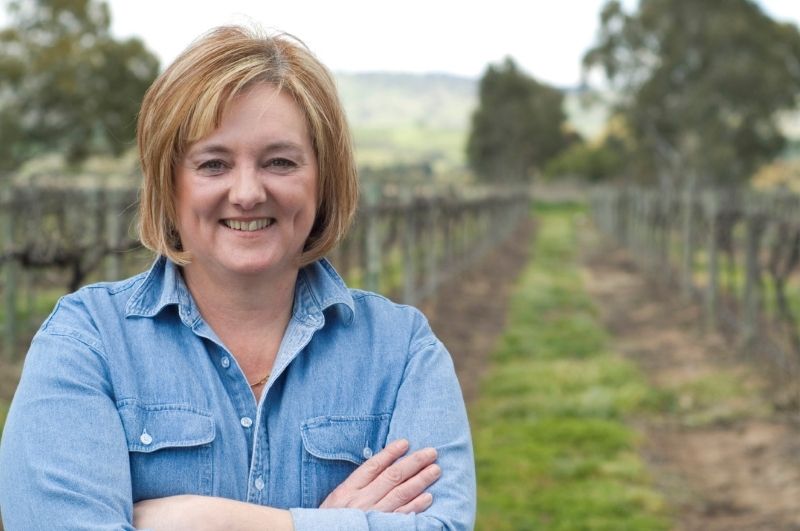 Jo Irvine of Lévrier Wines, by the vineyard
We didn't experience any particular challenges during the growing season but difficulties for harvesting fruit, as there was a lack of grape pickers due to reduced availability of international workers due to covid 19.
What about Covid? What impact has that had on your business?
At Levrier we certainly adapted to all the new covid recommendations and found we were luckily still able to complete our essential winery work. The first thing we noticed in trade, was our friends in restaurants and bars doing their best to adapt their business models in order to keep trading. We stayed in touch with everyone even though sales naturally slowed. Wine retailers kept trading as usual and to our surprise, our online sales started growing. We attribute this to people staying at home and ordering wine deliveries online.
Do you export any of your wines, and if so which are your key markets?
We currently export around 5-10% of our total production, which is manageable for a small brand, to the UK and Hong Kong. We are a small family-owned business and are conscious of our volume of products so our export markets are very specifically targeted.
For Levrier, the UK is a great market and will grow in the future. Australia is our fastest-growing market, now that our name is familiar and online shopping has led to new customers finding us from their home.
Are you eyeing up any new markets and what potential do they hold?
I have been considering Vietnam and Denmark, because as a small producer there are more opportunities to work with similar-minded importers who understand rare and boutique brands for their customers, rather than looking at huge markets where large volume fast-moving brands are the norm. We are also investigating the USA market in their premium import wine sector.
How do you distribute your wine?
In Australia we do a lot ourselves, we even hand deliver to many locals in and around South Australia. However, interstate distributors service us in Melbourne and Sydney. House of Townend in Hull takes good care of our distribution in the UK.
Do you have any plans for the future of your business you can share?
As a winemaker, my creative side sometimes keeps me awake, with many great ideas.
This year we are opening our unique dog-friendly park at our winery. You can bring your dog while you have a wine tasting so your dogs won't need to wait at home. When Mother Nature presents herself at her best with a vintage that shines on a particular variety, this is when I have the chance to make my dreams come true.
I am currently working on a 'must-have range' of wines. Very small batches (only 600 bottles produced) of potentially once-in-a-lifetime small-batch wines that showcase the best wine variety made of that vintage. These wines may only be available for a small bunch of the most enthusiastic wine lovers.
TAGS: