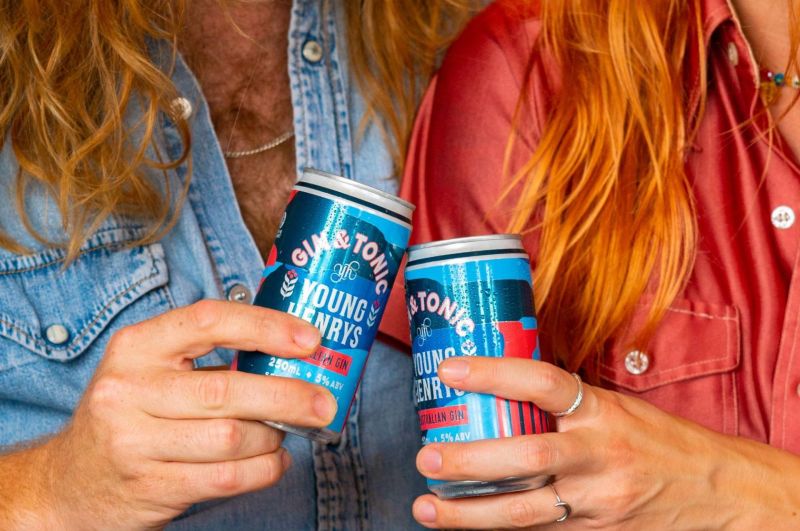 25/04/2023 Young Henrys' Gin Wins Gold at London Spirits Competition: A Triumph for Beer Brewers Turned Distillers.
To win a top prize at the London Spirits Competition is a major feather in the cap for any spirits brand. But for a predominantly beer brewing company to walk off with a Gold award for its gin in the competitive and fast-growing Ready to Drink category means the accolade is even more special, according to Dan Hampton, co-owner of Sydney-based Young Henrys (YH) which first began to dabble in spirits in 2014. The company soon acquired a bespoke still crafted for them by an eighth-generation moonshiner from Tennessee, and after much experimentation with blending techniques and flavours from both distillation and brewing, the Young Henrys Noble Cut Gin was born. We caught up with Hampton to find out how a brewery which is still fiercely independent, has managed to outstrip its spirits rivals for this top accolade.
What does winning at the London Spirits competition mean for you and what impact do you think this might have on brand awareness and sales?
We're honestly stoked and humbled by this award. As a beer company that is also very passionate about the spirits we make, getting the recognition of a competition as widely respected as London Spirits will have more impact than when one of our beers wins something.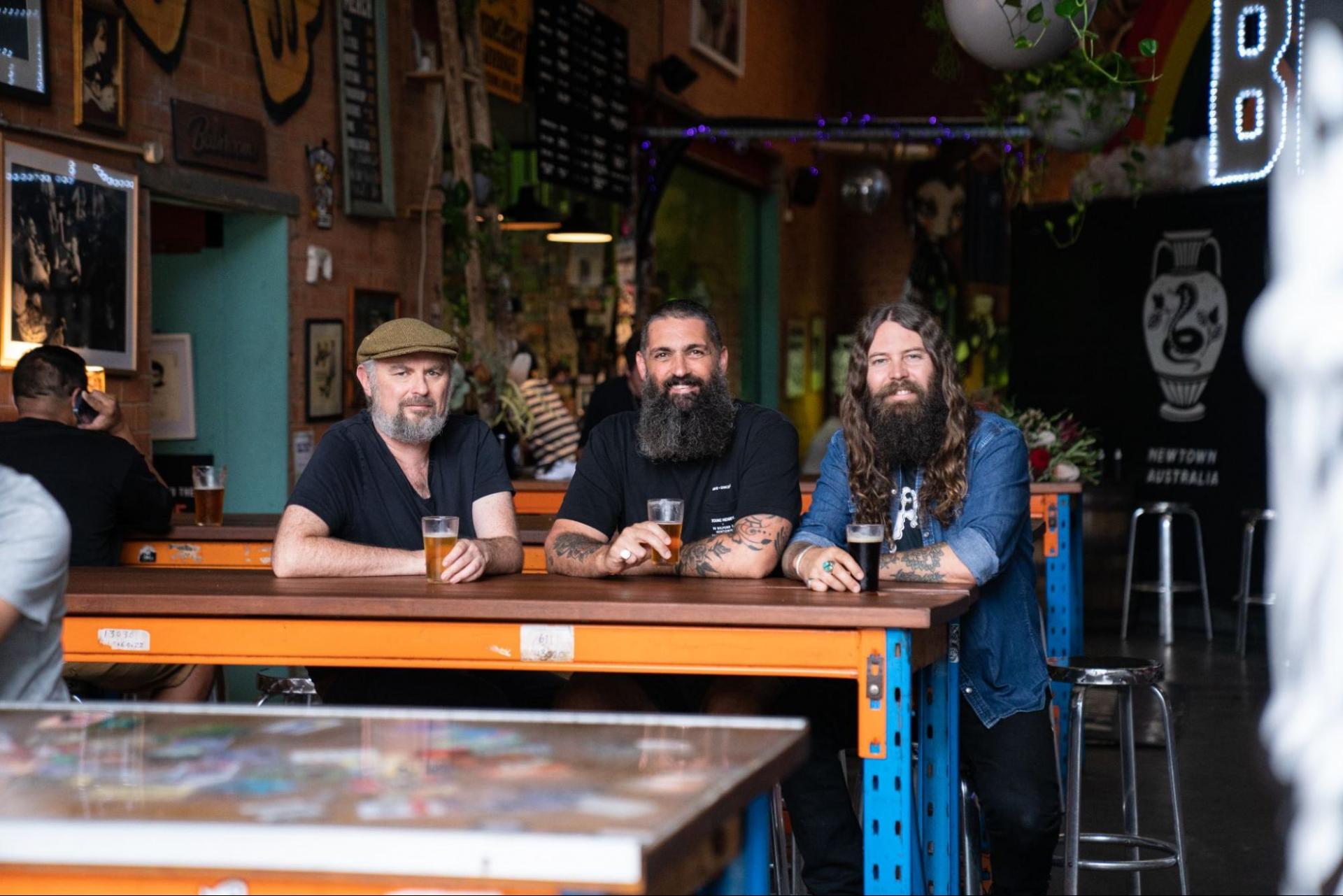 Young Henrys founding partners Richard Adamson, Dan Hampton and Oscar McMahon enjoying a well-earned beer
Tell us a bit about the history of the brand– when was it launched, what is the current value of sales, and what is your biggest market?
Young Henrys started 11 years ago in Newtown Sydney, making and selling a few kegs to a few local pubs. We're now one of Australia's largest independently owned beer companies, ranging nationally, but definitely the biggest in our home state of New South Wales. We've been making gin since 2014 and only launched our G&T 18 months ago.
What proportion of sales does that market account for?
About 60% of Young Henrys beer, cider and spirits sold are in NSW.
What is your fastest-growing market and what growth are you experiencing?
The spirits arm of YH is probably the fastest-growing part of our business which I'd say is reflected across the wider market. Aussie spirits are going through what Aussie craft beer went through 10 years ago.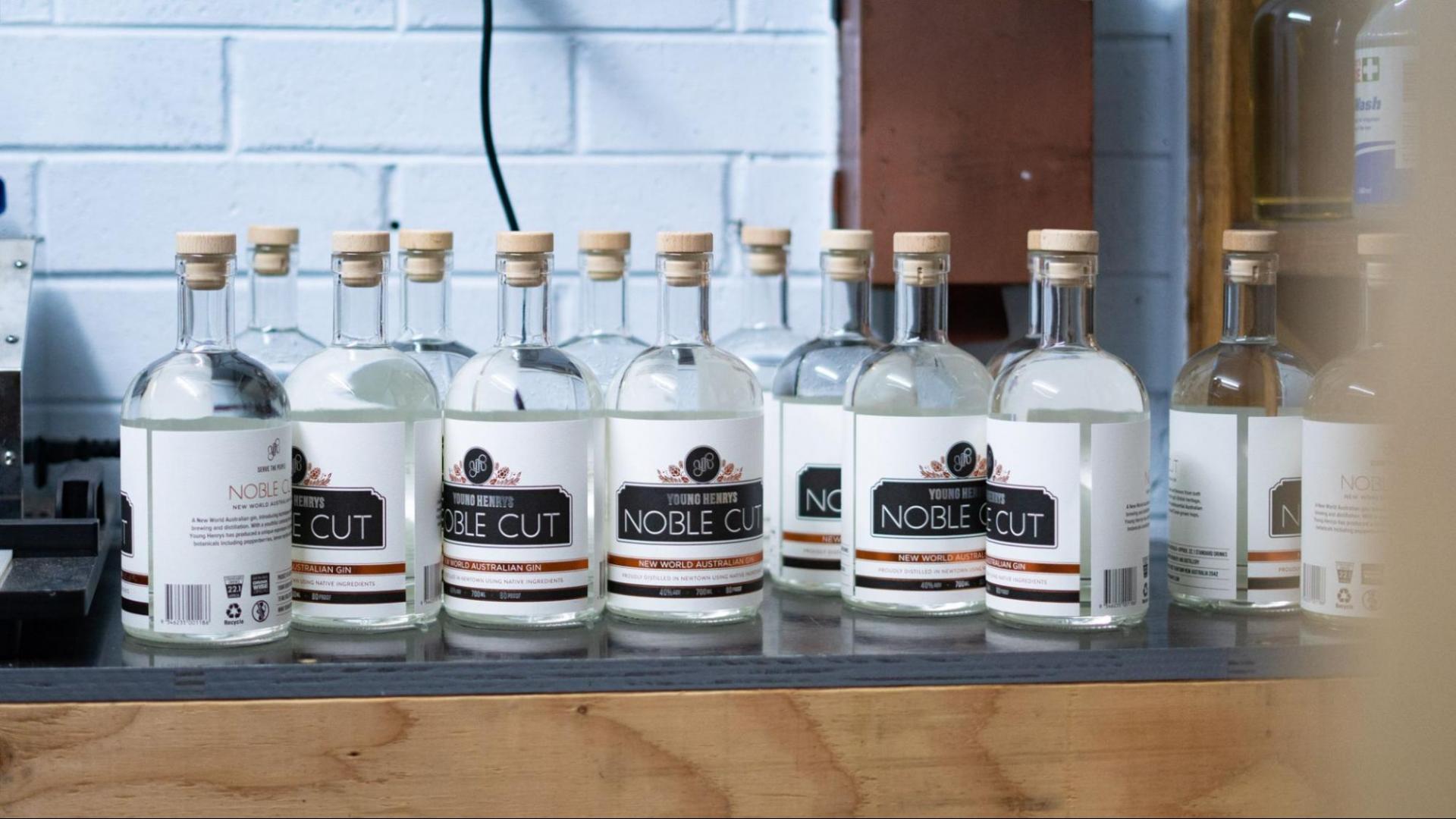 Noble Cut, Young Henrys gin brand which is used in the RTD award-winning gin and tonic
Who is your key target market and is that changing?
We've never been overly prescriptive with "target markets" as we don't really have the big budgets to be too specific. We believe if you like full-flavoured craft beer, you're probably also a quality spirits fan, or someone you live with is. So our target market is YH fans.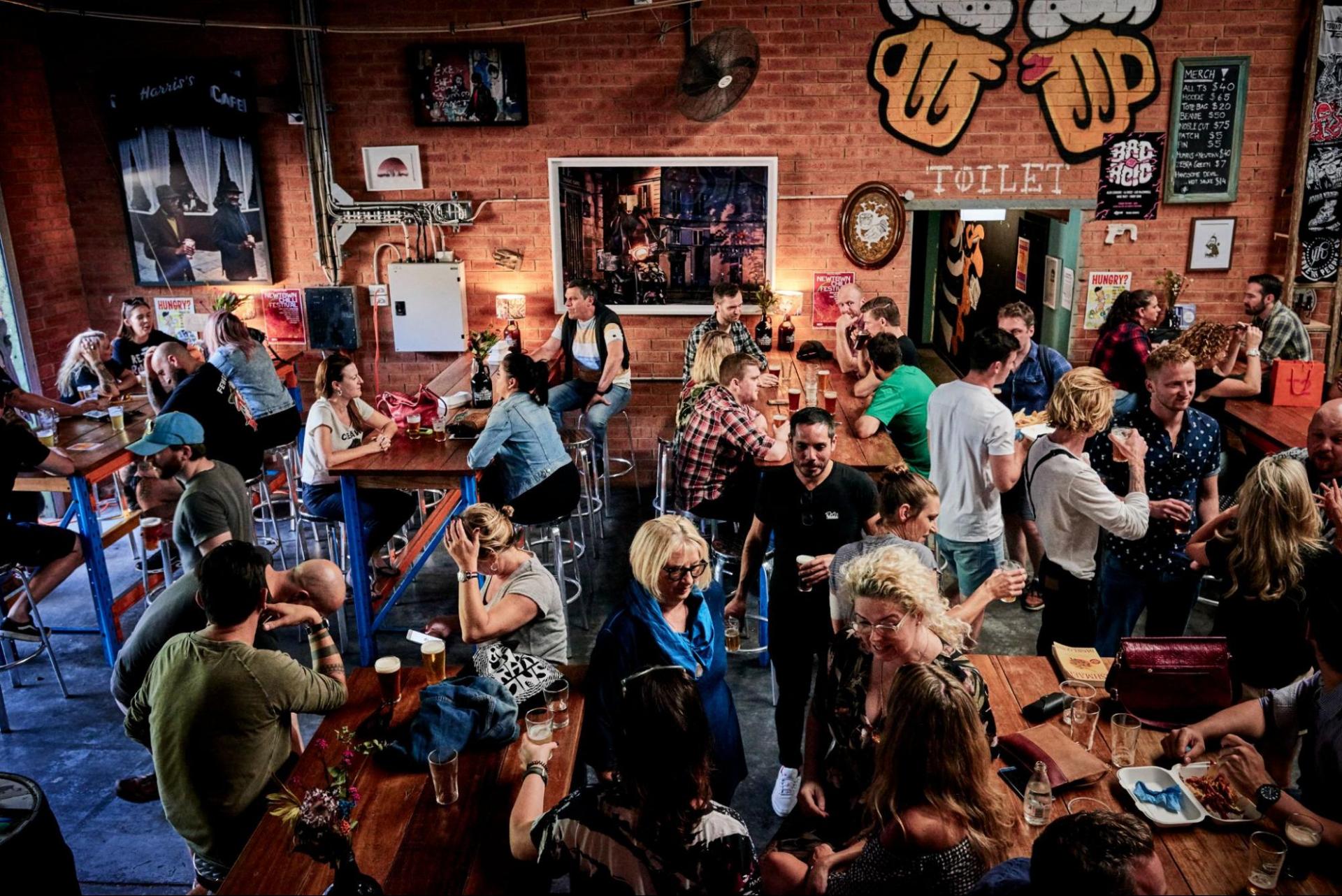 Young Henrys' tasting room, the Newtowner, where customers can try all of the brewery's beers, ciders and gin under one roof
What other gin brands would you consider your main rivals, which do you particularly admire and why?
Personally, I was a Hendricks or Sipsmith fan before we created Noble Cut. All of us at YH were massive gin fans which is why we bought the still in the first place. I can honestly say that our Noble Cut is my hands-down favourite gin for flavour as it's so balanced. There's a stack of locals doing a great job also, and it's hard to go past Four Pillars.... they've bloody nailed it.
What makes your brand stand out in the market?
The Young Henrys brand has resonated with beer fans for years, so it's great to see that converting to gin sales. One of the unique botanicals is the Enigma hop, as a reference back to our roots in beer making. But I think the Noble Cut brand still needs work and focus in the market to stand alone.
What are the key consumer trends affecting your brand?
Our G&T is flying because the RTD/Seltzer trend is hot and not showing too many signs of slowing. People want flavour and accessibility... so that's what we gave them.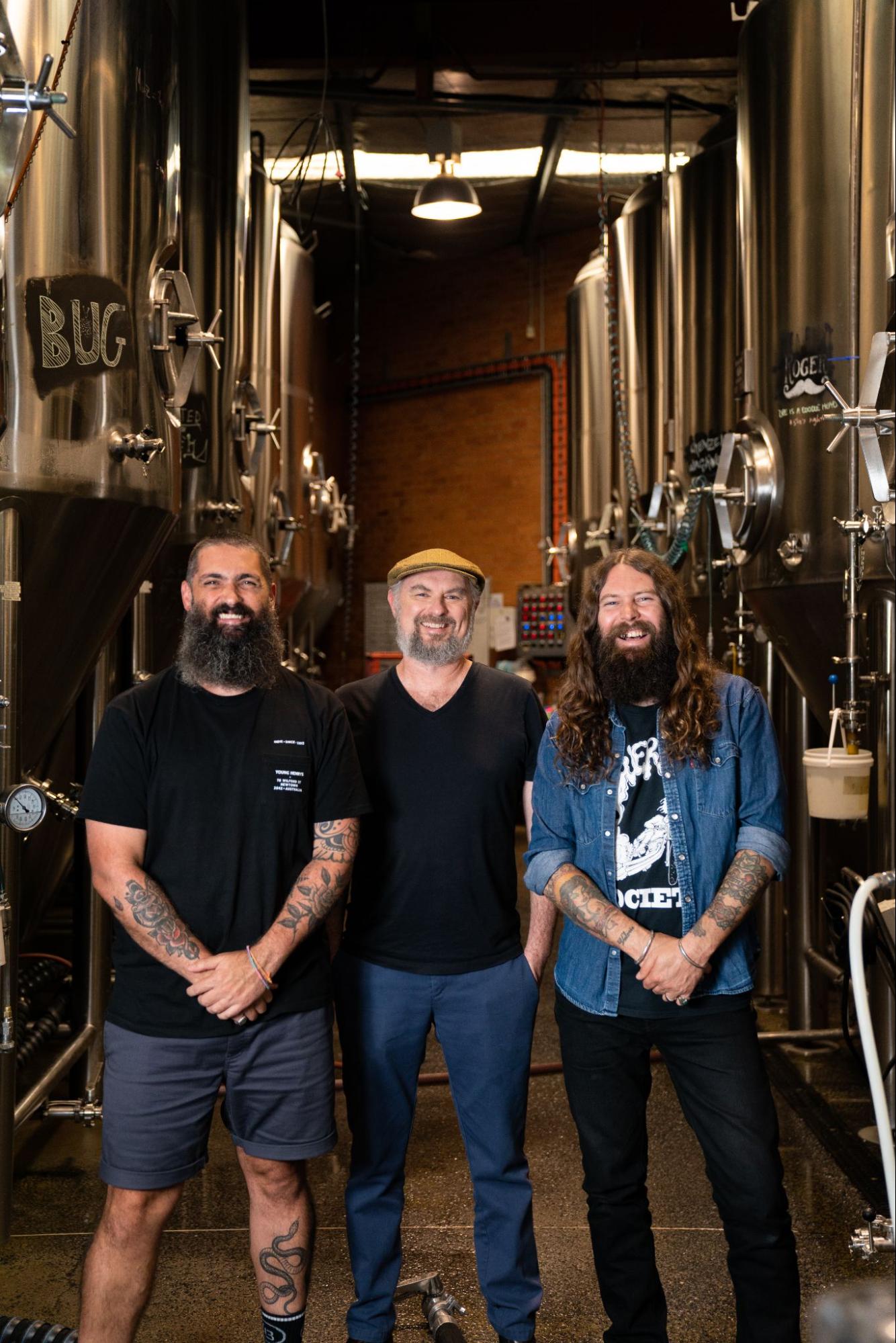 The founding trio are all smiles at the news of their win at the London Spirits Competition
What do you think the outlook is for the spirits market given the big trend towards low/no alcohol drinks?
I don't think spirits will be too affected by this trend, but it definitely creates an opportunity for those who want to put out low/no alc spirits. Not our cup of tea but each to their own. If I'm having time off booze I'll have more water, not a non-alc G&T.
What impact has the huge interest in cocktails had on Young Henrys and what, if anything, are you doing to exploit that?
Not enough is the answer. Both Oscar, my business partner, and I are massive martini fans and love that most bars are bloody good at making them!!! I had one at Fortunate Son on Enmore Road the other night... my lord... keep it up.
Where is Noble Cut currently available?
Our Noble Cut gin and G&T have a solid range across most retail banners in NSW but are available all up and down the east coast. Lots of bars, pubs and live music venues have jumped on board as well, but our proudest moment was getting ranging at the newly opened Alliance Stadium (old SFS) and next door at the SCG. Footy and cricket with YH G&T is a huge win for those wanting to support indie booze brands while watching their favourite team or stadium gig.
How do you work with the trade to boost your sales - what help and support do you provide?
As we've always done at YH, we make sure there's support for the boss at the top who ultimately makes the call to range, the staff who are on the front line selling, and the punter who makes the call on what they consume. So that's good promo planning, into staff training and incentives, into unique experiences to enjoy alongside the flavour hit.
Given how many gin brands there already are in the market, what do you think Young Henrys adds?
We like to think of YH Noble Cut Gin as a key ingredient in the quintessential pub G&T! After 15 years in the industry, we like to think we know what the modern Aussie pub palate is, and we think we've nailed the G&T to suit. Trust us... we're brewers haha.
Do you have any plans to start exporting?
We have some very loose plans to see what's possible outside Australia, but the truth is we've barely scratched the surface locally. We've always felt a strong connection with the UK but we've had interest from the US and some parts of Asia. Covid definitely put these plans on the back burner.
Can you share any future plans for the brand?
Well, we're about to launch new packaging for Noble Cut that will hopefully help it stand out on shelves a little more... and we'd love to create some more YH takes on common RTDs. Stay tuned!
TAGS: