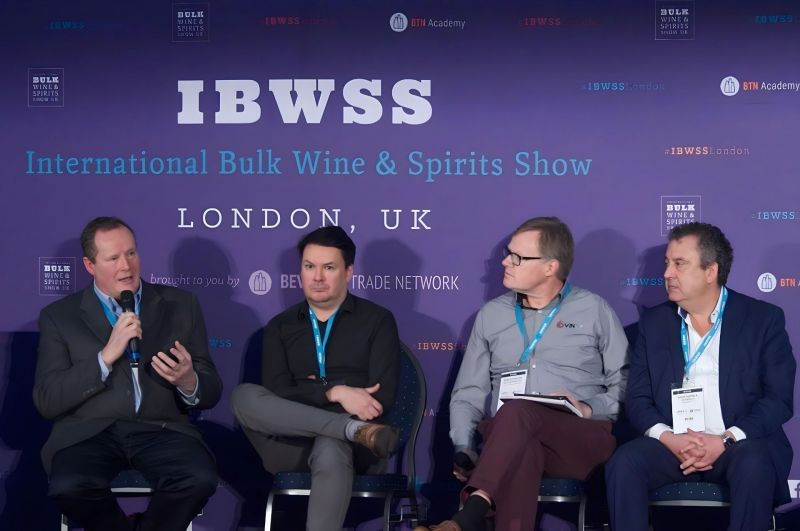 28/10/2023 Unifying the World of Bulk and Branded Drinks: IBWSS & UKTT 2023 in London
The joint IBWSS (International Bulk Wine & Spirits Show) and UKTT (UK Trade Tasting) trade events take place in London on November 15-16 to give drinks buyers and bulk and branded drinks producers the chance to do business in one place.
Top-level speakers will talk about bulk wine, bulk spirits, private labels, trends, sustainability, sales and marketing, and logistics that will provide you with actionable insights to navigate your business for the next 18 months.
Both UK Trade Tasting and IBWSS UK will be happening under one roof where visitors will be able to explore bulk and branded brands business with one badge. You will be able to sit in all sessions between the 2 shows over 2 days.

Here are the subjects and speakers for you:
International Bulk Wine and Spirits Show (IBWSS) UK Sessions for November 15, 2023 include:
Florian Ceschi Directeur CIATTI EUROPE: Bulk Wine Data and Opportunities.
David Richardson Regulatory & Commercial Affairs Director, at Wine and Spirit Trade Association: Data Trends
Ron Welsh Whisky Creator, Maturing Inventory and Cask Expert: Bulk Whisky: A Customer Point of View
Horst Mueller Global Head VinLog at Kuehne+Nagel: State of Logistics
Robert Joseph, Consultant, co-owner le Grand Noir wines, public speaker: State of Union.
Alex Green Co-Founder at Beyond Wines & LIQUID DIAMOND and Matthew Johnson Co-Founder and Director at Beyond Wines on Marketing.
Mark Roberts Director Of Sales at Lanchester Wines: Selling Private Label and Bulk Wine.
[[relatedPurchasesItems-50]]
Mark Lansley Owner & CEO at Broadland Drinks Limited
Mark Roberts Director Of Sales at Lanchester Wines
Paul Schaafsma Managing Director at Benchmark Drinks Limited
Irem Eren WA, DipWSET Head of Sales and Business Development EMEA at BevZero: Non-Alcohol and Low Alcohol
David Gill MW Specialist Sales & Wine Development, Kingsland Drinks Ltd: Private Label Chain Sales.
Robin Copestick, Managing Director at Freixenet Copestick: What does private label do for the wine category and why is it relevant?
Mark Lansley Owner & CEO at Broadland Drinks Limited: How Will Climate Change Affect The Bulk Wine Sector Over The Next Decade?
Get your tickets here.
UK Trade Tasting Sessions for November 16 include:
Jacopo Blumberg, AVS Team Lead at Amazon for Beer, Wine & Spirits at UK & Germany: Building Brands In Today's UK Market - Who's Winning and Why
Charles Cutteridge, Wine Sourcing Manager at Morrisons: How to work with retail chains?
Panel Discussion with Retailers with:
Joseph Arthur Senior Wine Buyer Senior Wine Buyer at Marks and Spencer
Bryan Rodriguez-Curtis Wine & Spirit Buyer at Harvey Nichols
Ben Franks FRSA DipWSET CEO, Wine Buyer & Co-Founder at Novel Wines
Restaurant Panel with:
Andrea Signanini Director of Food & Beverage at the Doyle Collection
Roberta Neave Category Buying Manager - Wine & Third Party Beer/Cider at Star Pubs and Bars
Organized by Beverage Trade Network.
The IBWSS and UK Trade Tasting is run by the Beverage Trade Network which specializes in providing digital platforms and trading events that bring buyers and sellers together across the wine and spirits sectors. BTN runs events for the wine and spirits industry worldwide, including the US, Europe, the UK, China, and Asia, and is the leading online platform for connecting the global beverage industry.
Location and Dates:
Nov 15-16, 2023 - Royal Horticultural Halls, London, LONDON (Nov 15 - 11 am to 5 pm, Nov 16 - 11 am to 4 pm). Conference starts at 9 am on both days.
Here is the link to get a visitor badge.

TAGS: