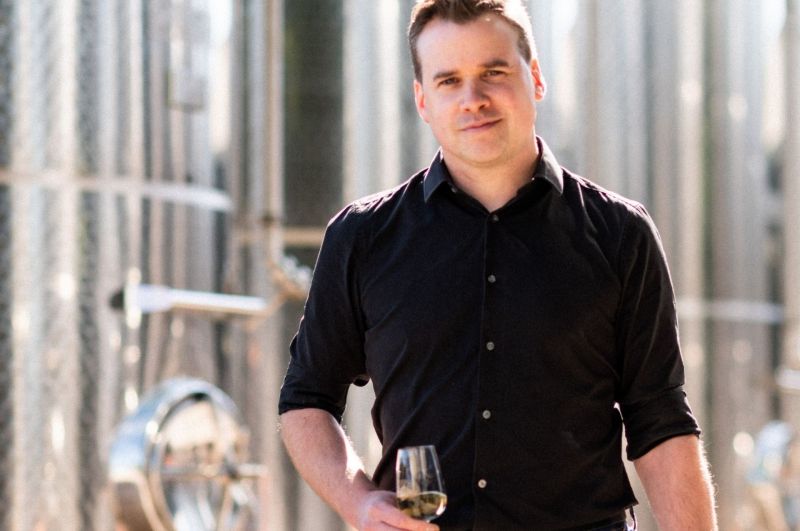 16/02/2022 With English sparkling wine blazing a trail and making waves both at home and overseas, why would a domestic wine producer decide to focus their efforts on still wine?
With English sparkling wine blazing a trail and making waves both at home and overseas, why would a domestic wine producer decide to focus their efforts on still wine?
But this seemingly contrarian strategy is one that is being deliberately employed by Devon-based winery Lyme Bay, which is also the country's largest mead and fruit wine producer, starting life as a cider maker.
[[relatedPurchasesItems-22]]
Head of sales and marketing Paul Sullivan concedes that it would be an easier ride to jump on the sparkling wine bandwagon and focus on building up that sector but says the rationale behind Lyme Bay's focus on still wine is two-fold.
"Firstly, the English sparkling wine market developed because the fruit available was best positioned to make sparkling wine," he says." At the time there were not the right plantings of the right still wine clones in the right places for the highest quality English still wines to be viable. We know this as we initially started out making sparkling wine. As time has moved on, knowledge, plantings and winemaking have all come on allowing serious still wines to become accessible. It's true that English Sparkling wines are successful and can rival some of the best in the world. This is how we feel about English still wine moving forward especially Bacchus, Chardonnay and Pinot Noir. Easiest isn't always best, or the most fun!!"
The Axminster-based company was founded in 1993, with still wine now accounting for around two thirds of total wine production. "Sparkling wine will always have a place in the Lyme Bay portfolio and equally fruit for sparkling wine will always be around, so we don't see that changing," continues Sullivan. "In an ideal world we would aim to keep the proportions about the same it might drift to 80:20, but it's not about a still wine takeover."
Key grapes which Lyme Bay uses in its winemaking include Pinot Noir, Chardonnay, Bacchus and Meunier, as well as some Pinot Blanc and Seyval Blanc. In recent years, it has also experimented with a Sauvignon Blanc, a first for an English winery. "People said it couldn't be done, but the crop was perfect when it arrived," says managing director James Lambert.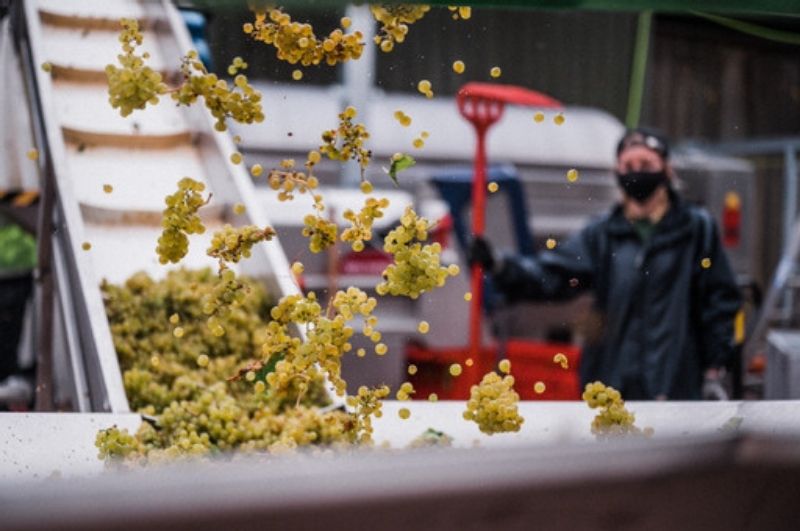 While there will be no 2022 Sauvignon vintage, the winery is hoping it will be able to source grapes to enable it to produce it in 2023.
Lyme Bay also has ambitious plans to become the largest producer of English red wine with its Pinot Noir. "Red wine production is limited in this country due to our climate, but we have been working with growers across the south of the country for several years, planting Pinot Noir grapes specifically to this end," explains Lambert. "2020 was a particularly good year for the Pinot Noir, culminating in a final burst of warm sunny weather at the end of the season which resulted in grapes with potential alcohol levels of 14.7% - a record for the domestic winemaking industry. For grapes to achieve this level of ripeness in the UK is unheard of."
These grapes were sourced from the Crouch Valley in Essex, where Lyme Bay works closely with a few top growers.
Sullivan says it is difficult to give precise figures for annual production as there are variable factors at play. "Production figures are always difficult to gauge as we release different wines from the same vintage at different times. We know what comes in, but what goes out and when varies a lot. In terms of overall crush this varies with the growing season, so the 2021 crush was down on 2018."
However, as a lot of the grapes used by Lyme Bay are from younger vines, there is the potential for yields to increase over time, though these are restricted to maintain quality. "Equally we have some amazing growers who are planting for us, and these vines will come online over the next few years so with a good growing season and better yields we should see increasing volumes, but not massively as we control yield to get quality. Fingers crossed for no frost and late rain!"
While Lyme Bay originally owned its own vineyards, which were planted in 2009 close to the winery in East Devon it now sources its grapes from across the country, much from Essex and Kent, but also from Herefordshire. This, says, Lambert, enables the winery to choose the very best grapes rather than having to rely on whatever is grown in its own vineyard – the spread means if it is a poor year in Kent, for example, then the winery can source its grapes from elsewhere. Our philosophy is very simple," he says. "We want to produce the best wine from the best grapes from the best growers."
It's very first still wine, the 2014 Shoreline, was a Bacchus, Pinot Noir and Seyval Blanc blend which scooped two Decanter awards, a rarity for English still wine. Since that early success, the winery has gone from strength to strength, working with a range of high-quality growers in the best viticultural regions within the UK. And in 2020 the winery realised its long-term aim of producing Pinot Noirs and Chardonnays, which were first released last year.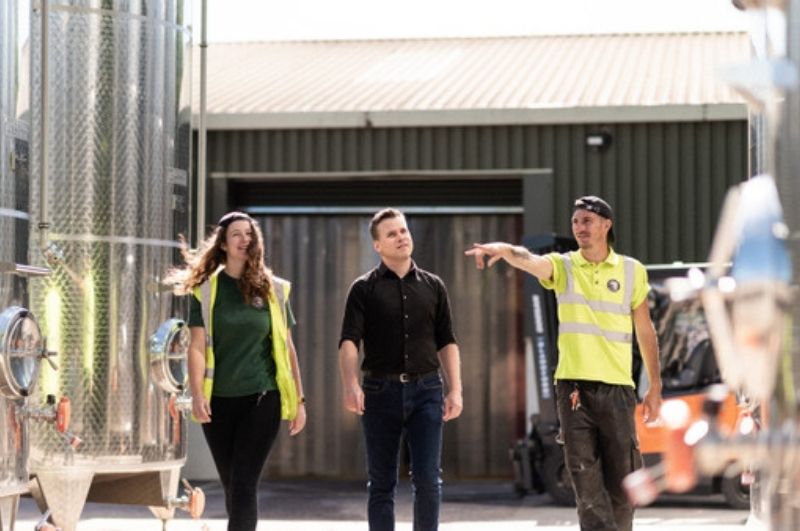 The company is reaping the rewards of its innovative approach to English winemaking says managing director James Lambert (centre)
"As we are launching new wines at the moment, we are seeing solid double-digit growth in sales," claims Sullivan. "We do expect this to increase as we gain distribution and develop awareness of the wines. The market is in flux with challenges across the world in terms of availability, shipping costs, raw material prices and challenging vintages all of which are changing the face of the wine trade not to mention the terrible impact of the pandemic on the on-trade. We will retain our focus on quality and education and hope that the most recent trend continues."
One of the issues with English wine, and a possible barrier to entry for some consumers is price – these are not bargain-basement wines, but premium products, aimed at a niche market of discerning customers. Lyme Bay Bacchus and Shoreline retail for around £15.99, the Chardonnay at £23.49, and the Pinot Noir at £28 with the sparkling wines starting at £22.00 for the Brut Reserve, and £30 for the Classic Cuvee. Which is why they are better suited to being hand sold in the on-trade or by independent merchants, rather than languishing on a supermarket shelf, according to Sullivan. "We are aware that we are tapping into a small niche of consumers who are already into English wine, around two million people who already buy into the category. We are focused on those people."
But Sullivan defends the pricing, pointing out that is only one of several factors which are taken into consideration by consumers when buying English wine.
"Price is only one criterion in terms of purchasing, and there is a massive price band across and number of grape varieties. The Sauvignon, for example, was very experimental and in very small volumes so the price reflects the scarcity in part. Also, every wine is an expression of the location and climate in which the grapes were grown, and this is enhanced by the winemaker's art so whilst you can get cheaper Sauvignon Blanc or Pinot Noir you can't necessarily get the expression of premium fruit hand-picked in an English microclimate and enhanced by our winemaking team. The proof of the value for money is the repeat purchase."
Lyme Bay works with London-based importer and distributor Bancroft wines to sell to the on-trade, and closer to the winery with Christopher Piper, Hillside Wines and St Austell to support the West country.
"We find that a lot of on-trade outlets prefer to build lists from wine from around the world and at different price points and that being part of that portfolio makes it easier than having to call us for your English wine order and then going elsewhere. We are grateful to our partners and probably have more distribution than we are aware of.
"Our wines are premium and require hand selling and this is best done by passionate stockists who crave product knowledge. We are seeing amazing increases in independent wine merchant distribution at the moment, especially for our Pinot Noir and Chardonnay."
The wines are also available in the off trade, with customers who take a repertoire of Lyme Bay's portfolio, including mead, cider and gin, while others are specialist wine merchants. The winery also supplies Shoreline in limited volumes to a couple of supermarket chains, while Majestic lists the Chardonnay 2018.
During the depths of the Covid pandemic and associated lockdowns, many businesses were forced to rethink their strategies, and Lyme Bay, along with many other companies, saw a big uplift in its online sales. "The pandemic meant that we switched away from bricks and mortar sales into online more as a route to market and the impact on hospitality was awful closing down a number of excellent customers," says Sullivan. "Overall, online is really important to us, though at the moment, less so for wine.
"As we develop some of our super premium, single vineyards wines a significant proportion of this very small volume will be available online and we are continually increasing our focus on online sales and digital marketing as ways of getting information out to customers at the level the wish to have it."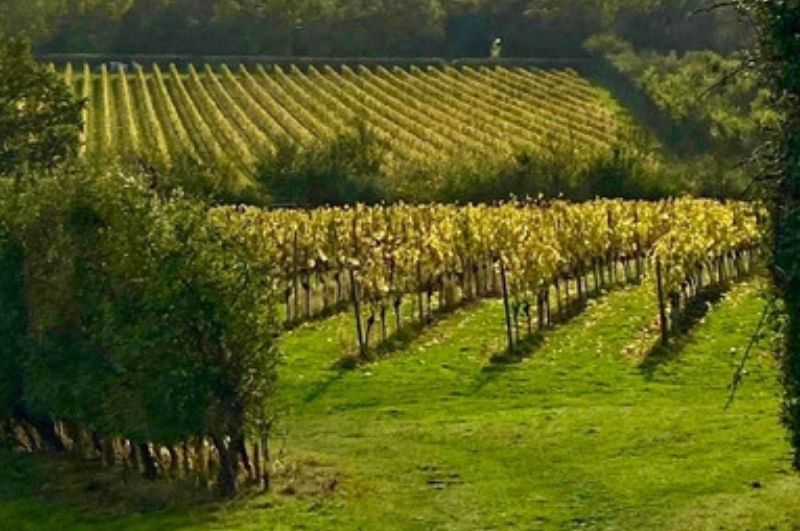 Lyme Bay Vineyards
While Covid created a number of headaches for the business, not least staff availability due to ill health, isolating and social distancing, Sullivan points out that some issues which have been attributed to Covid were actually the result of Brexit. "We shouldn't forget that the pandemic took some of the blame that a poorly executed Brexit should have picked up with staff, pickers and cellar hands not being able to access the country due to visa restrictions. Cost of shipping and cost of materials has gone through the roof, and this is down to bureaucracy, Brexit and Covid coming together as an evil little triumvirate."
This, he says, has hit consumer and trade confidence, combined with the ongoing cost of living crisis, resulting in the "shopping mechanic" as Sullivan describes it, being changed for the time being.
However, these challenges haven't stopped the company's overseas ambitions. Lyme Bay already ships some product to Ukraine and Norway and is currently looking into the possibility of exporting to Sweden, Finland, Denmark and Canada, as well as the Far East and the US. Sullivan concedes that these are "big and complex markets and take time", adding that they remain open to considering other markets too.
TAGS: