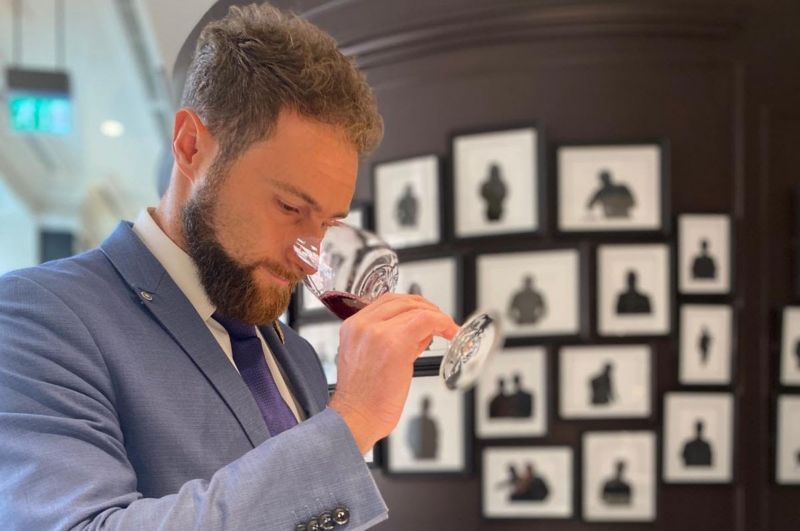 08/02/2022 From wines worth investing in, to discovering wines from vineyards where animals run free, Angelo Altobelli knows the perfect bottle to pick for the person, occasion and dish.
Where do you work?
I am the Head sommelier and Wine buyer at Muse by Tom Aikens and Director and Founder of AA Somm Limited.
[[relatedPurchasesItems-22]]
Tell us a little bit about yourself. How did you begin your career and how did you progress into this role?
I'm originally from Terracina, Italy and I moved to England about 12 years ago to study medicine but I ended up pursuing a career in the world of wine instead.
When I was studying Biomedical Sciences in Ipswich, I used to work at the Salthouse Harbour Hotel as a waiter. This is where I took my first level of the WSET and started to think about wine as a career. Shortly after I moved to London to continue my university studies. Whilst at uni, I worked at Galvin at Windows restaurant. This was my first Michelin starred restaurant experience and where I started to seriously consider a career in wine. When I decided to leave university, my first experience as a sommelier was at a 1 Michelin starred restaurant, Pollen Street Social as junior sommelier; where I worked all the way up to Assistant head sommelier.
I then joined the pre-opening team at Hide restaurant as Assistant head sommelier, where we were awarded 1 Micheline star after only 7 months from opening. After this achievement, I joined the Cadogan, a Belmond Hotel as Head Sommelier and wine buyer working for chef Adam Handling. Now I work as head sommelier and wine buyer at the 1 Michelin starred restaurant Muse by Tom Aikens, that I love!!
Since January 2020 I also created my own company called AA Somm Limited, which I run whilst working at Muse. AA Somm Limited is a company that is focused on wine broking and wine investment.
In my career, not only have I worked alongside great chefs, but was also lucky enough to have worked, assisted and learned from some icons in the industry which I also deem as mentors.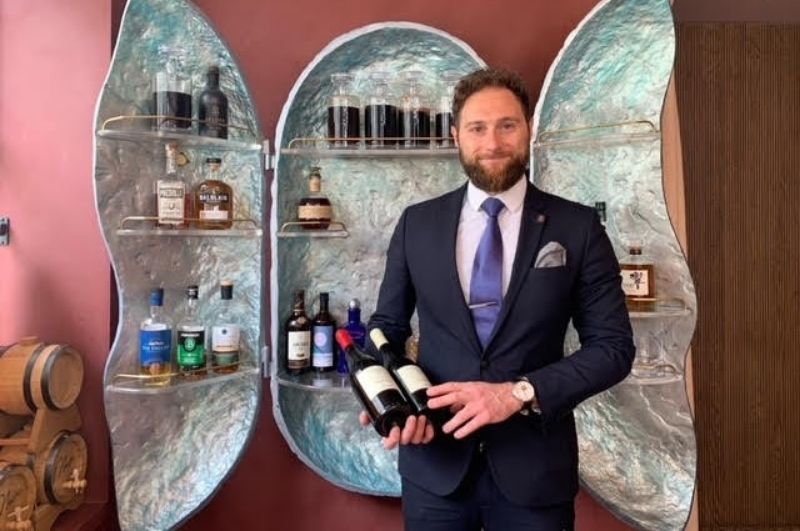 Angelo Altobelli, Head sommelier and Wine buyer at Muse by Tom Aikens and Director and Founder of AA Somm Limited.
Define your role and the tasks involved in your role.
My role at Muse by Tom Aikens is to buy and select wines that best suit chef Tom's cuisine. Here I always look for wines out of the classics. That is why alongside our tasting menu we offer a "Discovery Wine Pairing" where I carefully source wines from obscure and lesser known grape varietals and regions. We also offer a wine pairing that reflects more the classic varietals, with special vintages and bottle age as well.
Everything at Muse reflects the "Discovery" ethic; from the Champagne and sparkling to the sweet wines selection. In fact I designed the wine list in 2 parts, the "Classic" and the "Discovery" varietals. In the Classics you will find your classic wines; like Bordeaux, Burgundy, New Zealand, Chianti, Barolo and so on. On the Discovery selection, you can find Savoie wines, Jura, Orange and Natural wines, something perhaps produced in the middle of nowhere with animals running freely in the vineyard and more. Also for the Champagne and Sparkling we only list Champagne growers and small production producers.
Another fun part for me at Muse is to organise wine dinners with a special menu designed to pair exceptional wines. For example, for the Burgundy wine dinner I put together a list of unique wines from this amazing region, paired with an exquisite tasting menu. During this evening, our guests also had the chance to try and compare 2 grand cru Burgundy next to each other, 2014 - Bonnes-Mares Grand Cru Domaine Bouchard Pere et Fils vs 2014 - Bonnes-Mares Grand Cru Domaine Comte Georges de Vogue.
With regards to AA Somm Limited; being the director and founder it is my job to run the company. My roles go from web design to finance, accountancy, marketing, social media and wine trading. AA Somm Limited is focused on wine broking and wine investment so I source wines for my clients, for personal consumption as well as investment. When buying for investing, I also present them with an investment plan followed by a risk assessment, with vintage charts linked to wine critic scores and pricing. I also organise private wine tastings where we can have some fun comparing vintages and wineries with each other.
One of my most important roles is to manage the company logistics, as AA Somm Limited deals with many suppliers in the UK and in Europe as well; having a warehouse at Dartess Bruges 2, Bordeaux; it is crucial that this process is run smoothly at all times.
Another fun part is the buying part; but as fun as this can be I always do my due diligence of the provenance of the wines, that is why I only buy wines in-bond and stock present in Europe.
Of course, these 2 jobs sometimes meet; example when I organise wine dinners at Muse I mostly use AA Somm Limited contacts to get the best wine at the best market prices.
What questions would you ask the restaurant owner before you plan your wine sales growth strategy?
One of my first questions would be the monthly buying budget as it is important to plan what to buy and how much of it and of course the storage facility. It is important to have enough storage for wines so that the wine list looks well organised and covers every price range.
How can suppliers work with you to drive sales?
The most important part here has to be flexibility in tasting samples. Especially at Muse the wine pairing is what is most requested, so it is important that when a dish changes, I have to find the wine that matches the new dish perfectly. Here the supplier's flexibility plays an important role in finding the right match for the dish which is linked to drive the sales.
Not to mention the importance of training with wine makers. Here you can get the best chance in meeting the person behind the winemaking and their idea behind what they are producing. This for me is very crucial so that you can transmit the ideas of the winemaker to the guests.
Also a supplier has to have En-Primeur offers and flexibility in allocations. En-primeur is the best way to buy wines at very interesting prices. If I was to buy a wine for Muse, I could then use the allocation to organise wine dinners, where our guests can have some fun tasting different wines next to each other and compare the differences.
En-Primeur for AA Somm Limited is crucial, as for the wine investment side here is when you can get wines at the most attractive prices.
What are the three main things you focus on daily in your role?
There are quite a few things I focus on daily at Muse and AA Somm Limited. Mainly I focus on stock control, social media, finance and studying. A good sommelier always keeps himself/herself up to date in the wine world. New appellations that come out, or perhaps some new release for a wine, or even a new release of a critic score regarding a specific wine.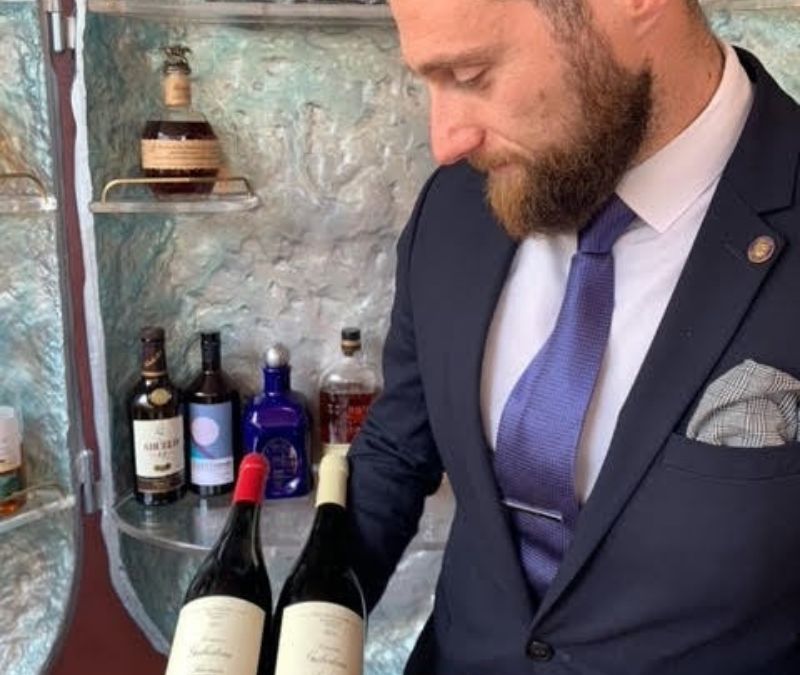 As Head Sommelier, Angelo has to take care of Operations, Marketing, and Finances. Truly an all-rounder.
What is the difference between the role of a sommelier and a wine director?
The differences in the 2 roles are very wide. A sommelier in a restaurant is in charge of its section and makes sure that guests get the best experience; making sure the wine is always served at the right temperature and not faulty; also recommends the right wine with the food based on guest preferences. Whilst a wine director I would expect it to be more as a support to the sommelier in terms of making sure that the sequence of service runs smoothly, stock control not only on the wine department but in the whole beverage department, being a leader, organising wine dinners and/or wine events, also being able to support the sommelier team with the right training program and tastings.
Define a good sommelier and what qualities you would look for when hiring one.
Flexibility, interpersonal communications and continuous improvement.
What do you look for when you have to evaluate the effectiveness of a wine program?
The points I look are mainly assessing and tasting the wine; looking at perhaps if the wine is produced on a specific plot of land or it was a special vintage; how much the micro-climate affected the wine itself in that year; the price range and the ratio of "what you pay for what you get" if it is worth it.
I look at storage in the cellar for me to be able to store the new wine and also the budget of the wine department in that stage. If perhaps it is worth buying it or maybe better to wait. Lastly I also look at what price range the new wine can fit into in order for me to list it. I always select a price bracket for every wine.
What are some of the most important skills for a sommelier to have?
Flexibility, Interpersonal communications and continuous improvement.
Your favorite places to enjoy great wine in London?
Black Book, Hide Restaurant and Noble Rot.
What's the best part of your job?
The best part of my job is when I hear the word "Thank you very much" from guests. We all do what we do for our guests, to make sure they have an amazing experience with us in the restaurant, where we make them discover new wines or just bring the food to another level by pairing it with the right wine; and that "Thank you very much" is what makes me forget for a second all the long hours and hard work put into studying.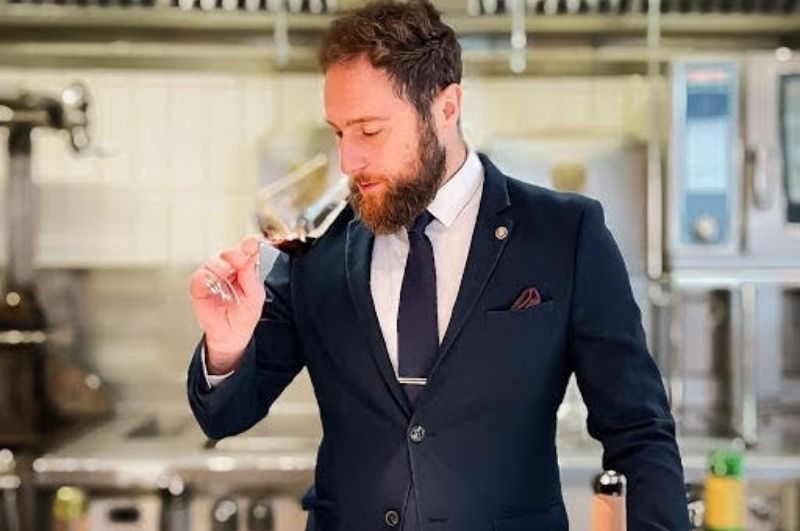 Angelo Altobelli loves to create an amazing experience for his guests.
What's the worst part of your job?
Personally I love my job in every aspect, from the stocktake to the paperwork as this gives me an understanding of so many different aspects of a business. That being said if I really need to pick one, it would probably be the long hours. As we all know hospitality requires very long hours due to the preparation of what's behind the scenes.
If you had to pick one red and one white wine as your personal best, which wines would they be?
White wine: 2011 - Domaine de la Tournelle "Les Corvées sous Curon", Jura, France.
Red Wine: 2014 - Bernhard Huber Spätburgunder "Schlossberg" Großes Gewächs, Baden, Germany.
Any favourite food and wine pairing suggestions for London drinks enthusiasts?
Squid, Amalfi lemons and fermented white asparagus, a dish that we used to have at Muse Restaurant; paired with the still chardonnay 2018 from Langham estate in Dorset, England. This pairing was something outstanding. The Chardonnay was ripe citrus fruits driven with bitter almond and white asparagus finished with nutty characters. The lemon notes of the wine complemented the Amalfi lemon in the dish and the nutty characters that complemented the squid.
TAGS: