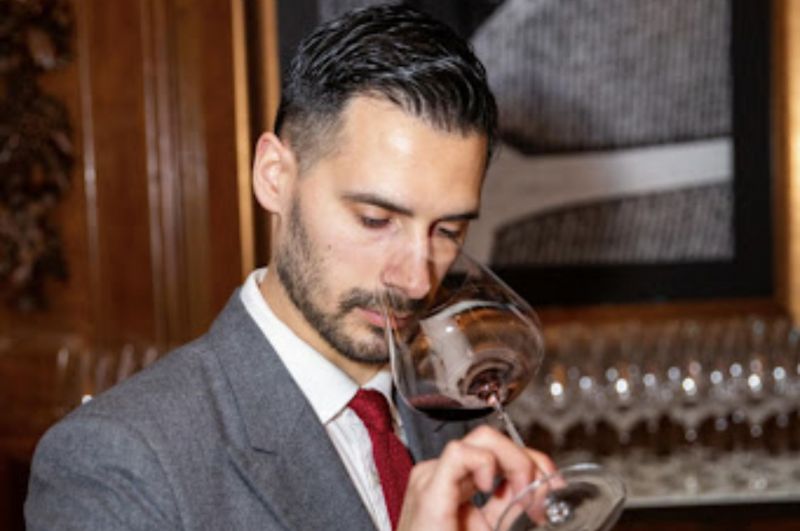 16/08/2022 Alberto Gherardi, Sommelier at Four Seasons Ten Trinity, London shares some valuable insights on methods to grow wine sales and profits and talks about his personal career goals.
Alberto is currently pursuing the Diploma WSET while working full-time as a sommelier at the Ten Trinity Square Private Club of Four Seasons. He wants to become a Master of Wine. While residing in Italy, Alberto worked as a sommelier for Locanda del Capitano. He has created and maintained the restaurant's wine list with the chefs, paired and suggested wines, and made necessary updates to the wine list. To raise public understanding of wine tasting techniques, factors impacting wine quality, various winemaking processes, and more, he also teaches classes to wine enthusiasts through his learning platform, the Wine Jokers.
Tell us about yourself.
I am humble and ambitious, driven by curiosity and love in everything I do.
I am extremely committed and organized, with a clear vision that I read every morning before taking a warm coffee. This way, I always know where I am going, especially where I started and the signs of progress I made during my journey.
After graduating in Economy and Management, I started a Sommelier course in Italy, and I realized immediately that the world of wine was about to "re-shape" my entire life.
So I became an AIS Sommelier, and I have been able to turn my passion and love for wine into a rewarding profession by studying in Switzerland at the Swiss Hotel Management School.
I am currently studying for the Diploma WSET while working full-time as Sommelier at the Ten Trinity Square Private Club of Four Seasons, with the goal of becoming a Master of Wine within five years.
Why did you want to become a sommelier?
I realized wine wasn't just a beverage but a way to establish connections with people. With responsible consumption, wine has the power to trigger people's feelings and allow them to open up and be themselves. Besides, I was tired of going out for dinner and picking only wines I was familiar with. I didn't want to miss the chance.
At first, my dream was to be able to properly "decode" a wine list to base my decision on value, style, and vintages rather than just on the reputation of the brand. My knowledge has increased exponentially, and I feel accomplished when I handle a wine list with such awareness.
What do I look for in a new brand before taking in my restaurant?
First and foremost, I take a step back and analyze the market before taking any brand in the restaurant. In a price-sensitive market like London, the competition is extremely high. Hence, I always pick the best value for money wine to please my guests and enhance their experiences. Therefore, going for a lesser-known variety with similar characteristics to other classic styles could be a great option to keep the price point as low as possible.
[[relatedPurchasesItems-38]]
Secondly, I'd look for sustainable wines as I know this is becoming a priority for many consumers. But of course, I would not add a biodynamic wine to the list to have it listed. I would only do it if I truly believe the wine is worth it.
Last but not least, I try to see how the brand can fit the restaurant concept and the menu. A wine list is like a mosaic, and every wine is a little piece of it. Every brand plays a pivotal role in the final outcome; hence they must be in "harmony" with each other to provide real value to every guest.
What sources do you follow to stay on top of industry trends and new launches worldwide?
I recently studied the D2 module of the WSET Diploma, which gave me a great overview of actual trends and whatnot. But I have constantly been studying and reading "wine geek" newspapers and magazines such as Decanter and Noble Rot, which allowed me to be updated at all times. These tools, plus the community I managed to build on LinkedIn, already give me the chance to keep up with the current industry trends.
On this note, I would add that the Drinks Business is always ahead of the curve, sharing new trends and launches all the time. Hence, I'd strongly recommend following that LinkedIn page to avoid any wine news. If I had to add another tool, I'd reference a book regarding climatic change and how this affects (and will affect) people's palate and taste: "You can't fool Mother Nature". It was eye-opening.
Questions you would ask a customer who doesn't know anything about wine?
I usually start by asking them what they usually drink and fancy when they are at home. If they don't really know anything and aren't even able to name the grape variety or style they usually go for, I try to find out what tastes they like in food.
Food can bridge the gap between guests' lack of knowledge and personal taste. Wine and food share so many chemical compounds and aroma/flavours; hence relying on this aspect can make life safer with the most inexperienced guests.
I usually use yes or no questions such as "do you like mushrooms" or "do you like grilled meat"? If the answer is positive to both questions, the guest indirectly tells me they like "earthy" flavours. Hence a slightly aged Burgundian Pinot Noir could be a great option.
On the other hand, if I found out they like butter and lobster, I'd have a high chance of pleasing them with a "rich" buttery Puligny-Montrachet. Regarding guests' satisfaction, I realized that there are so many "foggy needs", and some guests don't know what they crave. It's our job and duty to "investigate" and look for the right answers.
What are some of the most important skills for a sommelier?
A Sommelier must be an outstanding listener first and foremost. There is no chance to understand people's tastes unless we listen carefully to what they are trying to tell us.
Secondly, a good Sommelier must be flexible in that they must "adapt" their language, terms, and words to the level they are interacting with. It is useless to talk about Bâtonage or Degorgement date if the guests we have in front of us are approaching the world of wine for the first time. It is much more useful to exploit familiar and common descriptors to communicate the wine style in simple words. And this leads me to the next point. A Sommelier must be empathetic and use their soft skills not to embarrass the guests in any possible way.
Some words we use amongst professionals aren't suitable to be used on the floor, as we could create awkward situations and ruin the guests' dining experiences. Think about using the words "masculine" or "feminine". As a professional, I can see the point in using these adjectives to describe some wine styles. But I try to avoid terms referring to genders while on the floor, as I know, that could be misleading and misunderstood by some consumers.
How do you train your new staff member in their first seven days of joining?
First and foremost, I'd sit down with them and go through the wine-by-the-glass options. This would allow me to get to know them and break the ice since wine is the passion that made us meet. Besides, as Sommeliers, we all feel comfortable in front of a glass of this wonderful beverage, which could help them be themselves from the beginning.
Secondly, I'd give them a clear list of duties to know what they should do to perform their tasks and help the business thrive. I'd specify that the paper was given to simplify their job and make it more straightforward. As a team, we would perform the majority of those tasks together.
To move on, I'd show them where to find what they might need for a smooth service.
And last but not least, I'd tell them to have fun while working, be genuine, and always be honest with the guests. Authenticity can be easily spotted by people.
What methods do you use to grow wine sales? Please explain with examples.
To grow wine sales, I usually create a connection with my guests. Easier to say than to do it, isn't it? I used to believe so until I followed a private masterclass on how to increase the "emotional engagement" with the guests. This is particularly important for a Sommelier, as often we are those who welcome the guests by offering water and, depending on the standard operating procedures of any restaurant, giving the wine list.
I usually refer to this phase as the first "touch" point. The experience will likely be smooth for both parties if that goes well. After all, there is no second chance to make a good first impression. Once I handle the wine list (usually for the host), I make them feel as if they are the experts. From that time on, I try to see where the conversation goes and "follow the flow". If I realize that a guest likes Cru Bourgeois wines so much, I share with them my unique experience of visiting Bordeaux and Château Latour.
I can share with them the "spiritual" and romantic feeling I had while approaching the Château as you know that everything you are about to see, touch, smell, and sip has made, makes, and will make history. By the time I finish the story (making sure to include as many details as possible with the sparkles in my eyes), they are very likely to look for these wines on the wine list.
In fact, they would want to try the same feeling that I had as, suddenly, it is not about wine anymore. It's about creating unforgettable memories and life experiences.
Hence, we could let a guest step up from Cru Bourgeois to the third wine of Château Latour, Le Pauillac (whose price is generally higher than any Cru Bourgeois…).
Of course, if you set high expectations regarding something, you must be 100% sure that ultimately the wine will deliver the very same sought-after feeling to the guest.
What methods do you use to grow profits?
Let's keep it real. Having a good team of Sommeliers can definitely boost the bottom line of a business. However, these are the most effective methods to grow profits as far as my experience can tell:
- Invest in a Coravin system for both sparking and still wines: this invention allowed so many professionals to "go crazy" and offer a huge selection of BTG wines. Not only does this enhances the prestige of the restaurant and/or wine bar, but it allows to reduce the wastage and, as a result, profits. Everyone knows that the mark-up by the glass is higher than the price for the entire bottle. Especially because the business owner takes on the risk of literally throwing on the sink a very expensive bottle of wine.
- Reduce wastage: managing the cellar properly is extremely pivotal to ensure nothing goes to waste. I always say that the first way to grow profit is to decrease direct or indirect expenses. Seeing two bottles of our "house pour champagne" open in the back of the house is always a bitter pill to swallow for me. Especially if this happens before the closure days. No matter which preservative system you use, the champagne (or sparkling wine) is very likely to go flat during those days.
Hence, I always recommend to the Sommelier team to go around before the service and check what has already been opened so that we avoid wasting fresh wine. An effective Sommelier team will always point out what to "push" (although I don't like this word) during the regular briefings prior to service so that every team member is on the same page. It sounds silly, but you might be impressed to know that this isn't common practice in so many restaurants.
- Being 100% on: this is probably the most underrated way to grow profits, though one of the most effective. "Being 100% on" means that the Sommelier team must be on top of their sections at all times. Once the bottle and/ or the wine glass have been consumed, it is extremely important to ask promptly whether the guests would like to order something else or not. If they finish their outstanding bottle of red at the beginning of the main course, they are very likely to go for another one. But if the Sommelier in charge doesn't realize this and only asks for it when they have enjoyed the last bite of their mouthwatering piece of steak, for instance, the sale is lost (or the chances to sell another round have decreased massively…).
That leads me to the next point: do not allocate your Sommelier a too busy section! Otherwise, their job would be way harder, and they wouldn't have the right "conditions" to sell. Knowing the team is essential since some team members are "pumped" and can still perform remarkably under extremely busy conditions. Some others may not do the same, though.
- Non-alcoholic beverage: nowadays, non-alcoholic beverage plays a pivotal role in growing the profits of a business. Looking at the last trend, many consumers switched to lower alcohol and alcohol-free beverages. Sparking teas, non-alcoholic wines, and mocktails are mushrooming nowadays. It is a great opportunity to offer tea- toddlers who could overcome the uncomfortable perception of feeling "excluded" while any other member of the table will drink wine.
- Water, Tea, and coffee: I can't stress enough how important these three items are for many businesses. They are what allows us to go the extra mile indeed. The figure speaks at the end of the quarter. Everyone would feel relieved that these items generate a great part of the revenue. The purchase cost is lower than any other beverage, and the mark-up is higher. Besides, they are usually a very easy sell. Everyone would love to conclude a huge meal with the help of something to "digest" the food. It's in these instances that coffees and Teas come into play. And, as far as I can see, it's imperative to train people on how to sell these valuable items.
You might be impressed to see how figures could go if the team members used the right adjectives to describe what they are selling. There is a huge difference between asking if the guests would like a tea or putting a bit of emphasis and "passion" on it. For instance: "Sir/ Madame, I believe an Oolong tea would be a sublime way to conclude your meal. It's fresh and bright with nuances of honey, toasted grain, or white sesame. Would you fancy a cup?" You'll probably receive a smile and a positive answer (while increasing the final bill …)—a win-win situation.
How do you self-learn and improve your skills?
I study every day to finish my WSET Diploma and become a Master of Wine in the foreseeable future. I constantly challenge myself by trying to step out of my so-called comfort zone. I always try to be as professional and focused as possible in the workplace since I believe that excellence is a habit. This means that I always pay attention to small details as I was in a Sommelier contest regardless of the number of guests we have in the restaurant. This way, I pay attention to every gesture, movement, and body language to be as elegant as possible.
I constantly review my notes at home to build up new knowledge on them. It is much easier to create links and learn new things if the past things you learned are always "fresh" and "limpid". Besides, I always try to keep an open mind and welcome new points of view and opinions. I truly believe that we all can learn so much from anyone, and it would be very "dangerous" to preclude ourselves from the chance to listen to other people's points of view and perspectives. I take everything on board, and I use every possible criticism as something I have to work on.
Last but not least, I honestly consider myself very lucky that I have a twin brother with whom I share the same dream and passion for wine. This allows me always to have someone to discuss interesting wine topics and the latest trends. If I missed something important, he would "notify me" and update me immediately. I truly believe that building a study group is pivotal to learning about the world of wine and constantly raising your knowledge level. That's at least what I have been trying to do, and so far, it has paid off.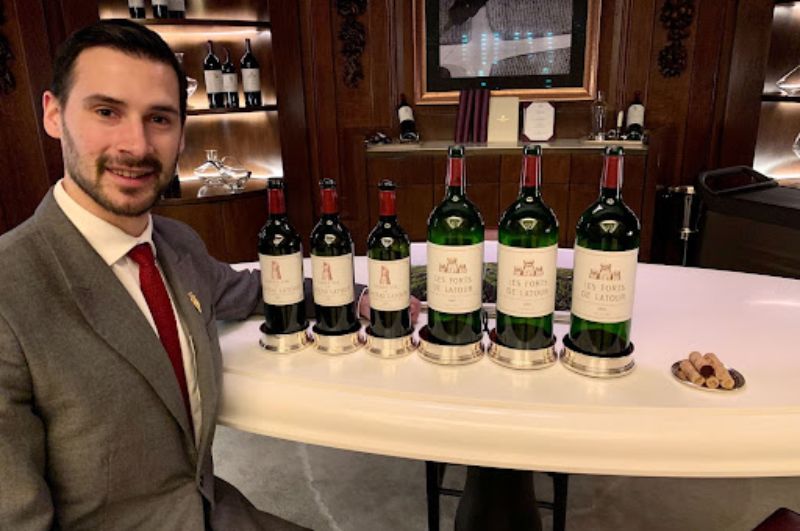 Image: Alberto Gherardi
What's the best part of your job?
I'd say that the best part about my job is that it is extremely "variable". Every day is so different from the previous one, as you never know which guests you will meet, what you will share with them, and what bottles they will drink. There is no risk of getting bored, and you feel like part of an action movie. I truly love the "suspense" when the guest assesses the wine to understand whether they like it.
At that moment, it is as if time slows down. I feel as if I can read their thoughts. A sort of "meditative" silence rises since everyone is waiting for the final verdict of the wine expert on the table. And then, hopefully, the famous "yes" arrives, which gives me permission to move on with the service, being proud of the job I just did.
Furthermore, being a Sommelier makes me feel very accomplished. As far as I can see, this figure goes way beyond being a wine server. I feel like a psychologist when I "study" my guest and what they might like. I feel like a teacher when I share the concepts I have been studying with them. I feel like being the "voice" of the winemakers when I tell the story behind the label.
And last but not least, I feel like a wizard when I try to "predict" what the future trends might be based on my guests' preferences.
How do you elevate the guest experience? Please give 4-5 examples and insights here.
A never-failing strategy to elevate guests' experiences is to organize unexpected blind tastings for them. I am lucky I work in a private club where wine is the main focus, and we generally have enough time to personalize the service. Hence the relationship between Sommeliers and members is very strong and trust-based. I can easily take the freedom to pick something unique for them since I know what they fancy and their spending habits very well.
I truly believe that the "surprise effect" is pivotal to spicing up the guest experience and making it somehow memorable at all times. The fact that I can pick what they like makes them feel extremely special since the service is tailored and personal.
I'll never forget when I poured the Chateau Montus 1998 blind, and they thought it was a Les Forts de Latour 1995 for its vibrant backbone, multilayered complexity, and velvety tannins.
Another "game" of mine to enhance guests' experiences is to show them how the wine aroma/flavour profiles can change with different wine glasses' shapes. Indeed, we have the privilege to use all the selection of Zalto glassware, which is a great added value as far as I can see. As I heard the members doubting the functionality of different shapes, I decided to organize something unique: the same champagne served in two different glasses. It was an eye-opening experience for them.
In the white Zalto glass, the Blanc des Millionaires 1995 showed a more aromatic/ fruity character with nuances of candied lemon zest and dried mango. In the sweet Zalto glass (the more traditional tulip-shaped glassware), the prestige cuvée displayed predominant aromas of crème brûlée, toasted almond, and caramel. They said it was a lifetime experience since they thought to be drinking two different champagnes for a movement.
Another original way to create memorable guest experiences is to organize vertical tastings for them. In the club, we boast one of the deepest collections of vintages of Château Latour wines. Hence, we can play with it. These tastings represent a sought-after experience as they allow our members to try a vast range of vintages made by the same prestigious Château. This approach to tasting is fun for the guests because they can witness how the weather conditions of a specific year can affect the ageing potential of the wine.
While doing vertical tastings, I always remind them that It is imperative to focus on how the structural components and the aroma/flavour profiles have evolved and have stood the impact of time. Without the right mix of weather conditions, components such as tannins, acids, and alcohol, the body will be unable to "assist" the wine during its evolution.
In other words, the wine would collapse as it did not have an outstanding balance in the first place (e.g. too much potential alcohol without reaching phenolic maturity). It is impressive and rewarding to see how our members' palate and knowledge have improved thanks to this fun approach to tasting.
Another important thing I usually do to create unforgettable moments in the club is to prove to them how the service temperature can hugely affect and how we assess the wine.
I always recommend different service temperatures depending on the grape variety and style of wine.
I recently decanted part of a Beaujolais bottle, Clos de la Roilette 2020, in a Zalto caraffe just to put it on the ice bucket for a few minutes and prove how the tasting experience could massively change. So many are still sceptical of drinking slightly chilled red wines, unaware of all the aromas/flavours they might be missing due to this odd decision.
The guests loved the chilled Fleurie much more, pointing out how the distinctive floral nuances and the subtle tannins were emphasized at a lower temperature.
The same principle applies to complex white wines. I'd never recommend drinking a barrel-fermented Viura too cold, as we might risk "constraining" the wine from showing the oxidative layers of dried mushroom, toasted almond, and honey. Having said this, ultimately, it is down to the consumer to decide how to enjoy their wine. We are only here to dispose of our knowledge to enhance their experience.
Long story short, I always try to create an out-of-the-box, tailored experience for every guest. Blind tastings, experiments with glassware, vertical tastings, and different serving temperatures of the same wine are educative and fun experiences that can make the members' time in the club extremely memorable.
An unforgettable wine experience for you - tell us the whole story!
It was when I started working at Ten Trinity Square Club in November 2021. Every six months, we organize an exquisite dinner in which the main protagonist is Château Latour.
I was lucky enough to start right on time for that occasion. I can't forget anything about that day: from when we were getting ready to serve the bottles to the teamwork and the unbelievable explanation of every vintage. I can't recall exactly how many bottles of Château Latour we open that day. However, the memory of tasting 1982 from Magnum for the first time is still very much clear in my mind (and heart…). As I tasted that bottle, I felt that "my soul was lifting", and for a few seconds, I wasn't in London anymore… I was in Pauillac, among the vines of this amazing Château.
When I woke up the day after, I could still feel the distinctive earthy (but fruity) taste of this iconic red wine and the smooth tannins on my gums. At that very moment, I realized that great wines aren't a commodity. Great wines are memories. You figure out you are in front of a special wine whenever you take "snapshots" of its bouquet with your nose and its flavours with your tastebuds because you don't want that memory to fade. You want to hold onto it forever. I will never forget these moments and am confident they will always bring me pleasure for the rest of my life.
What is the biggest faux pas that customers tend to make when ordering and drinking wine?
The biggest "faux pas" that consumers tend to make is to base their wine choices entirely on a hierarchy system, whatever this may be. Although these classifications can indeed mirror the wine quality level of wine in some instances, relying massively on them is a huge pity as far as I am concerned. I am Italian, and I know how consumers think in the country. Most Italian consumers believe that PDO wines (DOCGs and DOCs) are always better than PGI wines (IGTs). Perhaps they aren't aware that these hierarchy levels establish huge constraints on vine growers in the vineyards and winemakers in the wineries.
Apart from defining the boundaries of the production area (e.g. grapes for Brunello di Montalcino must entirely come within the Montalcino commune), factors such as maximum yields permitted grape varieties and winemaking practices (e.g. ageing requirements) are all established by the system. The so called "Disciplinare di produzione". This strict approach was debated in the past by pioneers who deliberately decided to go against the rules for the sake of quality (the famous story of the Super Tuscans) and will be debated in the future as well.
The climatic change will force us to change the system and the PDO rules, as varieties like Sangiovese, which are so priced for their vibrant freshness and tart fruit character, won't be able to thrive where they are doing so right now.
This will alter the system as a result. Since maybe another later ripening variety should be used to obtain a balanced wine. But if this variety isn't allowed by the PDO system (yet…), the average consumer would say that the wine is "just" an extremely balanced IGT. And by the way, one of the most priced Merlot in the world belongs to this category: Masseto Toscana IGT. Do you see the paradox?
Your favourite restaurant in London right now?
Let's start by saying I truly love trying traditional places rather than commercial restaurants. Having said this, one of the best experiences I had recently was when I went for a Sunday lunch at the Guinea Grill.
As you enter this historical pub, you feel like traveling back in time. As you open the door, you can see the wide selection of draft beer and all the people chatting while probably enjoying a thick-foamed Guinness (for which the pub is known).
Walking to the main restaurant, you can spot the counter showcasing a remarkable selection of the finest pieces of meat in the UK. Not even your trusted butcher may have so many mouthwatering cuts available at once. The tables are very close to each other, creating a very "familiar" restaurant style. The menu is pretty straightforward, serving whole the great British classics (by the way, I strongly recommend tasting their pies …).
The best part? The wine list. It's a real Bible, including rare gems of 1er Grand Cru Classè and prestigious Burgundian Grand Cru wines. Considering their big collection, you might forget you are in a pub—a real delight for adventurous Sommeliers looking for a traditional experience.
Any favourite food and wine pairing suggestions for London drinks enthusiasts?
Oysters Fine de Claire and Manzanilla Sherry have been the most sublime pairing I have ever had in my entire life. Like wine, terroir and variety matter in the world of oysters. And this is probably the reason that I love them so much.
Everything from salt levels to microorganisms and even mineral components of its environment affects the taste and texture. Just think how different the coasts of the United States are from France's rivers, let alone far down in Australia. I especially fancied this pairing because I am a huge fan of both oysters and Sherry. The Fine de Claire is renowned for its saltiness, nuttiness, and "meaty" texture.
If you are a Sherry lover, you already know that these terms are commonly used to describe the Manzanilla style. In San Lucar de Barraneda, humidity levels are higher than in the other part of Jerez, allowing a thicker layer of flor to form. The wine will taste more dried than a Fino (as the glycerol level will be lower), with a strong acetaldehyde character combined with distinctive savoury nuances. Hence, the pairing with the Fine de Claire will provide a sublime concordant match of textures and flavours.
Don't worry if you don't want to go too fancy, as the pairing with Manzanilla Sherry will perfectly work with simple olives, sun-dried tomatoes, and toasted almonds/ nuts.
Comfort pairings like these can make everyone's days on a lazy Sunday.
Name three sommeliers in the UK you like.
- Jan Konetzki for his communication skills.
- Michele Fazari for his blind tasting knowledge.
- Emanuel Pesqueira for his deep understanding of food and wine pairing.
What's your personal career goal? And how are you investing or planning to get there?
I have medium-term and long career goals. I'm teaching in a prestigious hospitality school and running my own business. I believe education in any field is important and could play a pivotal role in inspiring thousands of students with a passion for wine and hospitality. This is a real legacy.
Education would allow me plenty of free time, or at least it would feel like such after coming from a hospitality background. Hence I could run my business simultaneously in the long term. I like the idea of opening a club that celebrates food, wine, and different cultures across the globe. To get there, I need to become a Master of Wine, making me feel accomplished, fulfilled, and "reliable". The experience I'll have, plus this prestigious title would be a perfect combination to accomplish my vision.
In the meantime, I will keep improving my website (www.thewinejokers.com), where I weekly write articles alongside my twin brother. We will start a YouTube channel and a podcast besides having written a book (that will be ready to go very soon). We both believe the Wine Jokers has already helped us to build connections within the industry as so many wine professionals know us thanks to our Instagram page (@the_wine_jokers).
Besides, it stimulated us to bring new original things to the table. As I always say, I don't know where this will lead us. But I can definitely say that I am enjoying the process, and I believe this is the secret to success.
Give us one good story that you remember of a customer and you.
The story I am going to share had not happened between a guest and me. But between the Food and Beverage Director of the Edwardian Hotels London and me. We had an important dinner to launch the main restaurant of The Londoner, the brand-new luxury boutique hotel in Leicester Square. We were about to host important food and wine critics, and I can't describe how much attention to detail everyone had. Within the company, everyone knew that the mentioned F&B Director wanted his white freezing cold.
My mission was to change his mind. For that important dinner, I paired Chardonnay from Russian River Valley with the signature dish of the French Mediterranean restaurant, the Escargot with N'duja Lemon Butter. And guess what?! I served it at 13 degrees Celsius, claiming that this temperature would have emphasized the Chardonnay's buttery character and creamy texture. I won't ever forget his face as he experienced the pairing. None could understand the nature of his reaction at first. After a few seconds of complete silence, he said that I had been able to completely change his point of view regarding the white wines' serving temperatures. Within his 17 years in the industry, none was able to do so before.
Header Image: Alberto Gherardi
TAGS: