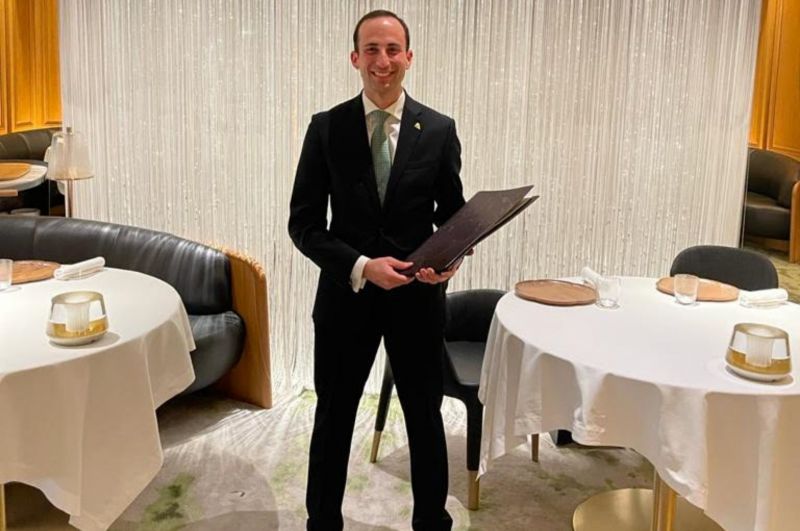 02/02/2022 Knowing your wines is not what will ultimately define you as a Sommelier. Vincenzo Arnese talks to us about what truly makes a great Sommelier.
Where do you work?
Alain Ducasse at The Dorchester.
Tell us a little bit about yourself. How did you begin your career and how did you progress into this role?
I recently started at Alain Ducasse at the Dorchester as Head Sommelier. Before that, I have been working in hospitality for 17 years in different countries and for some amazing restaurants. My most memorable work experience has been at the Waterside Inn in Bray, Vue de Monde in Melbourne, and Dinner by Heston Blumenthal in London. I started as a commis Sommelier and I worked up the ladder. It was important for my growth to work with a great mentor and to refine my knowledge by attending different wine schools, like WSET, Court of Master Sommeliers, and Associazione Italiana Sommelier.
[[relatedPurchasesItems-22]]
Define your role and the tasks involved in your role.
Working for Alain Ducasse at the Dorchester is a privilege, the attention to detail is everything. I'm in charge of everything wine-related, from the buying to the selling, staff wine training, and stock management.
What questions would you ask the restaurant owner before you plan your wine sales growth strategy?
I would ask the owner to see the sales mix report and a copy of the inventory valuation to analyse the trends of our guests better.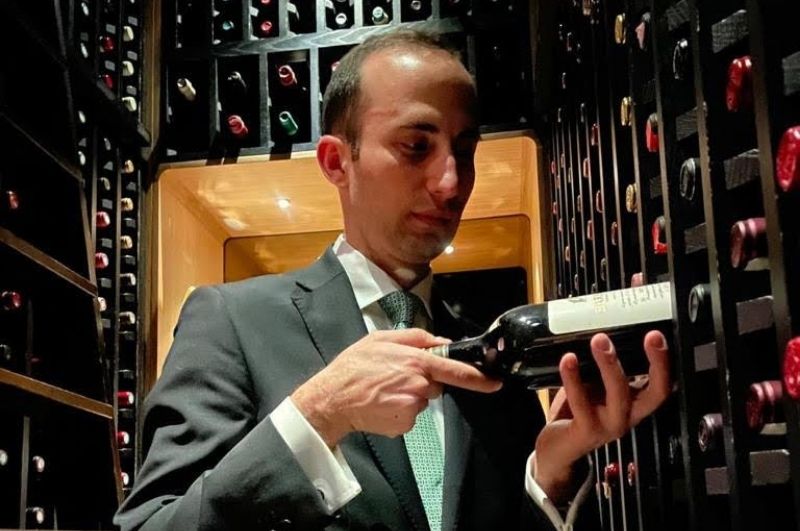 Vincenzo Arnese going through the inventory at Alain Ducasse at The Dorchester.
How can suppliers work with you to drive sales?
Suppliers are an important part of a restaurant, they can help drive the results to a higher level. My opinion is that we need to have healthy relationships, based on trust and mutual understanding. The best suppliers that I have are the ones that are aware of my guests needs and present the right solutions.
What are the three main things you focus on daily in your role?
1- The most important are the guests. I like to have a hands-on approach, to create a connection and be present during the dining experience.
2- The staff, a happy and motivated team will help you to achieve the first point.
3- The wine stock needs to always be organised and updated.
4- Supplier relationships. Keeping up with emails and following up for future projects.
What are the points you look at when selecting a new wine for your wine program?
Quality is the most relevant. After that, I focus on how the wine will fit into the list and how it will be appreciated by the guests. Of course, the price can play a big role in the final decision.
What is the difference between the role of a sommelier and a wine director?
A Wine Director or head sommelier has a complete understanding of the business and it's not only focused on the guests but also the buying aspect and education.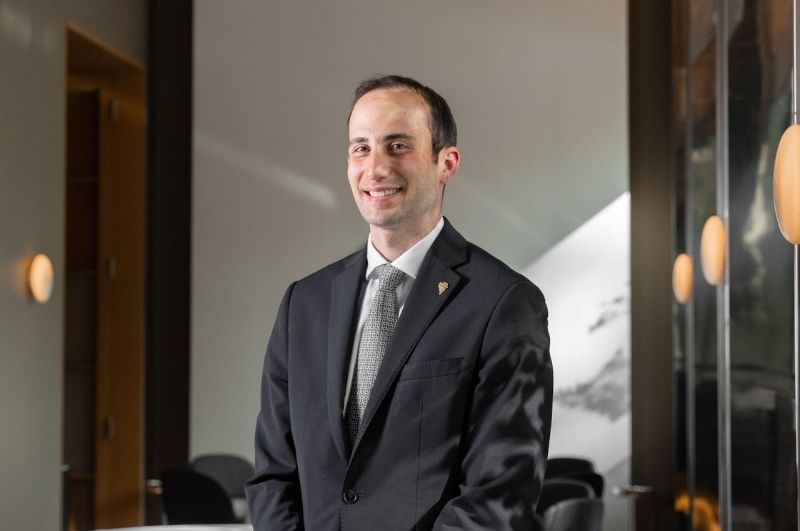 Vincenzo Arnese, Head Sommelier at Alain Ducasse at The Dorchester.
Define a good sommelier and what qualities you would look for when hiring one.
Being a good sommelier is not only about knowledge, that is important but not the priority. That will come with time and preparation. What is an absolute necessity is a positive attitude and the capacity to stay humble at all times. You need to be able to handle difficult situations sensitively, understanding that everyone has different opinions and tastes. Our primary job is to understand these tastes and to come up with the perfect solution for the guest.
What do you look for when you have to evaluate the effectiveness of a wine program?
Numbers from sales mix reports and stock take valuations are important but not as much as the honest feedback from guests.
How according to you has the role of the sommelier evolved, especially now during Covid times?
The sommelier role became more digital; social media helped to spread the voice and to reinvent the approach of how to communicate about wine. Suppliers are also adapting to the social distance rules by creating online masterclasses and delivering samples of wine for online tasting.
Everything is changing, and everyone is revising their method, but what is still the same during these challenging times is the passion that drives the wine community.
What are some of the most important skills for a sommelier to have?
Knowledge is important, but not the priority. That will come with time and preparation. More essential skills for a sommelier are always having a positive attitude and the capacity to stay humble.
A good Sommelier needs to handle difficult situations sensitively, understanding that everyone has different opinions and tastes. He/she should be able to use his/her personality and knowledge to suggest wines that can satisfy the palate and the needs of the entire table.
Your favorite places to enjoy great wine in London?
We are lucky to have some great places in London that offer a great selection. To mention a few: Noble rot, Andrew Edmunds, Authentique Epicerie & Bar, Cabotte, Trinity.
What's the best part of your job?
There are many aspects of my job that I believe are unique and great but the best is to enjoy a genuine chat about wine with people that share the same interest and passion.
What's the worst part of your job?
To be able to accomplish a unique result you have to sacrifice many hours of your time and this can scare many people off, but all these sacrifices are rewarded in the long run.
If you had to pick one red and one white wine as your personal best, which wines would they be?
I enjoy Nebbiolo, especially from Barolo, and for white I like dry Riesling from Germany but I am always ready to taste something new.
Any favourite food and wine pairing suggestions for London drinks enthusiasts?
I suggest trying some salted caramel ice cream with an aged Pedro ximénez sherry.
TAGS: