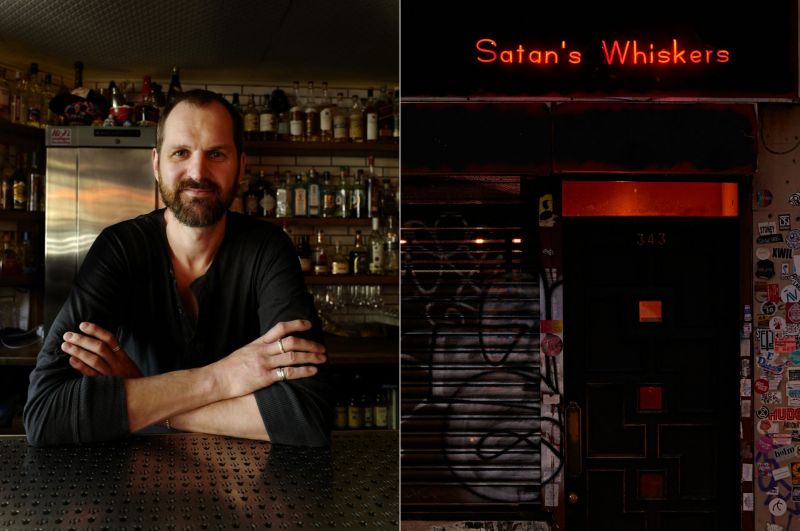 09/06/2022 Satan's Whiskers voted fifth-best bar in the UK in this year's Top 50 Cocktail Bars (and winner of the prestigious title in 2019), is a stalwart of the cocktail scene.
Satan's Whiskers has been serving up classic cocktails to its army of loyal customers since it first opened its doors nearly a decade ago. Helen Arnold met up with owner Kevin Armstrong to find out the secret of the bar's enduring appeal.
Satan's Whiskers in London's edgy Bethnal Green in the East End is, in the fast-moving bar world, something of an institution since first opening its doors back in 2013.
One of the original cocktail bars to open in the area, and serving the burgeoning hipster community, it ticks all the boxes you'd expect to find in any self-respecting cocktail bar.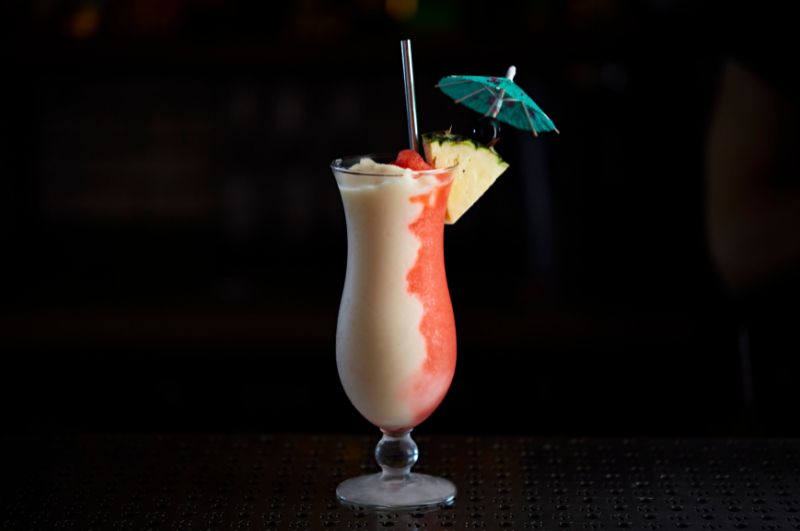 Image: Miami vice satans whiskers
Exposed brickwork, a moody colour palette, quirky taxidermy, and vintage French posters on the walls – Satan's Whiskers features them all. And with hip hop beats on the stereo, and the lights turned down low, the vibe is relaxed and welcoming.
A well-stocked back bar and the cocktail menu are updated on a daily basis, depending on the bar tender's whim. This ensures there's always something new to try, though it is the classic cocktails that dominate here, with retro favourites such as Pina Coladas, Old Fashionedsb and Negronis, particularly in demand. The bar's signature drink, Satan's Whiskers, is also a big hit with punters, while the Salty Dog, a blend of vodka, grapefruit juice and pink salt is another best seller.
Owner Kevin Armstrong who has worked in the bar sector for his entire career has seen a huge shift in trends over the past two decades. "Working with the Match Bars during the early 2000s we had an incredible range of both product and cocktails, years ahead of where most other bars were at that time," he recalls. "Drinks like Negronis, which always featured on our menus, were hugely unpopular and Martinis/Manhattans were a 1 in 250 order." That has now shifted to more like one in ten, he says, particularly at Satan's Whiskers.
"Consumer tastes have matured immensely in that period and now they regularly ask for specific brands, way more than used to happen in the early 2000s, and the range of cocktails we're asked for is really quite remarkable."
Back in the day, he says that bars were as much about the vibe and good times as they were about the cocktails, but now, it's more about the actual drinks and the full bar experience. "It's great to have a customer base as informed as to the one we have today," he says, adding that he believes Satan's Whiskers to be almost "entirely unique" in that its drinks menu changes every day, with around 24 on offer at any one time. "There are of course some mainstays, but essentially all other parts of the menu are changed each day. We might list six highballs on a Monday, then the same section will feature six entirely different highballs a day later. "There are various reasons for ringing the changes so often, he says.
"The first is that being a neighbourhood bar, it gave our regulars reason to come multiple times within a week, as there are always new options. It also gave those guests confidence to start ordering off-menu – they quickly learned we had an extensive catalogue of recipes and could order drinks even if they weren't featured on the menu."
Additionally – and most importantly, says Armstrong, it gives the bartenders the opportunity to learn and develop their skills.
"Bartenders can work their entire careers without ever making certain drinks, having input on a menu, or a chance to take ownership of what the bar they work in serves," he points out.
"I have found this evolving menu approach advances bartender learning more than any other method.
"The lead bartender setting up on the day has the capacity, ownership, and freedom to decide what our guests will be drinking that evening. As a result, they become extremely proficient at making all kinds of recipes, they also learn the importance of menu balance and get to test in real-time what our guests respond to.
During the lockdown, when the bar was forced to close, Satan's Whiskers offered a limited range of cocktails in bottles for customers to take home and enjoy, including the Gin Martini, Vodka Martini, Old Fashioned and Negroni. "We were a little late to the party with this," admits Armstrong, "much slower than many other bars. It was of course a response to forced closure and Covid, but 15 months later and we're still selling these." Sales were initially extremely healthy he claims, but as soon as venues were allowed to reopen, demand, as expected, tailed off substantially.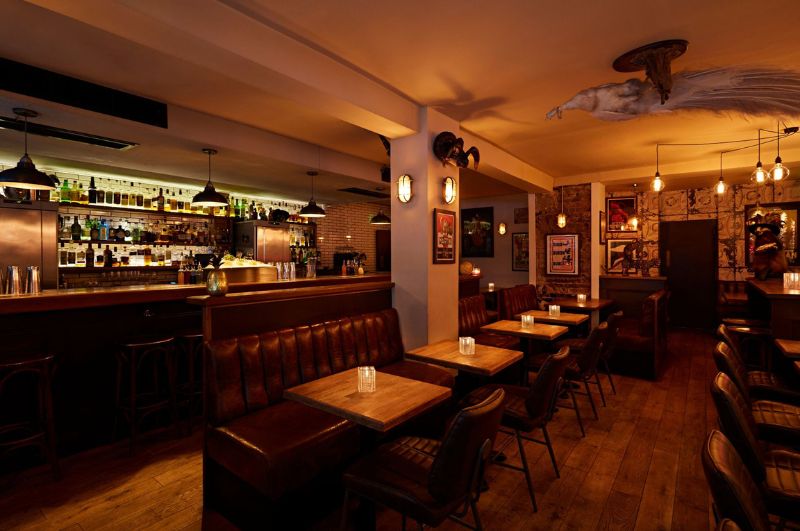 Image: Satan's whiskers Interior
"Rather than rushing to sell something we weren't quite happy with, we took our time and made sure that what we released would be a fair reflection of our brand. We now mainly produce bottled cocktails in conjunction with other spirits brands or bespoke bottlings, although we have kept a nice but small group of clients that continue to order."
During Covid, Armstrong says the business proved itself to be "extremely robust, even during those periods when difficult (and dare I say ludicrous) restrictions were imposed on hospitality." When bars were finally allowed to reopen with restrictions in place, Satan's Whiskers was able to quickly revert to how it had always operated, except with reduced capacity. "We've always been an all-seated and table service led venue so thankfully we didn't have to make many adjustments to comply," he says. "Since the restrictions have been removed, our customer base has returned in full force and in the 12 months we've been allowed to trade unhindered, the business has performed better than pre-Covid."
Whatever they're doing, they're doing it well, as Satan's Whiskers was the top-rated bar in the Top 50 list in 2019 and was ranked fifth in the rankings this year.
So what does Armstrong attribute to Satan's Whisker's long-lasting success, where many others have tried and failed? "Primarily a combination of both attention to detail and being a business that is product-focused rather than profit-focused," he says. "Our choices have always been driven by what is best for our guests. Even if we can make a marginal gain in the quality of our product or service, we will nearly always do that. An example is how we chose our original spirit lineup; all of which were chosen through a blind tasting process and how they held up in our recipes, as opposed to being chosen by price point or affordability."
A typical customer is aged between the 25 – 39, with slightly more women than men – "with a varied mix of interests and cultures, as is typical with East London,".
The bar is also hugely popular as a date venue, with bookings for two being the most requested booking size. "With us having been in the area for so long, we've got a fantastic group of regular guests, and as you might expect, we see a lot of the London bar scene joining us for drinks on their evenings off."
Cocktails that are most enduring and popular amongst Satan's Whisker's customers are those containing American Whiskey, Gin, and agave-based spirits, primarily Tequila but also Mezcal, which have all grown in popularity in the past 12 months.
When it comes to buying drinks, Armstrong's approach is all about quality. "Blind tasting is the only way we have ever made these decisions," he explains. "Every time we come across brands that we think have the requisite qualities to feature in our mixed drinks, we go through the process again and try multiple recipes, side by side to make sure."
With regards to the brands that feature on the back bar, the same rigorous process is applied and repeated at regular intervals to ensure that the brands that were delivered six months ago still taste as good. "Essentially, we are always testing to see if there are gaps in our offer or if we can improve with new products. This invariably means our back bar offer evolves, usually slowly, but you can guarantee that if we stock a product, it's gone through that process recently."
While quality, discerned via blind tasting, is the key criteria for Armstrong and his team, he also likes to choose those drinks that go towards making an interesting range. "We do our best to choose products that are the best examples of their product type, variety, or location/region," adding that most of the more expensive drinks on the back bar are offered at lower margins to make them more affordable for guests. "Why stock high-quality bottles and then price them in a way that makes most of them prohibitive?" he asks.
As well as its cocktail range, the bar offers a very limited selection of other drinks, including two beers, one cider, one white wine, two red, one Prosecco and two Pol Roger varieties.
Armstrong is dismissive of beers carrying the "craft" title, saying it means very little in itself – "and certainly no sign of quality when it comes to beer."
The bar has rotated its beer range over the years, offering a mix of mainstream and indie brands. "However, we've always found that an unchallenging lager, something crisp and on the lower side with regards to ABV, has been the most popular, and works well when drinking alongside cocktails."
"We will of course continue to try new things, develop/improve the offer to see how it performs, but this category only represents a small part of our revenue."
If he had to give advice to anyone considering setting up a cocktail venue, Armstrong says it's vital to make sure that your offer is within your means to deliver it. "Too many venues set their expectations too high or make their menus too complex and end up under-delivering," he points out. "Choose a menu, even if just a small menu, that your team can deliver quickly, consistently and with quality.
"If you're opening a new venue the considerations are much greater. In this instance my advice is similar, but of paramount importance is designing your venue so that when you eventually reach peak levels of trade, you have the set up in place to capitalise on that trade to maximise your revenue."
As to the future, Armstrong says he's not one to make predictions. "Even after 20 years, I continue to be surprised by the popularity and success (or not) of specific venues and/or cocktail trends.
"There are things that I have enjoyed immensely that do not last, and there are venues I would have staked my reputation on not working out but have proven to be huge successes."
One thing he says is for certain, however, and that is the huge role that social media now plays in how bar culture evolves, and more so than ever, the name of the person above the door can often be the most determining factor of success.
"In London, we are spoiled for choice and have some amazing advocates and venues. Fundamentally this means that cocktails are reaching more people than ever before, and it can only be good for this to continue."
TAGS: