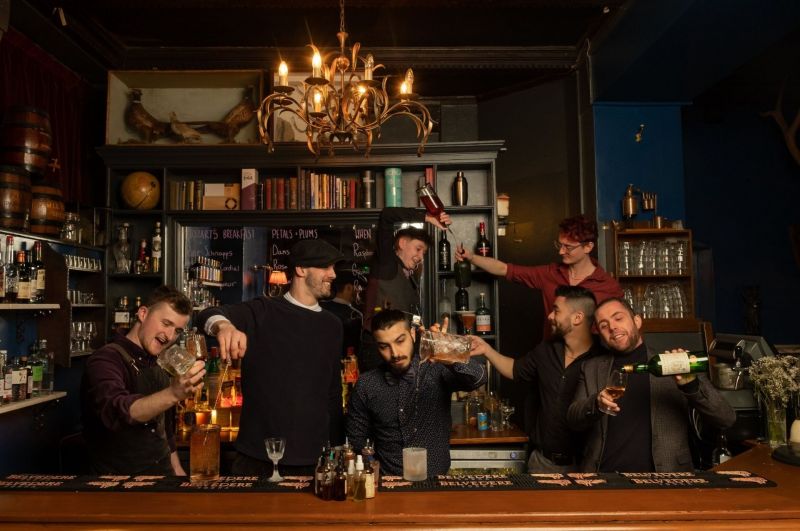 18/02/2022 Recently voted one of the best cocktail bars in the country, Bristol's award winning Milk Thistle may not be that easy to find, but it's well worth the search.
Bristol-based Milk Thistle, the sister bar to the city's original prohibition style bar Hyde & Co, has just been named one of the top 50 Cocktail Bars in the country. Helen Arnold caught up with general manager Ben Peacock to find out what makes the speakeasy style bar stand out, and how his customers keep coming back for more.
Milk Thistle is housed in a sprawling Georgian four storey town house in the city's historic centre. Decked out in a deep moody palate, with dark wood panelling, glittering chandeliers and leather button back sofas, it is stuffed full of eclectic objects, with stags' heads on the wall, random taxidermied animals and birds in glass cases, and old books piled high. It certainly makes for an atmospheric venue, with its unassuming entrance – a discreet sign on the wall announces its presence – and comprises a lounge bar, a hidden vault, the attic room which makes the ideal place for a private dinner party, the Parlour bar which serves up some of the best cocktails in town and an outdoor terrace overlooking the city centre.
[[relatedPurchasesItems-23]]
But in a city with such a vibrant and dynamic bar scene, what makes Milk Thistle stand out from the crowd? The lovely old building helps, of course, but that alone wouldn't keep the punters coming back for more, points out Peacock, who claims that excellent customer service is paramount.
"We're very lucky to be situated in one of the most beautiful and unique venues in the city, but aside from that we encourage each member of staff to let their personality shine through in our service, which allows for a much more personal experience for the guest.
So who is the average Milk Thistle customer? Peacock says that the venue attracts a mixed crowd, but is mainly couples and after work drinkers during the week, while the weekend sees the place packed out with 20-somethings – and older -out to have a good time.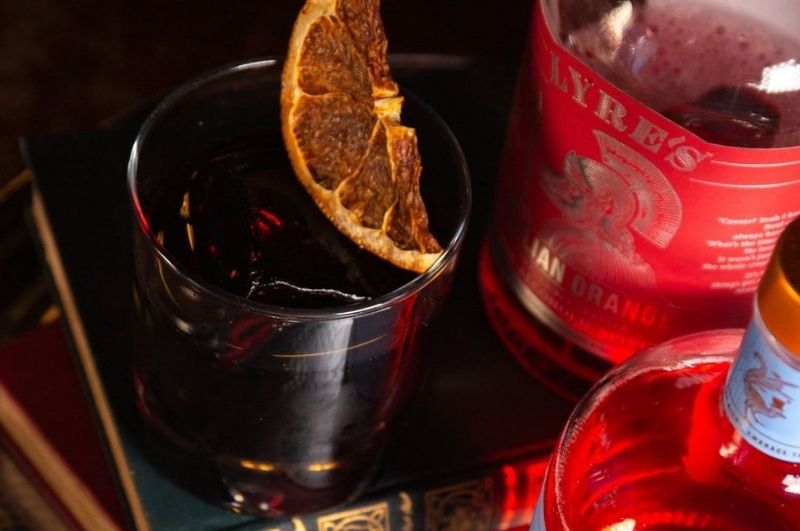 Lyre's Italian Orange and Italian Spritz next to a cocktail at the Milk Thistle
The bar offers a wide range of cocktails, ranging from the traditional to the more experimental, all reasonably priced from around £5 and up, depending on the spirit. Previous cocktails have included the Bristol tea, which has been described as "everything a Bristol bartender loves in a glass", an Old-Fashioned style tipple with a Bristolian twist. Another past favourite was the quirky Narrow Quay, described as a "Scottish camping experience disguised as a cocktail" with Horlicks as one of the key ingredients. A current favourite is Pear Necessities, including Belvedere vodka, pear cordial, elderflower and white wine, as well as Gyoen Tea House which consists of Balvenie 12 year cherry blossom vermouth, yuzu sake and Aperol.
"Mezcal too is definitely having a bit of a moment right now," says Peacock, adding that the most popular spirit is "probably whisky", with the most requested cocktail currently being the Wild-Lily Fix.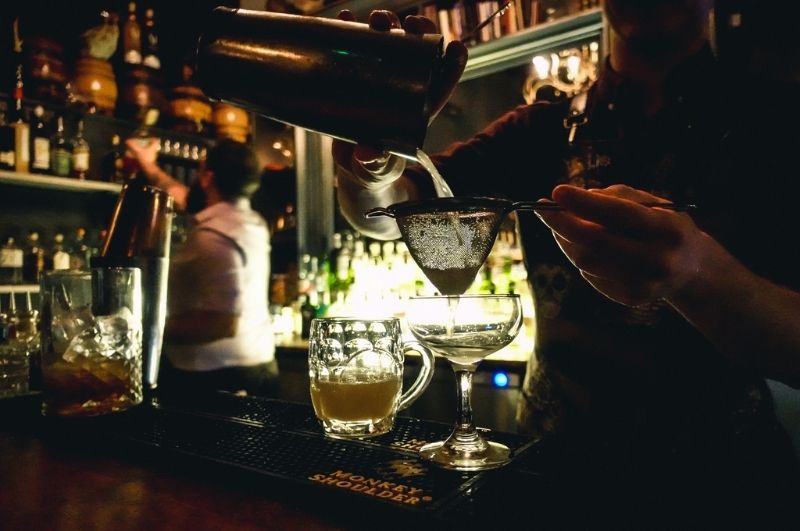 Milk Thistle's cocktail menu changes two to three times a year to keep things interesting. "We often find there will be one or two drinks from each menu we make which are standout favourites for our guests, so we'll always bear that in mind and try to create something for the new menu which is similar – but with a new twist."
The responsibility for buying falls to the group beverage manager, though Peacock says they are frequently approached by new brands looking for representation. "Customers tend to ask after the brands they know – however, we do feel that part of our job is to encourage a little adventure and encourage guests to try new things." But he adds that the three key criteria which always come into consideration when buying spirits are quality, sustainability – and availability.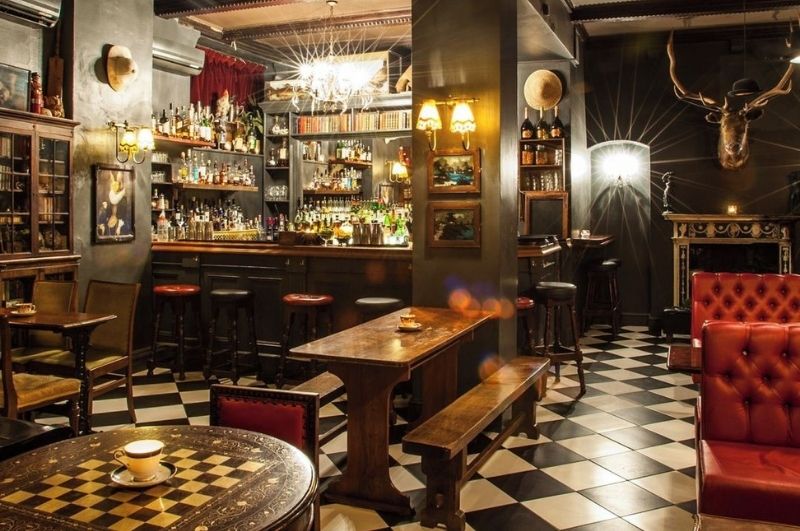 Milk Thistle's lounge bar - complete with stag's head
While Milk Thistle specialises in cocktails, it also offers a small selection of wine to give customers extra choice. "We offer a very simple wine offering as we mainly specialise in cocktails and wine is very rarely ordered. We offer one red, white and rose, plus Cava and Champagne."
Similarly, Milk Thistle likes to keep things just as simple on the beer front, offering one bottled beer - The Japanese Kirin Ichiban. Peacock who has been in the industry for ten years, says he has noticed that customers are increasingly taking more of an interest in the provenance of their drinks, and becoming more knowledgeable on the spirits and cocktail front.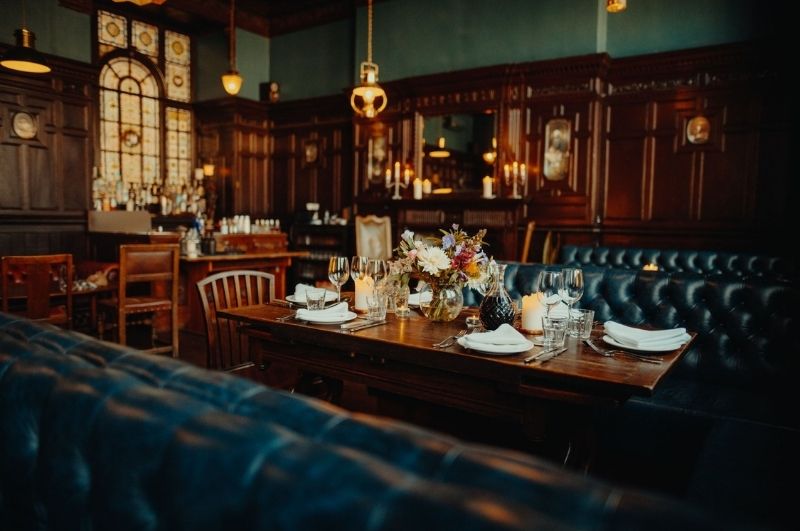 The private dining room upstairs at Milk Thistle
While the bar seems to be bouncing back from the privations of lockdown, how did the business cope in the dark days of Covid? "Going through the lockdowns was certainly challenging, and like everyone we faced things we never thought we would have to. However, we opened at every chance we could and switched things up to include offering food and creating a brand new outside area – two things we would never have dreamt of doing before. We also set up a cocktail delivery in the first weeks of lockdown which took off massively. It definitely feels like things are a little busier now, and private party bookings have really picked up."
As for the future for cocktails, Peacock says the trend still has plenty of mileage. "I feel cocktail bars are ever evolving with new spirits and new methods of making drinks. I believe the bar scene will continue to grow as an amazing community and industry and it's brilliant to be a part of it."
TAGS: