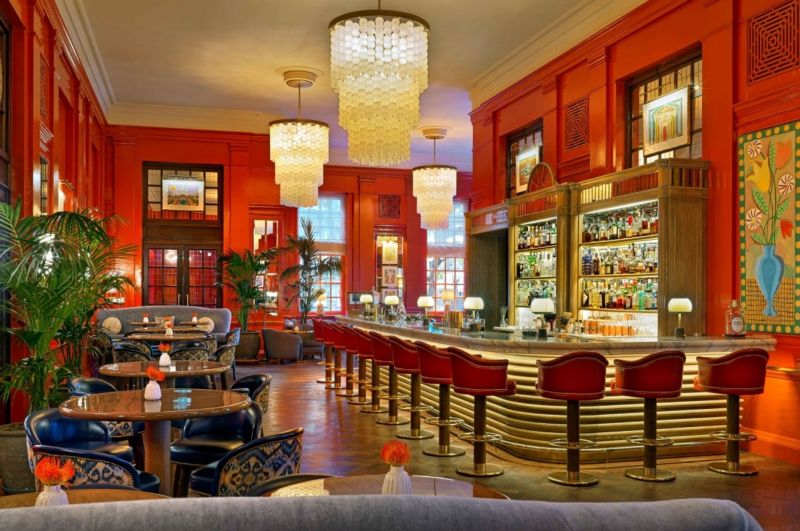 15/12/2021 Group sommelier of The Doyle Collection portfolio, Philip Dunne talks about the Coral Room's extensive selection of domestically-produced sparkling wines.
English sparkling wine is definitely having its moment in the sun, with surging sales and increasing awareness amongst both the UK trade and savvy wine drinkers. But London bar The Coral Room at the Bloomsbury Hotel, part of the Dublin-based Doyle group, has long been ahead of the curve and a champion of the sector, currently listing what is probably one of the most extensive selections of domestically produced wines in the UK on-trade, both by the bottle and glass. Helen Arnold caught up with group sommelier Philip Dunne to talk about how the Coral Room has become a self-appointed ambassador for English sparkling wine.
[[relatedPurchasesItems-38]]
There is something quintessentially English about the Bloomsbury Hotel, tucked away only minutes from the hum and thrum of London's Tottenham Court Road. And this is reflected in its wine list, which specializes in English sparkling wine, featuring around 20 different options with five by-the-glass, which are rotated on a regular basis. The only permanent fixture on the list is the house sparkling English wine, the Rathfinny which is a best seller not only at the Coral Room but across the entire Doyle Collection of hotels in England and Ireland.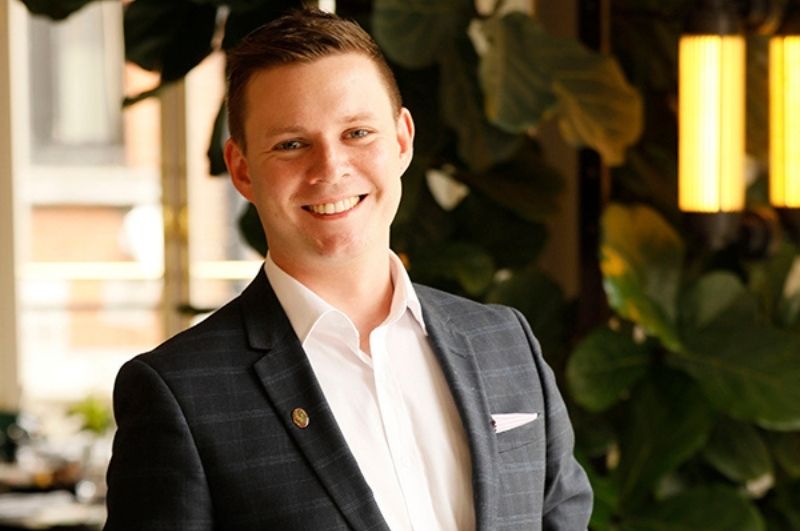 Philip Dunne, a multi-award-winning head sommelier who is taking the wine world by storm.
Image: The Doyle Collection
And Dunne says that consumers' perception of English sparkling wine is definitely changing. "The more that restaurants and bars such as the Coral Room showcase English sparkling wine and educate their guests on the quality of the wines, the more the perception of English sparkling wine will improve, making it a credible alternative to Champagne. There needs to be a collective focus from both the on-trade and off-trade to give as much menu or shelf space to English wine as possible and support the local wine industry," he says, adding that promotion and education are "key" for sommeliers, wait and bar staff in selling English sparkling wines and helping to promote the domestic industry.
"I think that the combination of passionate English winemakers and events such as English Wine Week becoming increasingly popular has resulted in more people familiarising themselves with all that indigenous quality sparkling wine has to offer," says Dunne. "Many Champagne and Prosecco drinkers are diversifying their drink choices to English sparkling wine which offers tremendous taste and provenance."
What's clever about the Coral Room's English sparkling wine offering is the way that the list is arranged, not by the usual grape or style, but by the English counties where the wines originate.
Unsurprisingly, the south-eastern English counties of Kent, Sussex, and Hampshire, which share the largest concentration of English wine producers, are heavily represented, including Ridgeview, Court Garden, and Rathfinny from East Sussex, Chapel Down, Gusborne and Kit's Coty from Kent, and Nyetimber from Surrey. But there are also wines from as far afield as Camel Valley in Cornwall and Bride Valley from Dorset.
"Provenance and a sense of locality are more important now than it has ever been to guests and consumers," says Dunne. "Those who want to learn more about English sparkling wine will appreciate the difference in terroir and nuances of profile variations that differ from county to county."
Prices start at around £70 a bottle, for Rathfinny's Classic Cuvee Brut, rising to £175 for a bottle of Nyetimber's 1086 Cuvee.
By-the-glass options include Rathfinny's Classic Cuvee for £11.50 or its Rose Brut for £13.50. Dunne believes that the prices fairly reflect the quality of English sparkling wine. " I think most who have enjoyed a range of producers and styles of English sparkling wine would agree that the quality is up there with Champagne," he says. "Our pricing for English sparkling wine reflects the specialisation and dedication of the producer which results in an exemplary product, while simultaneously being accessible for guests."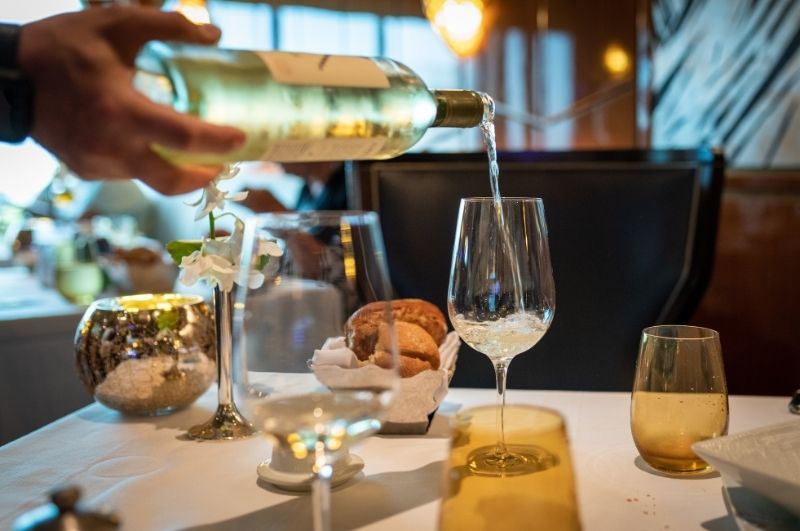 For those customers who are reluctant to invest in the cost of a whole bottle, offering wines by the glass is a great way to ease them into English sparkling wine, claims Dunne.
"This is a lovely option for those who want an introduction to English sparkling wine without committing to a full bottle," he confirms. "It's also really important to have by-the-glass options as English sparkling wine makes the perfect aperitif before dinner, or as an after-dinner drink."
And the list is refreshed seasonally, to reflect the changes on the food menu, says Dunne. "All the wines for the Coral Room are thoughtfully curated and tailored specifically for our guests. We love listing wines that exceed expectations and offer an exceptional surprising taste. These are aspects which English sparkling wine as a genre possess and continually deliver on."
Not resting on their laurels, Dunne says that the list is constantly evolving and changing. "It's amazing to see so much choice and diversity of regional provenance and style in the English wine offering available on the market. Over the next year, we will continue to diversify our range of English sparkling wines from entry-level selections to rare, small production allocations from producers."
At present, the Coral Room only offers sparkling English wines and does not feature any still wines, but Dunne says that might soon be changing. "We feel that the best expressions of English wine right now are on the sparkling side rather than the still. However, we're committing to listing some exceptional English still wines such as those from Lyme Bay in Devon and Court Garden in East Sussex very shortly. Chardonnay, Pinot Noir, and Bacchus are three grape varieties doing incredibly well on the still wine side that we're taking note of and monitoring with great excitement."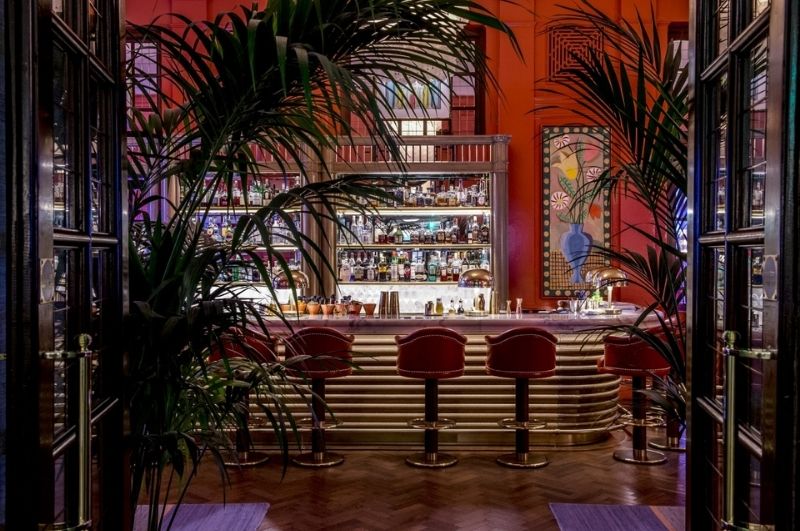 The Coral Room Bar, a truly English drinking experience
Though the Coral Room's focus is firmly on English sparkling wine, it also lists some familiar big-name Champagne houses including Moët & Chandon, Perrier-Jouët, and Bollinger. For die-hard Prosecco fans, there is also an Italian sparkler, which Dunne thinks is a must-have on any list given its enduring popularity. "We still have Prosecco listed by the bottle for guests to enjoy – variety is always important! With this in mind, we are highly committed to supporting winemakers in producing locally sourced and delicious quality wines.
As for the future prospects for the English wine sector, Dunne is bullish, noting that awareness is increasing not just within the UK but globally. "More and more people throughout the UK and internationally are becoming familiar with the quality of the English sparkling wines offering," he confirms, adding that climate change may also have a positive impact on grape growing in the UK in the coming decades. "It's interesting to note many Champagne houses setting up English-based wineries too."
TAGS: