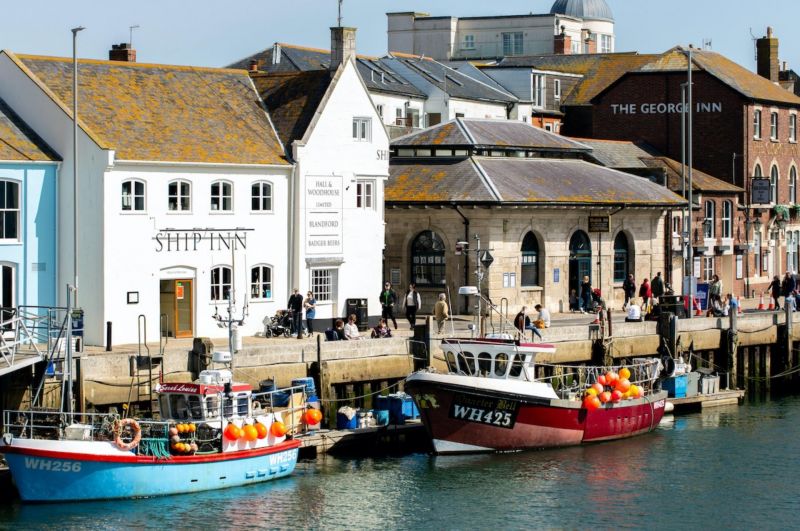 13/04/2022 Sean Cooper shares great insights into the newly opened fish restaurant - Catch At the Old Fish Market in Weymouth.
In a world where the so-called seaspiracy dictates that seafood should remain permanently off the menu because commercial fishing is the main driver of marine ecosystem destruction, the team at the newly opened fish restaurant Catch At the Old Fish Market in Weymouth shows that it is possible to do so in a sustainable fashion.
Few restaurants can say with absolute certainty which boat their fish came from and where it was landed. But Catch takes the freshness of its catch to another level, where food miles here are measured in feet and inches rather than miles, and the business really does put sustainability at the heart of its business.
Not only does the restaurant, which opened last summer in the middle of the pandemic, sit above the Fishmongers, Weyfish, which comes under the same ownership, but the business also owns two fishing boats, the Tarka and the Weymouth which sail out into local waters on a daily basis to catch the local bass and shellfish for which the area is renowned.
Back in 2017 entrepreneur Sean Cooper bought and refurbished Weyfish, Weymouth's traditional harbourside fishmonger, which had been based in the historic Old Fish Market for 30 years but was tired and down at heel and not sourcing much, if any, of its stock from the local fishing industry.
[[relatedPurchasesItems-38]]
"There are two things that make Weyfish and Catch special," says Cooper. "The first is our location right on the harbour, within touching distance of the local fleet. You can watch the fishermen dragging their catch across the quay for weighing in. There's a clear and obvious link between the fish we sell and the boats that supply it.
"Secondly, we have a personal relationship with over 30 local boats, so we have a constant supply of fresh, sustainably caught local fish and shellfish
And this is what customers really value, he says. "Most fish landed at English ports is caught by large trawlers who spend up to seven days at sea. That means once it makes the journey through a wholesaler and then into a restaurant it can be up to 10 days old. Our fish is just hours old when it reaches the counter, and customers can really tell the difference," he says, adding that local landings account for over 70% of everything Weyfish sells.
At the start of the pandemic, Weyfish was designated an essential food business, enabling it to remain open every day and guaranteeing every fisherman to take everything they caught at guaranteed prices. "We thought if we could do that, then why not expand this in a meaningful way with Catch," explains Cooper.
"This included ensuring we recruited locally where possible, creating full-time meaningful careers, not just seasonal jobs. We ensured every penny of procurement was spent within the Dorset market and every bit of building work was done by local craftsmen. Finally, we sourced all non-fish ingredients locally from local venison and game to a meat option from a local rare breeds high welfare farm."
However, opening a new restaurant in the midst of a global pandemic was certainly no mean feat. "The initial challenge was recruiting a talented team into a start-up and then sourcing everything as we were very particular about the look and feel we wanted to achieve with Catch," says Cooper. "I washed up more times than I dined in the first two months." The summer months he describes as "crazy", as they hit the ground running while rising infection rates and the Omicron variant were "a real worry". However, come January and February, business was "exceptional" thanks to a hard-working PR team, resulting in February being the restaurant's busiest month since opening
The commitment to sustainability and buying locally are elements that have been embraced across the entire business, with the Catch team seeking out local vineyards and visiting each for a tasting day to determine which wines paired best with the restaurant's focus on fish and shellfish. Catch lists wines from four Dorset vineyards - Langham, English Oak, Bride Valley, and Furleigh, as well as wines from Trevibann Mill in Cornwall and Litmus in Surrey.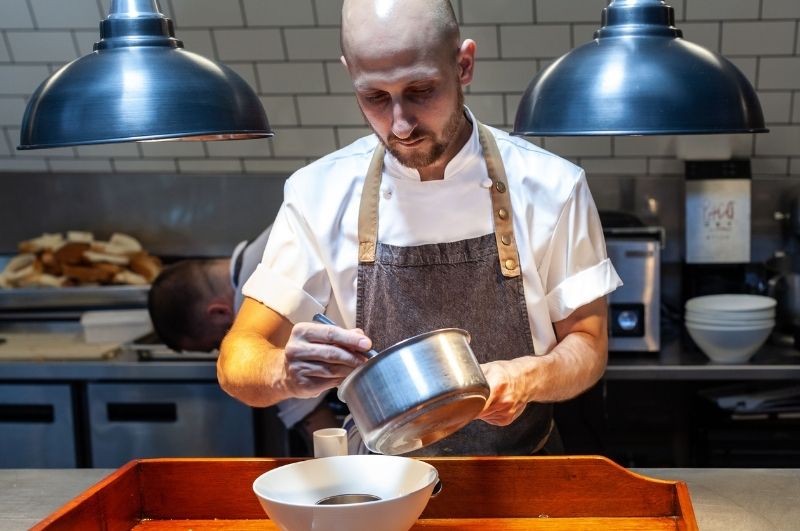 Cooper says it's important that he would buy the wine himself when selecting wines for the restaurant list, with current bestsellers including the sparkling wines of Langham and Bride Valley as well as the still wines from Furleigh. Key criteria for gaining a listing has to be great tasting wine, says Cooper, and a pairing that "really jumps out at you".
"What amazed us was that two vineyards only 10 miles apart could produce very contrasting but equally spectacular wines. These are small family run businesses so their back story chimes with ours. The only challenges are that the grape yield on English vineyards is low so prices are high, which means we have to compromise margin but we feel that to be true to our goals it is worth it."
The other challenge with English wine, he says, is that it can't currently fulfil the demand for all tastes, so he has to supplement his local supply with hand-picked wines from small vineyards elsewhere. "An example being we can't buy a full-bodied red which someone might want if ordering game," he explains. "Here again we try to stay true to our roots, so we buy from Europe not the new world to limit food miles and we buy from small family run vineyards with a coastal connection."
Cooper enthuses about how well English wine matches with fish dishes, saying his favourite would be Bride Valley Crémant paired with his signature dish of Scallop Ceviche. "The Crémant is so buttery and compliments the hand dived scallops from Lulworth bay, the pairing is heavenly and the two key ingredients are only 10 miles apart. Others that work well are the Langham Corallian sparkling with any of the lobster dishes we have served (but my favourite are the lobster croquettes served with a lobster bisque). The Furleigh Estate Bacchus Fumé paired with line caught seabass from our very own boats is another standout success."
While some of Catch's customers specifically ask for English wine, others are less familiar with domestic grapes, and pricing can also be an issue given its relatively low yields. "We are trying to lead the way in championing our vineyard partners and that means two things. Compromising on margin to get them to be as affordable as possible and at the same time provide a "by the glass" option on as many as possible so customers feel more able to try something new."
Given the quality of the wine Cooper says most customers think it worth the extra spend. "Dorset people are traditionally proud of and supportive of all things Dorset so I think our local customers appreciate it. That said, there is a natural cost- consciousness so we have to be very sensitive to how we price this." Visitors are very attracted to the local message, he claims. "We have a local map on the reverse of our menus and our wine list which shows the location of each vineyard which really underlines the message.
The ethos of sourcing locally has also been extended to beers from Gilt and Flint and Organic Brew House and cider from Dorset Nectar, an artisan cider producer." Apple Brandy 5 from Lyme Bay Winery is also on the menu, as well as a sloe gin from Meadows. "The sloes come from my home Meadows 2 miles upriver from the harbour and the sloe gin is spectacular."
The restaurant also stocks local gin brands Twisted Nose and Conker from Dorset and Hampshire as well as Black Cow Vodka, with mixers Devon-based Luscombe.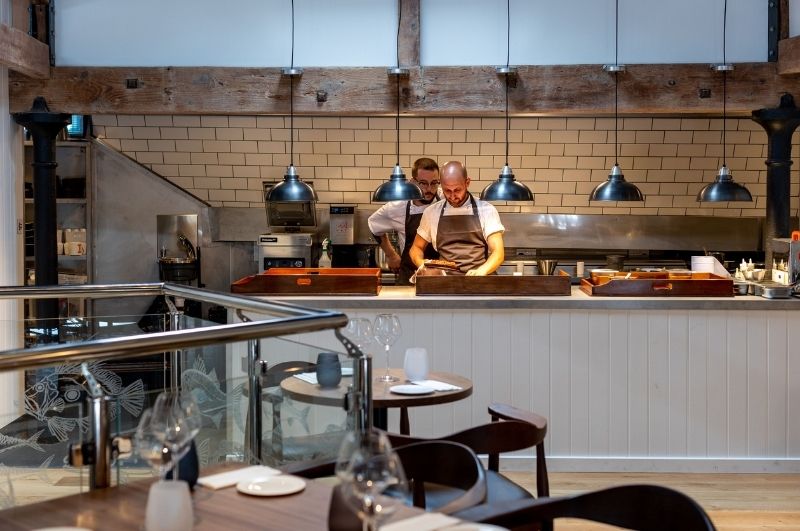 Rather than changing the drinks menu completely, Cooper says they tweak it on a regular basis. "None of our local vineyards are prolific producers so we can sometimes run out of a particular variety or vintage. We are in constant contact with them, always checking stock levels and being the first to try a new vintage to see how it compares."
Selecting the drinks is a democratic process, involving the whole restaurant team who go on tasting days on a Monday when the restaurant is closed. "That way everyone gets to contribute to the decision," says Cooper. "As we get more popular I think we will need to seek some input from a skilled sommelier but for now, I think we have a small but elegantly formed selection."
TAGS: