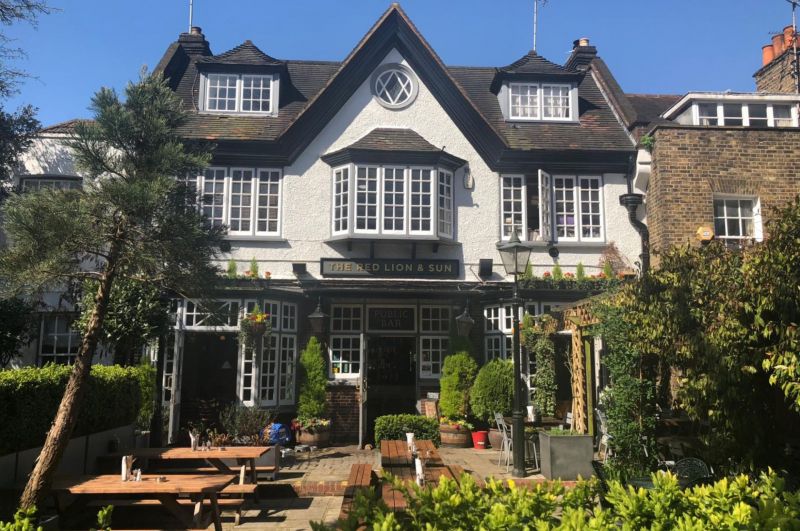 02/03/2023 The Red Lion & Sun in London's Highgate village is probably, for many drinkers, as near to pub heaven as you can get.
The Red Lion & Sun in London's Highgate village is probably, for many drinkers, as close to pub heaven as you can get. Situated on a site where there has been a pub since the 16th century, it's the kind of place that gets ex-pat Brits all misty-eyed when reminiscing about home. Helen Arnold caught up with owner Heath Ball to find out how he has transformed the venue into an award-winning go-to gastro-pub.
With two beer gardens, a wood-burning stove, an extensive wine list that any sommelier would be proud of, and plenty of cosy nooks and crannies to settle down with a pint and the paper, The Red Lion & Sun's owner Heath Ball has spent the past 15 years revamping what was an old, down-at-heel boozer into the go-to accolade-garlanded gastropub, and a favourite drinking hole of many north London professionals. A steady stream of loyal regulars props up the bar, as well as a handful of celebrities and assorted luvvies, who are largely ignored by the rest of the clientele and left in peace.
Ranked 10th in the recent Estrella Damm top 50 Gastropubs, in the UK, Ball, a garrulous Kiwi, is on a mission to ensure that his customers have a uniformly fantastic experience when they visit. Fizzing with enthusiasm, he offers customers what he describes as "rustic modern British pub food" all sourced from some of the country's top suppliers. Meat comes from the local Highgate Butchers, with fish sourced from Flying Fish in Cornwall and fresh produce from Natoora and other respected producers. And the wine list is clearly the product of a self-confessed, dedicated oenophile, resulting in a gastropub that takes wine seriously with Ball's knowledge and enthusiasm for wine helping the pub to win the accolade of Best Wine Pub in 2016's Best Pub Awards.
"I'm a complete wine geek," he laughs. "I love wine, and love trying new styles and varieties, and encouraging our customers to be experimental too. My wine list is amazing – I work on a cash margin and only put a small markup on the wines, which encourages customers to try different varietals and producers and makes the wines accessible."
[[relatedPurchasesItems-51]]
With over 60% of the wet trade comprising wine, Ball is keen to ensure that his wines are fairly priced. "My accountant says I'm terrible at GPs," he says. "I'll buy something such as the White Cote du Rhone by Family Perrin and sell it for £50 a bottle - that same wine is listed at Scott's in Mayfair for £174," he says. "I want people to drink good wine at a fair price." His wine-buying strategy, if you could describe it as such, is listing wines produced by family-owned wineries that own the land and really care about it. "I avoid bulk commercial wine and focus on wine producers who own the land that they cultivate - otherwise it's all too much like making Coca-Cola," he says. "I'm keen on low-intervention, biodynamic wines from producers who really care about their product. However, I'm not really a natural wine person - while there are some good examples, lots of them are rubbish. But I like the concept and the low intervention way of doing things."
He relies on wholesalers such as Bibendums, Jascots, Liberty, and Astrum, with whom he has built up a good working relationship over the years. A particular obsession is ensuring that the house wine is of excellent quality and offers great value for money. "Too many people are put off wine by life by tasting sub-standard house white," he claims. "There is really no excuse for that. Our house white is a Verdicchio from Fazi Battaglia - it's handpicked, and from a family-owned estate, but comes in a kitsch, old-fashioned-as-hell amphora bottle. The staff were saying I was mad to list it as the bottle is horrible - but the wine is amazing. I sell it for £27 a bottle, so you really can't judge a wine by its bottle."
The house red, meanwhile, is a declassified Chianti from a co-operative in Tuscany, comprising 90% Sangiovese grapes and 10% Merlot. "It's easy drinking with loads of fruit and we sell it by the bucket load also at £27 a bottle," says Ball.
The wine list, which runs to two sides of A4, is categorized by different styles, within which the different grape varietals are highlighted including a description of the wine, though omitting any tasting notes. "They are so subjective," he says. "If you're Mexican you will have limes in your diet, not lemon, so to describe a wine as lemony would to them be fairly meaningless. Tasting notes are also wildly subjective and can leave people feeling stupid and clueless."
Chardonnay is currently proving a popular variety amongst customers, in particular, "big Chablis", while rose flies off the shelves during the summer months. "We sold over 5,000 bottles over the summer, though I do think that French Provencal rose is in danger of becoming overly homogenised," he says.
Ball lists an English sparkling wine on the list from the award-winning Highwell Estate in Sussex, but for now, has not included a domestically- produced still wine. "Hmm, not sure they are quite up to scratch yet and think they are fairly expensive for what they are," he says. "I think I can offer my customers better quality wine at a better price than English still wine at the moment. But the sparkling varieties are great."
A daily changing menu keeps things interesting, and this is something that Ball works closely on with his chef who has been with the business for 14 years. "We work together well, " he says. "There is a lot of peacocking going on with some chef-owners who sometimes produce food that people don't necessarily want to eat, and I think that I rein in his worst excesses, while he reins me in too!"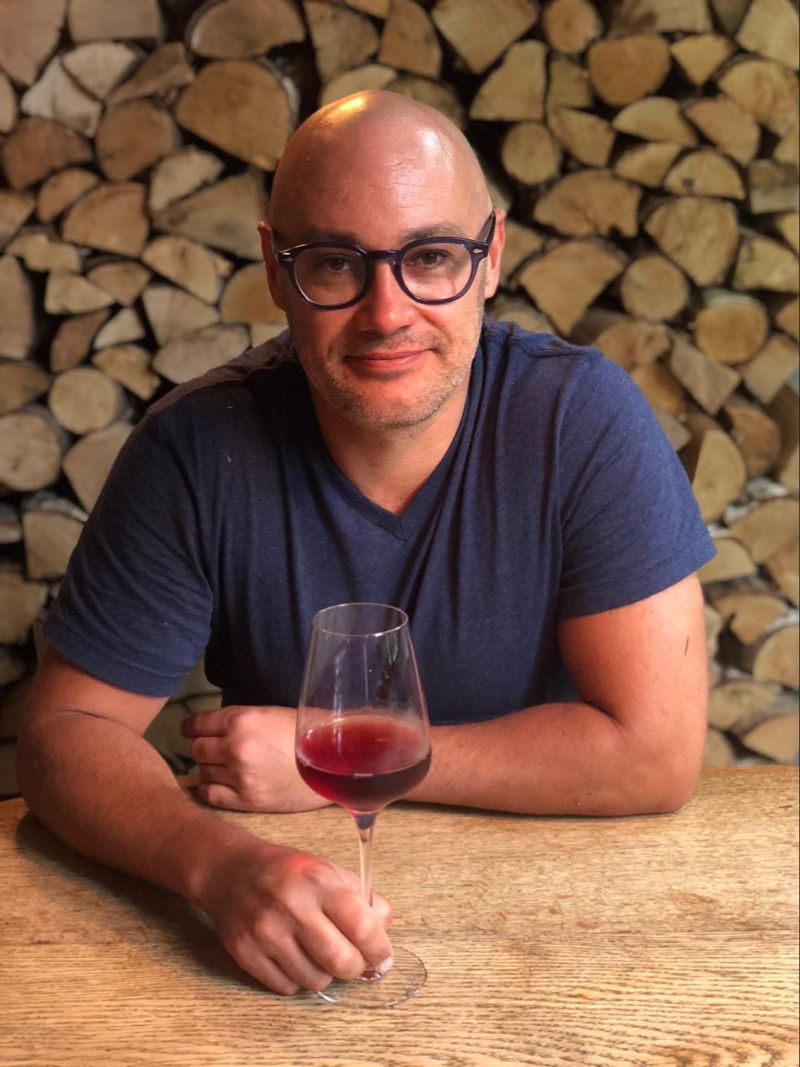 Heath Ball, the owner of the award-winning Red Lion and Sun in Highgate
While Ball is proud of the quality of the food served up to enthusiastic customers, he says "we are not super gastro we are all about good, honest, down-to-earth food. If we serve up a burger, we want to ensure it's the best burger you're going to get. And if it's jerk chicken, it will be the best it can be. But it's nothing fancy and we don't overthink it. It's good, solid, consistent cooking. Anyone who knows me knows it's all about the quality of the food. We use tomatoes from Andalucia, and fish from the south coast, and nothing is frozen or pre-prepared. "It's all about quality and value – I want people to come back again and again. There is nothing worse than going to a pub and not seeing anything on the menu you want, or having to google ingredients."
Whatever he's doing, Ball has been successful in creating a pub that engenders great loyalty amongst the staff, with the majority having been with the team for years, which is unusual in an industry known for its high turnover. "I pay them well and feed them well, they all eat off the menu within reason! I respect my staff and trust them to do a good job, and I'm only a hard taskmaster if you're not doing your job properly," he says.
While Covid proved to be the death knell for many pubs and other hospitality businesses, when the pandemic hit, Heath went into what he calls "survival mode. I hustled and pivoted to takeaways on the day of the first lockdown. I don't particularly trust governments, and I was really concerned about people's wages and keeping my staff employed." He asked all his staff who were happy to work, and those that did pulled together and made a success of the takeaway service, though on the first day, they only took £300. "It was terrible," recalls Ball, though says that business soon picked up and the pub was doing a roaring trade delivering takeaway meals and drinks to the local community, eventually bringing in £25k a week in takeaways.
"We were the only pub in the area that was open, so we picked up loads of new customers along the way. We delivered and did collections – but I wasn't interested in going anywhere near those third-party delivery companies. Instead, we got the staff to deliver food on bikes and mopeds.."To ensure food arrived piping hot and in the best possible condition, Ball and his tea double-wrapped the parcels in foil and ensured delivery was as quick as possible.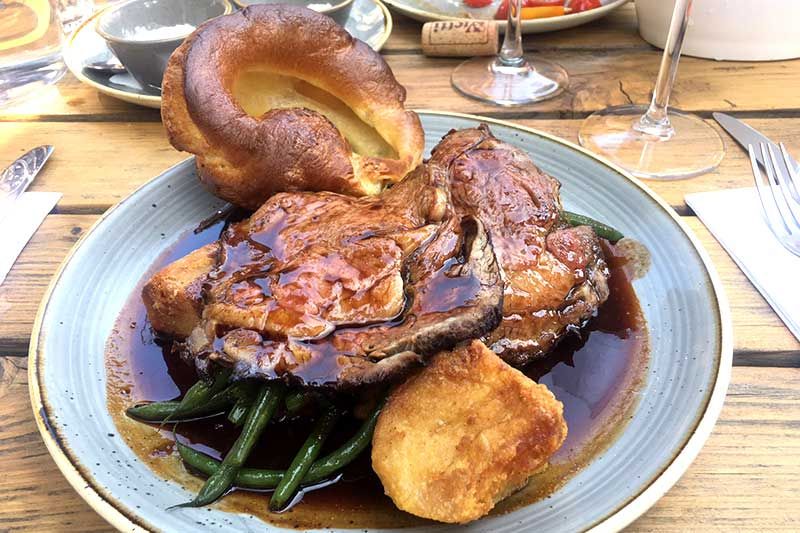 The Red Lion is renowned for its Sunday roasts, made from locally sourced meat and produce
Three years on from the start of the Covid outbreak, and while the Red Lion survived the pandemic, Ball claims that current trading conditions are the toughest he has ever encountered in his 25-odd years in the business and says he's still not out of the woods. "Even though we are busy, the cost of everything is so expensive - food inflation must be sitting at 30% on everything, and even though we are turning out great numbers we are breaking even at best."
He points to the rocketing cost of his energy bill, which has shot up from around £16k a year to an eye-watering £85k. "While current government help brings it down by 40%, that help is being withdrawn in April," he points out. "The government needs to do far more to help the pub trade. We all took on debt during Covid, and have been hammered by the cost of living crisis. Also, people are cutting back and not spending as much as they were. The Government doesn't really care, and other European countries are receiving far more help than we are." He wants to see the government lower the rate of VAT to 10% to help beleaguered businesses like his own, though is doubtful that they will take this course of action. "That would really help us – we really need a break."
Despite the ongoing economic challenges facing the trade, Ball is not to be deterred and currently has big plans to open up a new central London wine bar. While he has yet to find a venue, he is in the process of tracking down the perfect space and is optimistic that he will be in a position to open up sometime this year. And with his boundless enthusiasm and energy, not to mention his passion for great food and drink, it's bound to be a winner.
Header Image Source: Red Lion and Sun
TAGS: