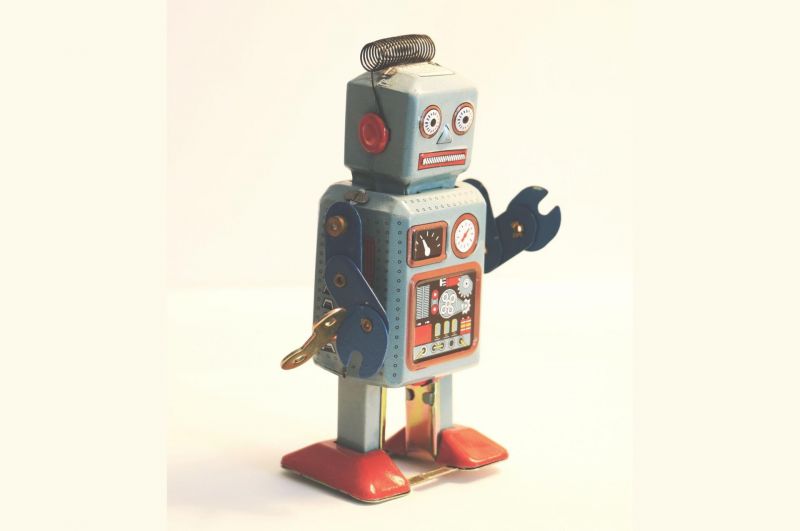 14/04/2023 Robots could take on many hospitality roles, from food preparation to cleaning and waiting on tables.
We've all seen 1960s sci-fi films envisioning a terrifying future in which robots take over the world. And while those depictions have failed, so far, to materialise, it's not inconceivable, given the recent huge advances in AI and robotics that we will see a time in the not-too-distant future in which robots can take over in the hospitality sector, replacing human staff to a greater or lesser degree.
While new developments in machine learning and artificial intelligence, combined with more efficient data capture look likely to have a significant impact on the restaurant world in the coming years, with restaurants and bars better able to offer their customers a more personalised experience, we may see a robotic workforce, both front and back of house become the norm in certain dining and drinking outlets. The technological advances mean it is highly likely, according to experts, that the restaurant of the future will be assisted in some way by robotics, be that waiting staff or behind the scenes in the kitchen.
[[relatedPurchasesItems-51]]
While the use of robots has tripled in the last decade across industries like electronics, automotive, machinery, and food manufacturing; food service has lagged behind. But this is now beginning to change, and over the past few years, robots have slowly started making an appearance on dining room floors, moving food and drink around and removing empty glasses and plates as restaurant groups experiment with android waiters.
And what might have first been considered something of a gimmick is now being taken much more seriously, particularly in light of the crippling staff shortages hampering the entire hospitality sector, along with a call for more flexible working hours requiring restaurants and bars to be much more clued up about where they allocate their staff and how they run their operations with fewer personnel.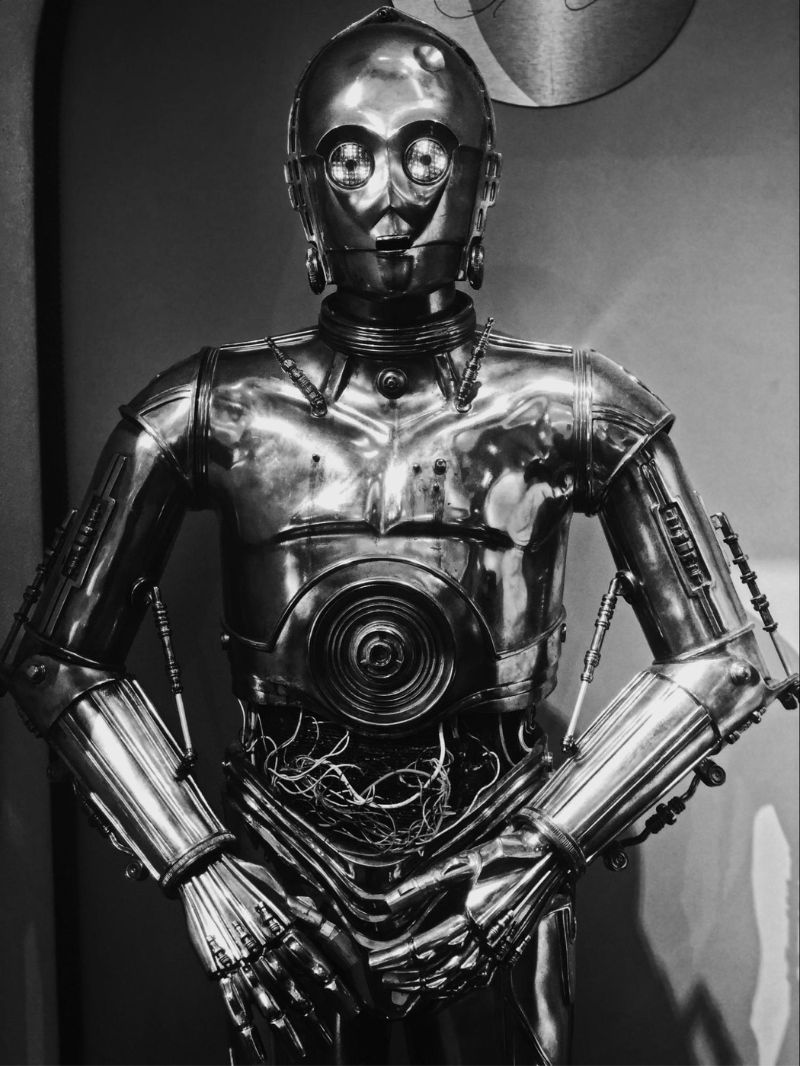 Science fiction is fast becoming reality, as more restaurant and hospitality sector businesses start to exploit the development of AI and robotics
And as recruitment continues to be an ongoing challenge for the sector, and technology improves and becomes ever-more affordable, the likelihood is that more and more restaurant groups are going to be looking to automation for help, which could go well beyond robotic waiters. Androids that clean, scrub kitchen floors and wash windows are already available, and able to work whenever and for as long as required.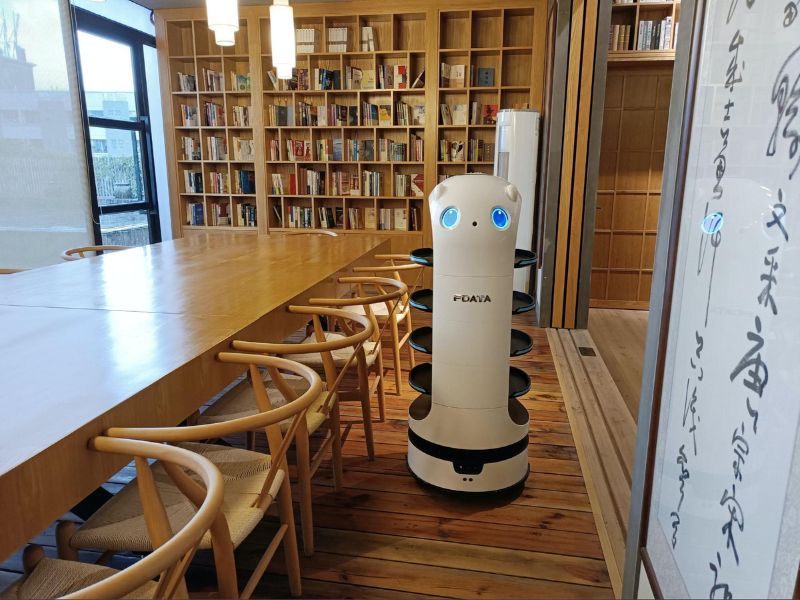 Robots which can perform simple tasks such as serving drinks are already in use
And is the US leading the way in the use of robotics in the hospitality sector, with burger brands such as White Castle and Jack in the Box experimenting with burger-flipping robots, while Panda Express has rolled out a robotic wok.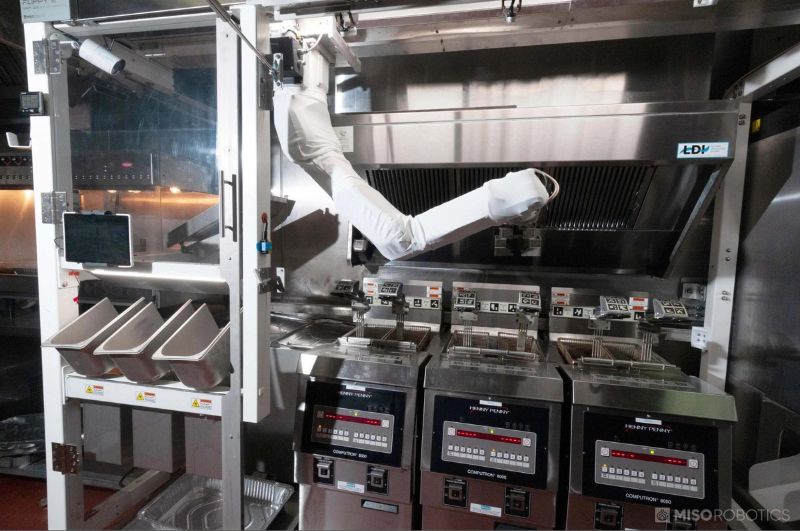 Flippy, a robotic arm, is able to handle fryers and flip burgers
Pasadena-based robotics company Miso Robotics is behind Flippy, a robotic arm that is shaking up the restaurant industry. Equipped with sensors and artificial intelligence, Flippy can handle fryers and flip burgers – tasks that are traditionally done by human chefs. The result is a faster and more efficient kitchen, with Miso claiming that their robot can prep food twice as fast, increasing output by nearly a third (30%). As of mid-2022, the company has raised more than $50 million from investors, mostly via crowdfunding.
Meanwhile, another robot serving the hospitality sector has been developed which can make sushi with minimum training and human interaction. Called Autec, the company offers four options for sushi-making robots that can sit on the kitchen counter, costing around $14k each. Beastro, produced by Kitchen Robotics, also offers a robotic solution which automates cooking and can be adapted for any type of dish. The company claims it reduces labour costs by half and can produce up to 45 dishes per hour. The cost is $7,500 per month — for a restaurant open eight hours per day at maximum capacity it would work out at 70 cents per dish.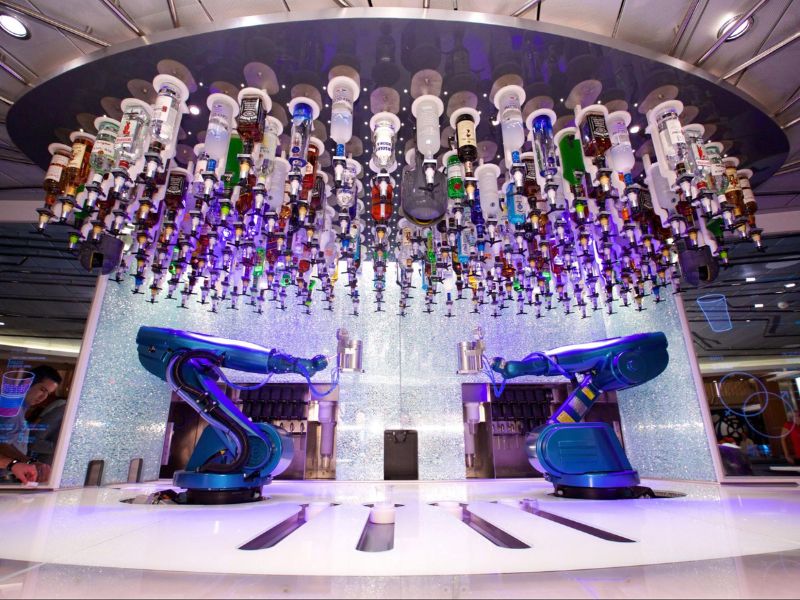 Makr Shakr, a robotic bartender which can create a wide range of cocktails is installed in nine Royal Caribbean cruise ships
Matradee is a restaurant robot server which can open kitchen doors and take food from the kitchen to the table, commanded remotely with a smartwatch. It has been developed by Austin-based Richtech and allows allowing more interaction between human personnel and customers. Servi is a restaurant robot responsible for serving drinks, food running, and table bussing, and also serves as a personal assistant to staff.
And the bar scene is also seeing changes driven by robotics, with the likes of Turin-based Makr Shakr, a "robotic solution" for the cocktail industry, which has partnered with Royal Caribbean Cruises. It is capable of making up to 120 cocktails an hour from as many as 138 spirits. And another robot with applications in the bar sector is the Bellabot developed by Pudu Robotics. This little robot which costs $17,000 per unit can deliver up to 400 products a day, making it a valuable asset for busy bars and restaurants.
However, not to be left behind, some forward-thinking British companies are in on the act too. Tech start-up Karakuri has developed an "automated frying solution" which can apparently integrate with existing systems to drop fries and other items when required. In addition to labour-saving, the company claims that food waste is slashed due to portion control technology which ensures that frying baskets are filled with exactly the right amount of product to match demand.
Meanwhile, some restaurant groups such as Big Table whose brands include Bella Italia and Cafe Rouge, Boparan Restaurant Group which incorporates Carluccio's, Gourmet Burger Kitchen and Giraffe and Din Tai Fung are all among those in the UK trialling robotic waiters designed to support members of staff with tasks such as delivering food and clearing tables.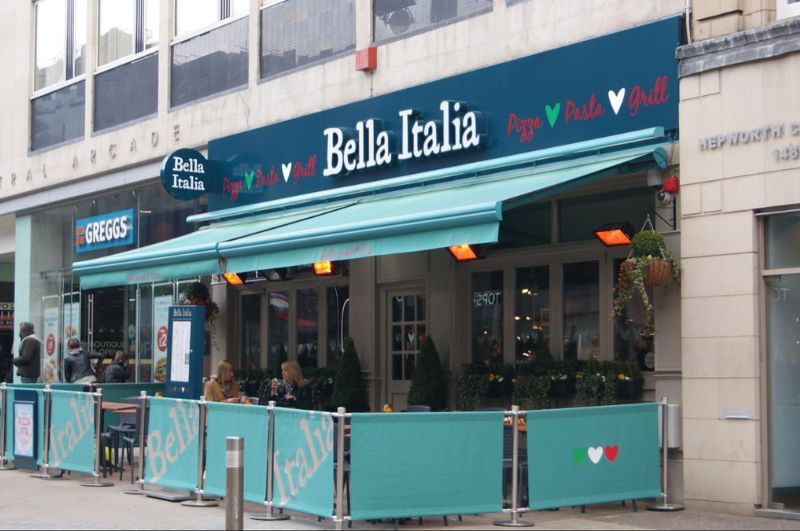 Bella Italia, which is experimenting with the use of robots
"We are always open to innovative solutions which benefit our teams, improve service and improve our guests' experience," said Lisa Gibbons, chief operating officer at Bella Italia. "By having intelligent robots conduct simple tasks such as retrieving dirty dishes, our teams are able to focus on doing what they love."
But despite the growing demand and interest in robotics, there are some hurdles facing those considering using the new technology. According to Ashely Sheppard, vice president of sales of US-based restaurant tech company QSR Automations; "It's something I'm passionate about but there are challenges. They're not cheap and there's also an issue with technical support. At the moment robotics engineers don't work on a Saturday night as far as I know. Another issue is a lack of proper integration with kitchen management systems. If you have to press a button to get the robot to do its thing, what's the point?"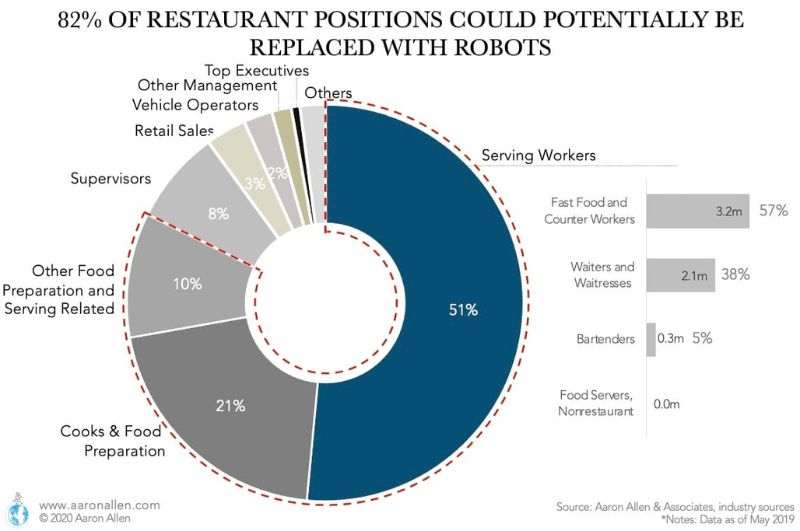 But these initial teething problems will inevitably get smoothed out, and as and when the tech is seamless and the cost comes down, it is almost inevitable that we will see an increasing number of outlets turning to robotics to help fulfil at least some of their future staffing needs. It has been estimated that the cost of robotics has already nosedived by 50% in the past three years and that a downward trajectory is likely to continue as the technology becomes more streamlined and commonplace. So while the industry is currently some way from the day when humanoid robots will replace all waiting and front-of-house staff, it looks likely that robotics will play an increasingly large role in years to come.
And some industry watchers believe that the time will come sooner rather than later. Global restaurant consultants Aaron Allen who claim that some estimates indicate robotics can save between 30% and 70% on labour cost for restaurants, points out that even though there is currently only one service robot globally for every 1,500 restaurants as of 2022, many are coming out of the prototype phase and can do almost anything a human can.
"Some of the capabilities for monotonous jobs are closer than most people think and penetration is going to happen faster than delivery. We believe restaurant robotics will soon be as ubiquitous as the POS and commercial dish machine," said a company spokesperson.
TAGS: