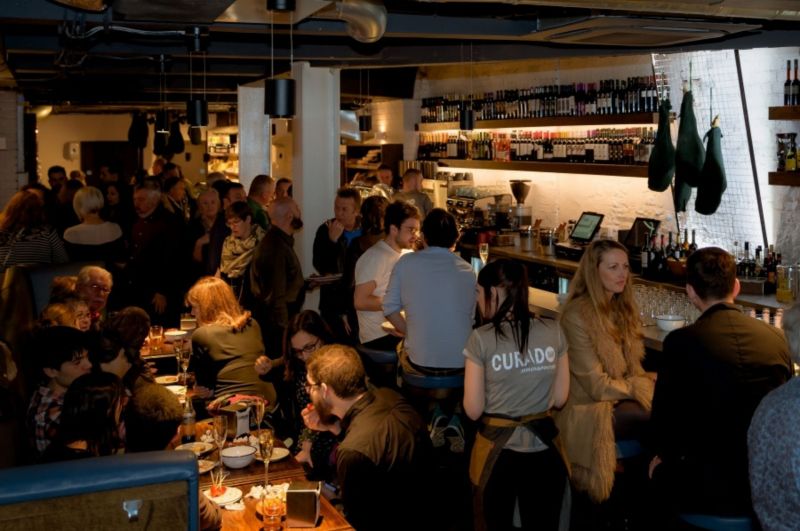 01/12/2021 The best of Spain is just a click away in a chat with a self-confessed Hispanophile and Cava addict, Shumana Palit, co-founder, and owner of Ultracomida.
A self-confessed Hispanophile and Cava addict, Shumana Palit, co-founder, and owner of Wales-based deli/restaurant/bar outfit Ultracomida has put Cava and all things Spanish at the forefront of her offering to an ever-growing customer base in her native Wales. She tells Helen Arnold how her love affair with Spain began after meeting her husband and business partner Paul Grimwood, who spent his formative years in Valencia, his mother's hometown.
[[relatedPurchasesItems-22]]
"We love the food and wines of Spain, and of course the people," says Palit. "Such warmth love and passion for life – their commitment to turning every occasion into a party is unrivaled!"
Established back in 2001 in Aberystwyth, when there were few delis offering Spanish produce, Ultracomida has evolved over the years to incorporate an online business and wholesale offering, as well as the opening of the second branch of Ultracomida in Narbeth with the focus being firmly on cheese and meats from Spain, France, and Wales. From the outset, the business imported directly from producers and maintains close links to all of its producers, many of whom it has been trading with since the outset.
2016 saw the opening of the Cardiff-based Curado Bar, based on the pintxo bars of Northern Spain, and serving up a slice of Galician bar life in the Welsh capital, while last year just before the first lockdown was announced, Vermut, a small "hole in the wall" Vermouth and Sherry bar next door to Curado was added to the company's burgeoning portfolio.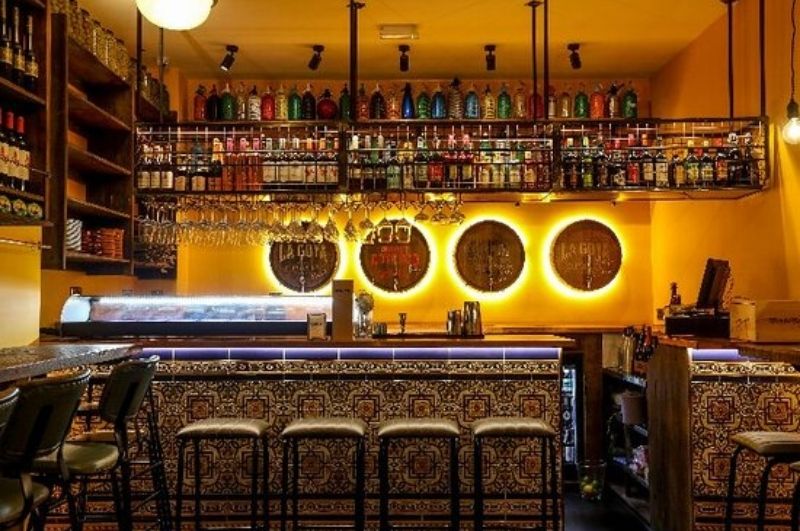 Vermut, Vermouth and Sherry bar, next to Curado Bar of the Ultracomida
Staying true to the company's ethos of focusing on Spanish produce, Ultracomida only offers Cava and some other Spanish sparkling wines on its wine lists. So what is its appeal for Palit? "There's a warmth and roundness in even the driest of cavas that just oozes Spain," she enthuses. "It's less austere than a champagne but less "beige" than the low-end Proseccos that crop up on every corner."
And despite the enduring appeal of the ever-ubiquitous Prosecco, Shumana has resisted the temptation to list the Italian sparkler or English sparkling wine for that matter, and focuses solely on Cava, seeing consistent consumer demand. "Our Cava sales have been pretty steady and reliably strong over the years," she says.
"In the past, it was overlooked with Champagne being the name people wanted to see on the label, and then came the Prosecco bomb which has seen the market flooded with Prosecco - great marketing from someone somewhere!"
"Cava really does offer a complex, interesting drink with a huge breadth of styles to suit all palates and at a price that suits all pockets, it's incredibly good value for money and offers all the tradition and quality of champagne but without the price tag.
However, she concedes that Cava has suffered in the past from its cheap and cheerful image. Does she think this has changed? Palit admits the fizz still carries a stigma and is regarded as being inferior to Champagne, which she attributes largely to a lack of marketing and education.
"It definitely falls between two stools and is judged unfairly on an image that probably stems from the 70s," she says. "I think this misconception was just starting to be overturned when the Prosecco craze hit the UK and knocked Cava back a few years. Our customers have come to recognise the merits of Cava but I don't think I could say this would be a reflection on perceptions of Cava UK-wide."
Ultracomida offer Cavas from three bodegas: Berdie, U Mes U (all organic) and Muga. All wines listed are Spanish, though some non-Cava sparkling wines are included, such as Vidalma and Lua from Galicia and Pazo Burbujas from Ribeiro. The U Mes U Brut, the house Cava, remains the best seller in both the on and off-trade, which Palit describes as "organic, delicious and brilliant value at £10.95 retail, so is a bit of a winner", adding that she is beginning to see more demand for Brut Nature and a resultant rise in demand for the Cygnus from U Mes U, while customers will plump for the Muga if it's for a gift or special occasion.
So what advice would Palit give to others in the on-trade considering including Cava on their sparkling wine list? Not surprisingly, she believes it is a "must-have" on a menu. "It offers great value for money to the consumer and is such an enjoyable drink. I'd recommend offering a nice easy drinking fruit-driven option - there are some great organic and low intervention options out there - and then either a cava rosado (there are some delicious dry cava rosados which have fantastic structure and just feel like you're really spoiling yourself) or a premium brut nature if the menu allows for two Cavas."
She adds that it's important that staff are also trained in how Cava is made, what the grapes are, and how your house Cava tastes. "It's worth staff knowing the difference between a Prosecco/Champagne/Cava so they can make customers feel happy they are getting a superior product."
Like everyone in the on-trade, Ultracomida was hard-hit by the pandemic and the government-mandated closures of restaurants and bars, but nonetheless went ahead with the opening of Vermut, their sherry/vermouth bar, just a week before the first lockdown in March 2020. "We held a lot of our virtual events from there and have re-opened post-covid," says Palit. But she is the first to admit that it was an extremely challenging time, saying that they only survived "with difficulty, support from the team and a lot of rethinking the business."
This included expanding the wine side of the business with the opening of a new online shop – www.spanishwinesdirect.co.uk, as well as a wine warehouse in Aberystwyth open to the public. They have also expanded their range of wines, specialising in low intervention wines, wines from Montilla-Moriles, sherry wines & vermouth. Monthly virtual "Meet the Producers" wine tasting events also proved a hit with customers.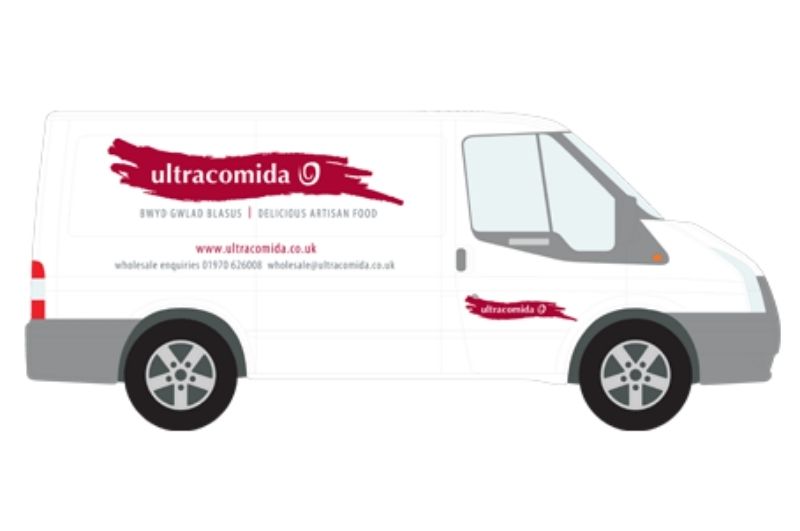 "The wine warehouse has been a great success, and we're now in the early stages of setting up a similar business in Cardiff," says Palit.
On top of the pandemic, another key challenge facing the business is one of recruitment, which Palit describes as "an issue", not to mention staff fatigue. "The small team that worked throughout the pandemic are now pretty exhausted, but they are the only trained up members of the team, so it's hard to give them time off."
Debt repayment too, "hangs heavy in the air", after payment holidays are taken during the pandemic come to an end. Brexit has also created its own set of problems, with increased costs and paperwork involved in shipping produce from Spain, but "with a lot of effort and training we have managed to get supplies across," says Palit.
However, despite these not inconsiderable challenges, Palit is quietly confident that with the support of her team and the constant evolution of the business, it can survive – and thrive – well into the future and continue to serve its appreciative and loyal customer base for many years to come.
TAGS: