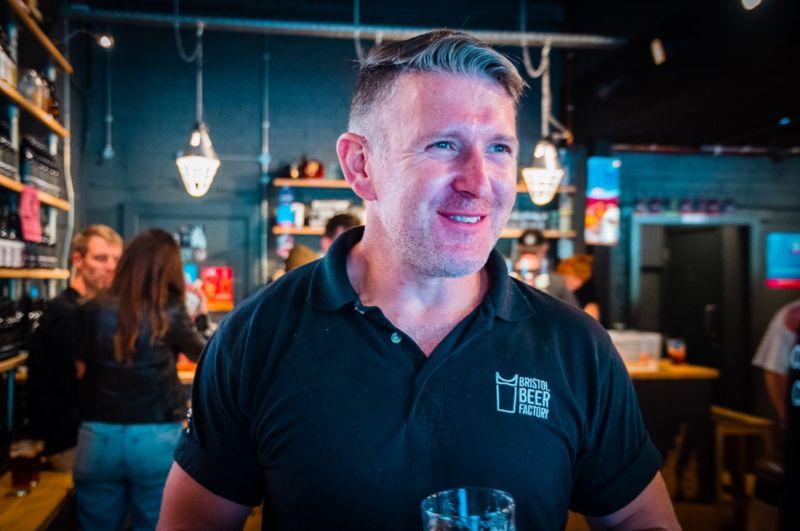 09/02/2022 The Bristol Beer Factory, founded in its present incarnation in 2004, was reliant on the on-trade for around 90% of its total business before Covid hit. We met Sam Burrows, the managing director, in the wake of the most challenging period in the company's history.
The craft beer trend shows no sign of peaking, though gone are the heady days of double-digit growth and the seemingly endless launches of new brewers and brands. Nonetheless, it is increasingly popular amongst UK drinkers who are becoming as concerned about the provenance of their beer as they are about their daily sourdough.
One company that was at the vanguard of the movement in the UK, and has spawned a plethora of me-too brands in the process, has credited an alcohol-free beer for helping it to bounce back from the devastating impact that the Covid pandemic had on its business. Helen Arnold headed west to meet Sam Burrows, the managing director of the Bristol Beer Factory, in the wake of the most challenging period in the company's history.
The Bristol Beer Factory, founded in its present incarnation in 2004, was reliant on the on-trade for around 90% of its total business before Covid hit. But repeated lockdowns and restrictions on gatherings hammered the company's bottom line, with sales plummeting from around £3m in 2019 to less than half of that the following year, with a lot of beer simply thrown down the drain.
Something had to be done – and fast, and managing director Sam Burrows says it was essential during 2020 "to innovate to survive". Lockdown gave the company the breathing space to update and rebrand its website as it pivoted to online, while the debut of the company's first non-alcoholic 0.5% abv beer Clear Head, was largely responsible for helping keep the company stays afloat.
[[relatedPurchasesItems-26]]
The company donates 5% of proceeds to a men's mental health charity Talk Club which was founded in Bristol, but now has outposts across the UK, as well as far afield as Sydney in Australia and Silicon Valley in California.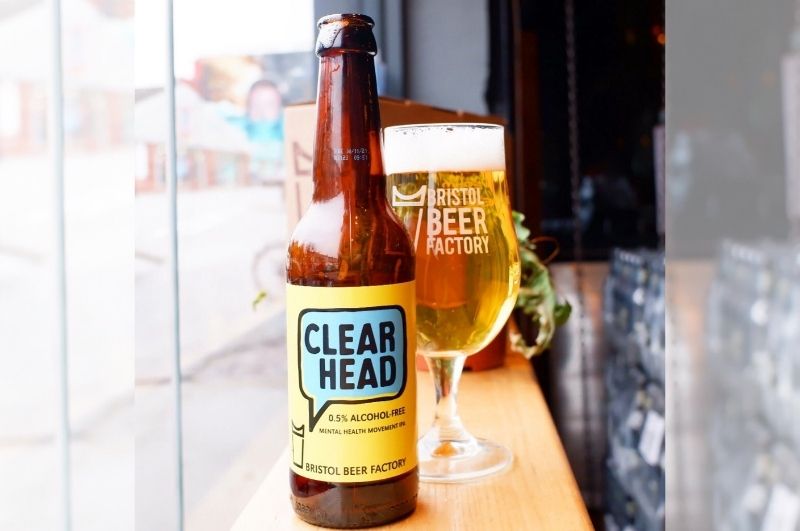 "The introduction of Clear Head and our lager, Infinity, have been the main drivers in our recovery coming out of lockdown," confirms Burrows.
"Clear Head is available in keg, can, and bottle and is now our best-selling can and bottle. We are seeing a big shift in the on-trade to listing a draught low/no option and we're having great success in permanent draught Clear Head listings across our region. Our customers love the story that we're supporting such a great charity and by stocking Clear Head they're doing their bit to support it."
The beer, made with mosaic and Citra hops is barely distinguishable from its alcoholic counterparts and comes in draught, cans, and 330ml bottles. It is also gluten-free, which appeals to the high number of vegetarians and vegans who live in bohemian Bristol.
"We want our beer to be as inclusive as possible. It's good for us to support the charity, as we are all about community," he says, adding that he has high hopes that he will be able to forge a three-way partnership with the on and off-trade with Clear Head, giving suppliers free access to mental health support via Talk Club.
The brewery also supplies Waitrose and the Co-op on a small scale, but Burrows says that with the focus on quality cask beer, the product is better suited to the on-trade.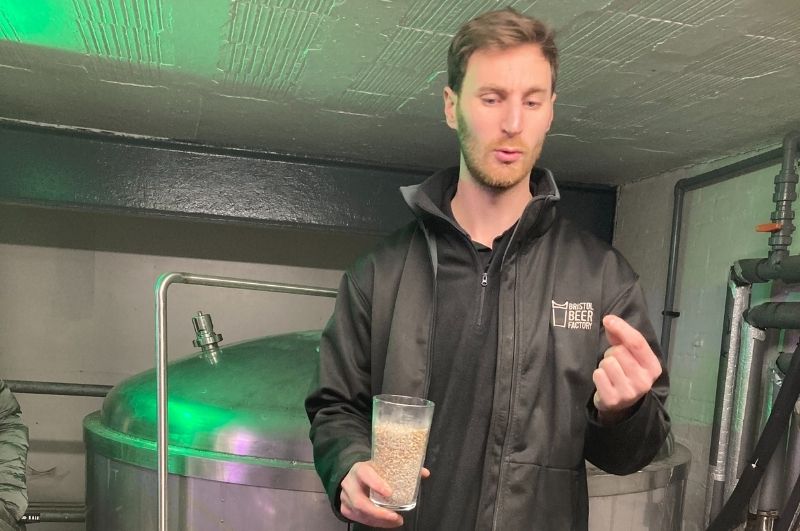 Head Brewer at The Bristol Beer Factory, Tristan Hembrow
Since Covid restrictions have eased he says the on-trade business has bounced back "surprisingly well" considering the "turmoil" of the past two years. And with the introduction of cans and growth in the independent off-trade, Burrows claims the on-trade now represents around 80% of total business, down from 90% pre-pandemic.
There has been a brewery on the BBF site, which sits in the shadow of Bristol City Football Club's ground in Ashton Gate, south-west of the city, since the 1820s, though for a while it was a motor shop. Bristol Beer Factory breathed new brewing life back to the premises when it opened its doors in 2004, with Burrows and co-founder George Ferguson intent on reviving the brewing tradition of the area.
[[relatedPurchasesItems-40]]
In the early days it brewed a handful of cask beers, mainly for local pubs, but in 2010 brought in some new talent in the shape of Californian brewer Brett Ellis who brought his expertise from the burgeoning American craft beer sector with him from across the Atlantic.
Burrows joined in 2011 from Bedford-based Wells and Young's Brewery where he was national account manager, and immediately set about developing close relationships with the best independent bars and pubs in Bristol, before branching out to other regions. He teamed up with a London-based wholesaler and started supplying some small pub groups such as the Bloomsbury Leisure group which has several venues in the capital heavily focused on craft beer.
With little marketing budget to speak of, Burrows tapped into the power of social media to raise awareness of BBF and its craft beers, while a clutch of awards at SIBA several years on the trot helped increase the profile of the company even further and spread the word.
The Bristol Beer Factory also owns three venues of its own in the city – the Barleymow which was awarded CAMRA's 2019 Branch Pub of the year, the Arnolfini overlooking Bristol's historic waterfront, and their Tap Room at the brewery.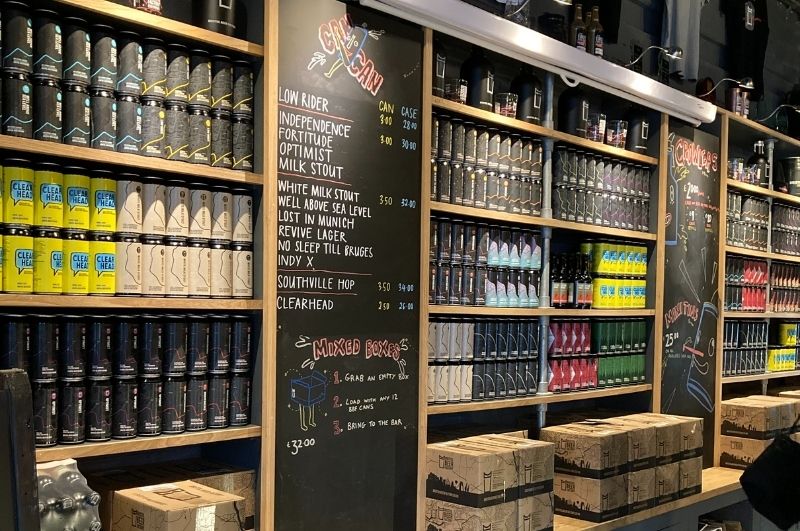 The Bristol Beer Factory's Tap Room as well as its two city centre pubs the Barley Mow and the Arnolfini have proved to be a great showcase for the company's range of beers, helping it to boost its ever-widening fan base.
All these efforts paid off, as the company was enjoying 35% year-on-year growth until 2014 when it hit peak capacity. Investment in a new brewery the following year enabled the BBF to ramp up its production further, tripling its total output. The company is now operating at full steam and produces 10,000 hectolitres of beer a year.
Recent investment in a new centrifuge system has enabled it to boost production by an additional 2500 hectolitres annually, adding an additional 5 – 8% in yields on each brew. This enables it to fulfil demand from over 400 trade customers, three quarters of whom are in the Bristol area, the rest further afield.
"While the off-trade will always say they're interested in a supplier's ethos and credibility, it will always come down to a commercial deal first and foremost. Local independent off-trade retailers are far more interested in the suppliers; core values and ethos and are happy to stock a greater range of beers and prices," says Burrows. "The on-trade, however, looks for beers and suppliers that will help drive people to their respective outlets, and that's where cask wins. It can't be truly replicated in a can or bottle and is unique to pubs. On-trade customers (and independent off-trade) will be more interested in and see the value of partnering with like-minded businesses and supporting local"
With the brewery now operating at maximum capacity and demand buoyant, the company has been focusing its efforts on investing in people, and now has a team of 19, plus two on the on-trade sites. Exporting is another possibility in the offing for the brewery and it seems the future for the BBF is looking bright, with Burrows in a bullish mood. "The craft beer movement is going from strength to strength, and there has been a big swing to supporting local businesses, which has been one bonus of lockdown," he says. "The bigger breweries attempt at craft lack authenticity and have only strengthened genuine craft breweries."
While he remains tight-lipped about possible future expansion plans, no crystal balls are required to make a pretty good guess as to the direction in which this pioneer of the west country craft beer scene is headed.
TAGS: