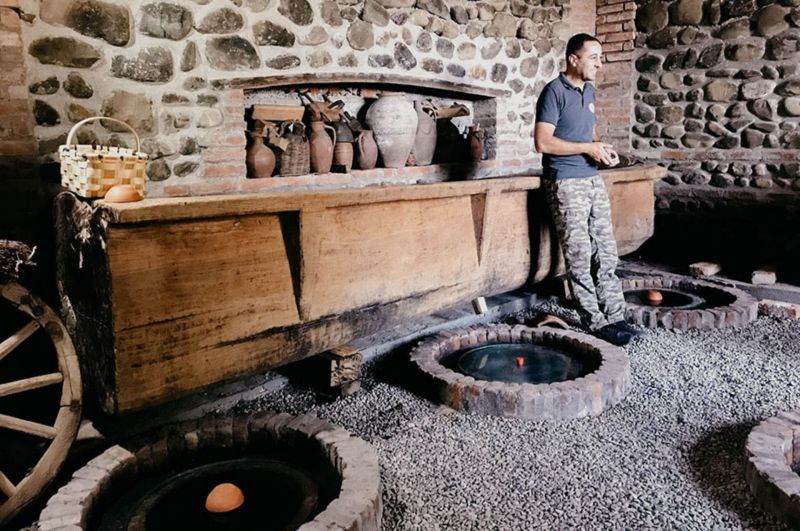 03/12/2021 Sarah Abbott, MW, explains what Wines of Georgia can do to help traders in the UK go about sourcing Georgian wine, and boosting sales via various initiatives.
Despite being one of the oldest – if not the oldest – winemaking countries in the world, with a heritage stretching back over 8,000 years, wine from Georgia is still little-known in the UK market, other than amongst the most dedicated of aficionados. But the country's wine industry body, Wines of Georgia, has taken great strides in recent years to change that situation and raise awareness in key exports markets, with the result that shipments to the UK have rocketed. So why should an independent merchant or restaurant bother listing the wines, and how should they go about it? Wines of Georgia, the UK campaign run on behalf of the National Wine Agency by Sarah Abbott, MW, of Swirl Wine Group, explains what it can do to help UK independents go about sourcing Georgian wine, developing a range, and boosting sales via various initiatives.
[[relatedPurchasesItems-22]]
What role has the UK independent sector played in building sales of Georgian wine?
The independent sector has been hugely important to the development of Georgian wine sales in the UK and continues to be so. We have created several tools as part of the Wines of Georgia campaign to help independents explore Georgian wines and find wines that are available to buy in the UK. In 2021 we launched the Indie Trade Alliance Fund specifically to support independent merchants promoting Georgian wines.
The judging panel which included myself, Dr Jamie Goode, and Tamar Metreveli, marketing director of the National Wine Agency, were hugely impressed with the innovative ideas and activities they have come up with to engage their customers in Georgian wines.
We have also recently launched Georgian Wine Connect - a platform for the trade in the UK to discover more about Georgian wines. The site contains profiles of over 100 Georgian wineries, and these are fully searchable by production size, winery size, wine styles, and whether they are represented in the UK market or seeking representation. It's a great tool for those looking for wines that are already imported, as well as for importers who are looking for Georgian producers to add to their portfolio. In addition, we have also launched the Georgia Trade Guide. Producers have their own profile with details of each of the wines they produce so UK buyers now have access to a wealth of information that was previously not available.
Why should UK independents dedicate valuable shelf space to Georgian wine, given that it is relatively unknown here?
Georgia has something totally unique to offer wine lovers. It is the birthplace of wine and has an uninterrupted 8000-year history of producing wine and some unique production methods. It has over 500 indigenous varieties, of which around 30 are in use today so Georgian wines really do offer something unique to the consumer. People are fascinated by qvevri wine production and this gives the retailer the opportunity to surprise their customers with something different which really suits adventurous wine drinkers who mostly choose to shop in independents where they can find something different.
Georgian wine is quite a niche product in the UK market. How great is awareness amongst consumers and do you think that is changing?
We don't have any official data on this, but we are seeing an increasing interest in Georgian wines from consumers. For example, an increase in traffic to our https://www.georgianwine.uk/ website, which provides consumers (and trade) with detailed information about where to buy Georgian wines, as well as a wealth of educational and background materials. We have also seen an increase in consumer press articles about Georgian wines, as well as a growing number of consumer-focused tastings and masterclasses run by retailers and educators which suggests that there is a growing interest in Georgian wines. The popularity of Georgia as a tourist destination (pre-pandemic!) has also helped boost awareness.
How are sales performing in the UK?
Exports of Georgian wine to the UK have gone from strength to strength. The first seven months of 2021 (to July) saw exports increase by 85% year on year, by volume.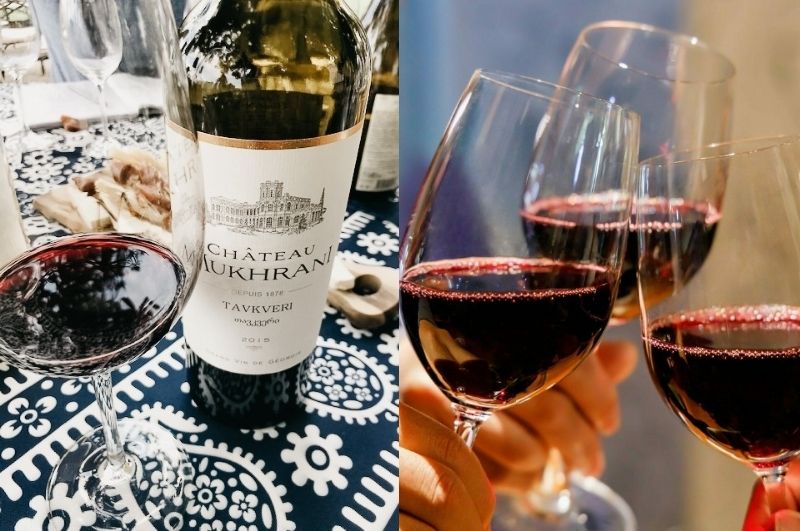 Left: 2015 Château Mukhrani Tavkveri, Right: Group of people cheering Georgian Wine
What Georgian wines should UK merchants list if they are starting from scratch? Is there a variety of styles/varietals that should be included in a comprehensive range?
We would say a mix of qvevri and non-qvevri wines would be a good starting point. There is a misconception that all Georgian wines are made in qvevri (earthenware pots where the wines are fermented and stored), and are all 'natural' and 'funky' - they're not! Making wine in qvevri is a real art and there are plenty of pristine, technically correct wines that are made that way. But the majority of wines are made using conventional methods. We'd recommend including some of the key varietals like Saperavi, Rkatsiteli, and Kisi as starting points and then building from there.
How can wine merchants boost their Georgian wine sales, and persuade customers to experiment?
Tastings and events are key to helping people explore Georgian wines. We can offer a wealth of background materials and presentations to retailers wanting to run in-store or virtual tastings which helps people discover more about Georgia and therefore have the confidence to experiment.
What are Georgia's key export destinations, and which are seeing the biggest growth?
Russia is the top export market and outside the CIS countries, China, the US, and Germany are among the largest markets, with the UK currently in 11th place and showing the fastest growth among these (85% year on year).
What do you think the future holds for the Georgian wine market?
The future looks very bright! The number of importers and distributors continues to increase. Last year four large national distributors started importing Georgian wine, which has dramatically increased their availability, and we are talking to several more this year who want to add Georgian wines to their portfolio. We see huge potential for Georgian wines here in the UK and we are only just scratching the surface in terms of distribution.
TAGS: