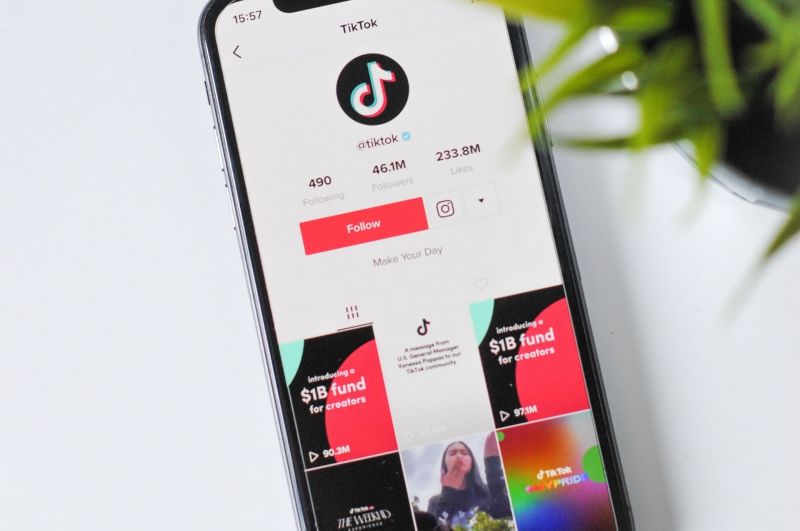 08/12/2021 As one of the fastest-growing media channels in the world and the most downloaded app in the Apple store, TikTok is a trend that you best haven't missed out.
It's all too easy to dismiss TikTok as some new-fangled, here-today, gone-tomorrow social media platform exclusively for self-obsessed Gen Z, but you're missing a trick if you are not including it in the marketing strategy for your restaurant or bar.
[[relatedPurchasesItems-39]]
If it's not something you are currently using, then you might revise your opinion after reading this. The 90-year-old cranberry juice brand Ocean Spray received a staggering 15 billion hits on TikTok in a single month with zero budget, after creator Nathan Apodaca featured the fruit juice when skateboarding to work while lip-synching to Fleetwood Mac.
Nathan Apodaca aka Dogg Face out here vibing to Fleetwood Mac, 1977 hit "Dreams" while enjoying his Ocean Spray Cranberry Juice.
This is the sort of publicity that money simply can't buy, so if you are looking for ways to boost your businesses profile, then it would be almost negligent not to include TikTok in your social media mix, along with Facebook, Instagram and Twitter, which have long been excellent platforms for creating brand awareness and building relationships with customers. While you're unlikely to receive quite so many media impressions as Ocean Spray, for minimal spend you can make a big impression, and creating content with the potential to go viral has never been easier.
As one of the fastest-growing media channels in the world, and the most downloaded app in the Apple store, TikTok can now count around 689 million active users globally as of January 2021, of which 100m are in the US, the vast majority of whom are aged under 30. Users spend an average of 52 minutes a day on the platform, with the time increasing to 80 minutes for those aged under 15.

Apple Store's most downloaded apps leaderboard by SimilarWeb.
At the same time, nearly three quarters (72%) of millennials visit bars and restaurants on a weekly basis, meaning that the so-called Genzennials – millennials plus GenZ –account for a considerable share of the eating outspend, making them a very attractive demographic for the hospitality sector. And they are heavily influenced by what they see on TikTok, according to a new study from marketing agency MGH. It found that 36% of TikTok users have ordered from a restaurant after viewing a video about it on the platform. Key factors driving their decisions are the food itself, particularly unique items. Over half (55%) of users told MGH they had visited a restaurant they saw on TikTok because the food looked appealing, while 51% went because they saw a unique item on the menu. Others were attracted by a "cool atmosphere" (38%), while interesting presentation influenced 36% and a great view 29%.
So how can you channel TikTok and make it work for your bar or restaurant? During the various Covid related lockdowns, the hospitality industry was forced to pivot to remain viable, meaning that many business models had to be turned on their heads, many switching from largely eating in-premises to exclusively delivery and carry out. Technology including delivery apps such as Deliveroo became vital to encourage consumers to keep coming back, and the benefits are now here to stay with TikTok a great way to showcase various aspects of your business from menus and recipes, as well as an effective means of conveying your values. For example, if you pride yourself on your locally sourced organic produce, or your sustainably reared meat, to the way you cater for specific dietary requirements, with TikTok you don't need fancy editing or directing skills to get these messages across.
But for your restaurant to be successful on TikTok, you must first be active on the platform. Start by downloading the free app on Apple or Android, and creating an account with your restaurant's information. Make sure that your username is as close to your restaurant's name as possible and use your logo as your profile picture. What you are aiming at is for viewers to watch your video, remember your name, engage with it by liking, following or sharing, come back for more, and, even better, come to your restaurant in person.
Chipotle, authors of the viral #guacdance challenge, is the king of brands on TikTok. They are the perfect example of a brand really understanding the platform and how to appeal to its audience.
There is no single formula that will guarantee your videos will go viral, but you can build a decent following for your bar or restaurant by bearing a few points in mind. Because TikTok videos are so short (usually less than a minute long), it's important to keep your message short and simple as well as being visually appealing, which isn't too difficult to create with mouth-watering food. Incorporating some humour and elements of surprise, as well as some personality, are also recommended. And once your account reaches 1000 followers you can go live on the app and engage directly with users in real-time. This will enable you to host events such as short cooking classes or a virtual happy hour where you can teach viewers how to recreate one of your signature cocktails, for example. You can also appeal to enthusiastic amateur chefs by teaching basic cooking skills in your live videos.
Giving viewers a behind-the-scenes peek at how your restaurant operates can help make them feel part of your community, so take them on a guided tour of your kitchen and introduce members of the team as they work. And help viewers feel that they are in the know by sharing a particular recipe or cooking technique with them.
Many younger adults, who comprise TikToks's key audience, seek out those brands that offer authenticity, so videos that give them a glimpse of the people and places behind their favourite restaurant dishes can help to create that connection. So feature the farm where the potatoes you made the chips from are grown, or introduce viewers to the barman who makes the amazing cocktails in your bar. Alternatively, take them on a food or drink tasting, letting them see how you go about selecting a particular wine or cheese.
And sharing recipes is a no brainer for a restaurant or bar. Former Master Chef contestant and chef Vivian Aronson (@cookingbomb), has built up a considerable following for her videos showing how to create her favourite Asian dishes such as Chinese pancakes. She also provides handy tips on things such as buying the best sushi knife and how to handle chopsticks.
TikTok can also be used successfully as a recruitment tool, which is a boon for many in the hospitality sector struggling to find staff in the current challenging labour market. For example Chipotle already had 1.6 million followers on TikTok when it decided to team up with the platform as the majority of its staff will likely be Gen Z and millennials. "Why not lean into their energy?" the company's chief diversity, inclusion and people officer Marissa Andrada told CNBC. "TikTok Resumes is a way to engage with them in a way they already like to connect with us."
TAGS: