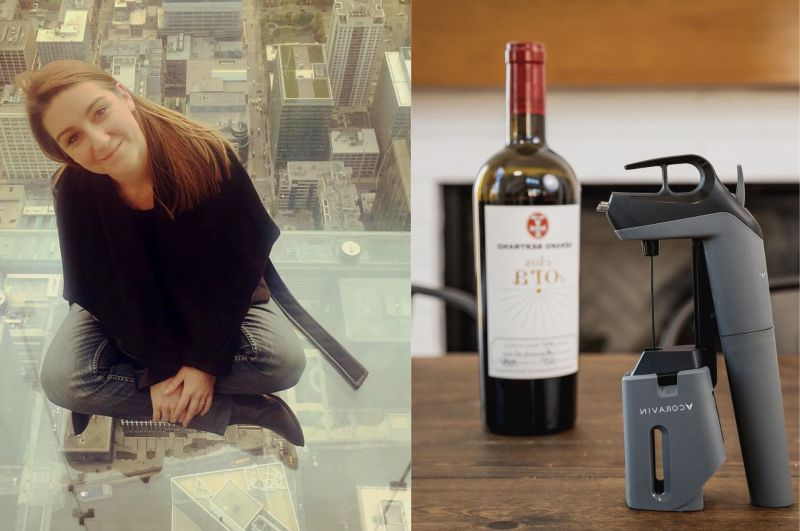 14/02/2023 Is it worth investing in a wine preservation system? Helen Arnold spoke to Coravin's UK sales manager to find out.
Wine preservation systems are nothing new, but is it worthwhile investing in one, and what are the main benefits they can offer? We caught up with Anne Roque, UK sales manager of Coravin who explains the myriad advantages that it can offer the on-trade.
When Coravin, the wine preservation system, hit the market a decade ago it was a game changer for the on-trade. Premium wines that were once firmly out of reach to many wine drinkers became available to a much wider swathe of consumers, albeit by the glass rather than the bottle.
Coravin was not, however, the first wine preservation system. The self-serve Enomatic was launched back in 2002, and the machines which typically fit eight bottles at a time have become a popular feature of wine retail, enabling customers to sample wines without committing to buying the whole bottle, while restaurant staff can offer a broader range of wines — and a higher number of pricier wines — by the glass without the risk of spoiled wine.
However, their drawback is that the machines are expensive and bulky and simply too large for smaller venues, though in the right setting work well.
So when Coravin was introduced as a means of offering customers premium wines by the glass without the risk of the rest of the bottle oxidizing should it not sell, it was embraced by the on-trade, enabling bars and restaurants to offer a far wider range of quality wines by the glass than was previously the case.
Coravin extends the life of a bottle of wine via the use of a hollow needle that penetrates the bottle's cork, and siphons out the wine, replacing it with inert argon gas. The natural cork then reseals itself, ensuring the wine doesn't oxidize, and allowing for as much or as little wine to be poured as required. "There is no contact with oxygen as opposed to a lot of other wine preservation systems out there," explains Roque.
While the most obvious benefit of Coravin is reduced waste, there are other big benefits, including an increase in a venue's turnover. "Waste management is of course a big focus, especially at the moment," said Roque. "But a lot of our customers are looking to generate more revenue by increasing their range by the glass and selling more premium wines." And she claims the demand is definitely there, as customers become more clued up about wine and more knowledgeable. "As we are entering a challenging time of the year, customers might consume less, but it doesn't mean they have to compromise on quality."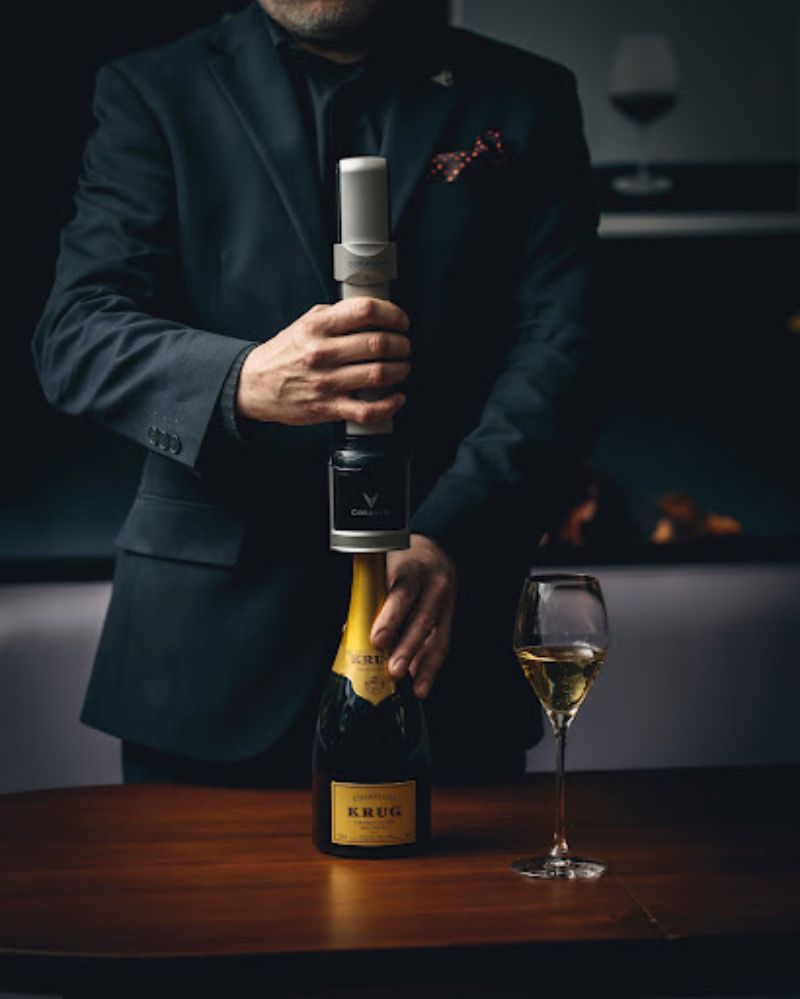 Even sparkling wine and Champagne can now be preserved for months, thanks to Coravin Sparkling
Coravin has recently upped the ante, with the launch of Coravin Sparkling in tandem with Moët Hennessy, a new system that preserves Champagne and other sparkling wines once the bottle is opened, helping to both boost by-the-glass orders and reduce wastage.
Roque says that one Coravin customer, a traditional pub in central London, saw its annual costs slashed by over £2,500 after introducing the Coravin sparkling system. "That pub was not a great seller of Champagne, and needed to preserve it for as long as possible," explains Roque, adding that the cost savings were made without changing the wine list. The venue is now looking to increase its range of sparkling wine by the glass. "We talk about cost saving when talking about preservation system, but we also like to highlight the extra revenue generated by starting a Coravin wine program," says Roque. "By combining both, it can range from hundreds to thousands of pounds per year. It really depends on the number of wines that they will offer and the number of glasses that they will sell." Coravin supports its customers with a profit calculator which shows exactly how much they can generate depending on the number of wines added using Coravin. "It's a great tool that helps the customer visualize the impact that it can have on their business," says Roque.
The key considerations for a bar or restaurant thinking about introducing a wine preservation system, according to Roque, depend largely on the type of venue, their current wine-by-the-glass program, and what they are already offering.
"Some fine dining restaurants will want to push their range by the glass with some really premium wines and will want the reassurance of preservation over a "potentially" long period of time. Some do want to increase their range but are confident that they will move the bottle within a four weeks period," she says, adding that Coravin has developed different preservation systems depending on need. The best-known of the company's devices is the Coravin Timeless which provides users with the reassurance of having months or even years of preservation and costs around £300. Meanwhile, the more recently introduced Coravin Pivot is "incredibly simple to use" offers four weeks of wine preservation, and is priced at £200.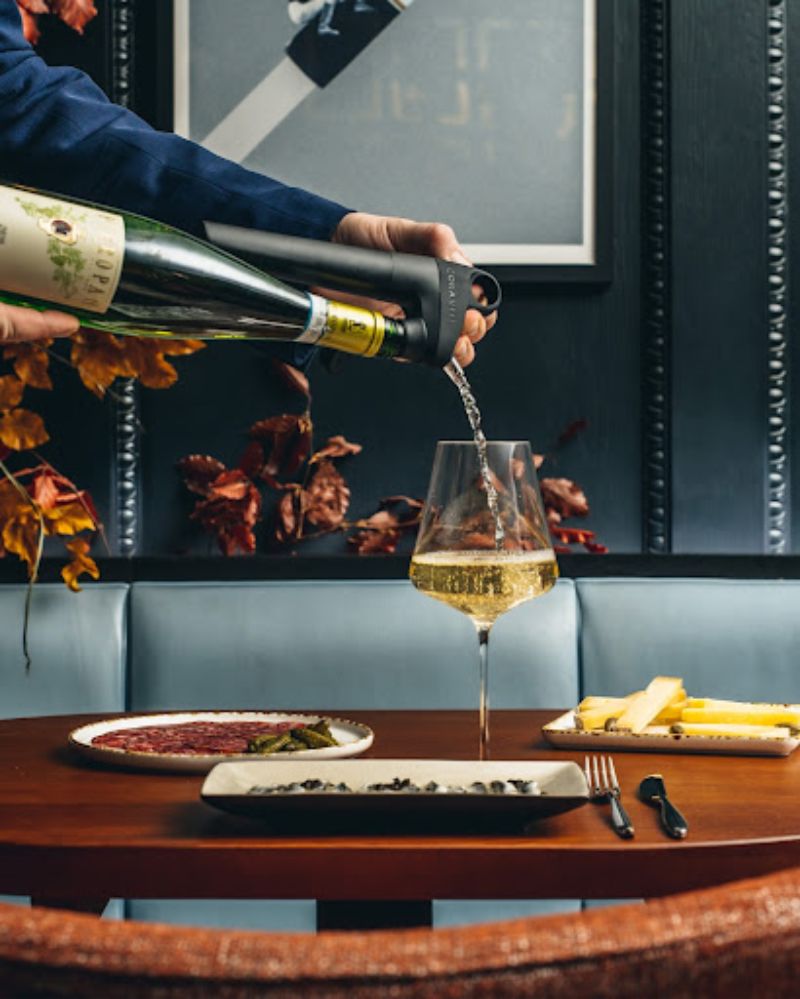 Wine preservation systems can not only help you minimise waste, but also boost turnover by encouraging customers to try premium wines by the glass
So what wines does Roque advise offering by the glass, and how many? "A great selection by the glass should offer different styles, profiles, and price points," she says. "The customer can then be guided to what they are likely to enjoy and/or discover. It can be a selection from the [existing] wine list Creating a great wine list is a lot of work. And the wine suppliers are also a great support to guide their customers on having the best offering for their clientele."
As to the optimum number of glasses to offer, Roque says that is entirely dependent on the individual bar or restaurant.". Every restaurant and bar is trying to better their range and offer a great experience to their customers. So I would recommend increasing the range by two or three premium wines by the glass (per category) to start with and collect data on the extra revenue generated. If it's working very well with their customers, keep pushing the offering. There is no optimum number."
[[relatedPurchasesItems-38]]
Coravin, for example, opened its very own pop-up wine bar in London's Mayfair and offered 300 wines and 50 Champagnes/Sparkling by the glass. "All worked well and we sold some incredible wines during that time. Every restaurant/bar has to make it work for them in terms of logistics, space, cash flow."
While the savings are undeniable, what about the maintenance and upkeep of the system? Coravin offers training on how best to use the system and includes how to clean it, which is required on a daily basis at the end of service. The company also offers accessories to improve the experience of serving wine by the glass with Coravin, including an aerator, which makes the wine drink as if it has been opened for between an hour and an hour and a half before consumption. It also offers different needles for different wines - so vintage needles for older wines or more fragile corks, or fast pour needles for faster service.
Header Image: Anne Roque
TAGS: