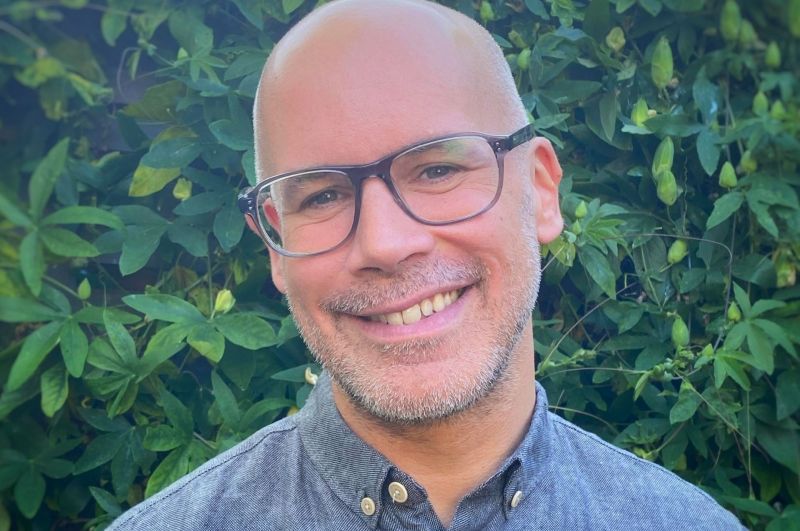 16/12/2021 In this interview, Matt Paice of the Enoteca da Luca lays down his best approach to putting together a wine list and avoiding some of the biggest pitfalls.
Being boring and listing wine by price are two of the biggest faux pas made by your average casual dining venue when it comes to putting together a wine list. At least this is the view of Matt Paice, operations manager at the independently- owned Italian restaurant and wine bar group Enoteca da Luca in the City of London, and Partner in Chishuru, an acclaimed west African restaurant in Brixton. Drawing on his wealth of experience, he gives Helen Arnold his take on the best approach to putting together a list, and how to avoid some of the biggest pitfalls.
[[relatedPurchasesItems-22]]
What do you think are the most important factors to bear in mind when devising a drinks list for a casual dining restaurant?
Define your audience. Are they buying on price, or on quality and interest? Are they coming to be comforted or challenged? Customers will expect the wine choices to be as interesting – or as classic – as the food. What is wine doing for your business? Is it core to your offering, or just an alternative to beers and cocktails? Therefore, how much time do you want to spend thinking about it, talking about it and training on it?
How much do you know about wine? Something that might be new to you can be wearily familiar to an experienced wine drinker. Ask for help. And pay attention to the off-trade. Some wines – Gran Cerdo red springs to mind – are massive in the independent off-trade, so you don't really want to be listing something that the customer knows the retail price of.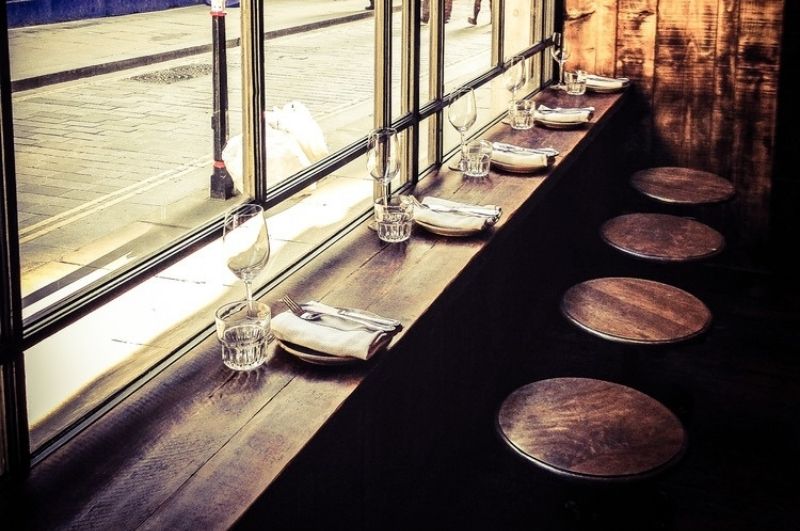 A bar-style table set up by the window at the Enoteca da Luca at St. Paul's.
What are the most common mistakes you see restaurants making with their lists?
Arranging the wine list in ascending order of price. This draws customers' attention to their spending, which is not what you want.
Another common mistake is being boring. There are so many brilliant small importers these days that there's no excuse for relying on bulk wines from New Zealand and Argentina.
Not connecting your EPoS to your ordering and stocktaking system is another no-no. Particularly in the current climate where deliveries are so erratic, you really need to be sure that you're paying for the wines you actually received. Price rises are a fact of life at the moment – and certain big importers have a funny habit of continually raising their wine prices by small increments – so you need a system that lets you spot when purchase prices go out of whack with your list prices.
What are the consequences of not thinking through a list properly?
The thing that keeps me awake at night is the idea of 'leaving money on the table' – that is, customers might have spent more if we'd listed something great at a higher price point than the wine they went for. There is nothing more crushing than having someone carefully look through the wine list and then say "oh we'll just have a couple of beers then."
What is the optimum number of wines to have on a list, and should that be divided equally between white/red/rose/sparkling?
It depends on your cuisine, what customers are coming to you for and perhaps most importantly how much storage space you have! When I had my own restaurants, customers mostly drank margaritas or beer, so one white, one red and one sparkling were all we needed (and could fit). At Enoteca da Luca we have about 100 on the list at any given time, 80% of which are Italian.
At Chishuru, chef-owner Joké Bakare has chosen three whites and three reds, which is enough to give her a bit of range; the nature of her restaurant is that customers are coming to be surprised and to try something new, so she's not bound by the need to have the classic grapes, regions or appellations. We really focused on finding distinctive wines that would complement the flavours of her food.
What about sourcing your wine?
One thing I'd definitely recommend for a casual dining restaurant with a shorter list is to put the whole thing in the hands of one importer. At Chishuru, we've done this with Les Caves de Pyrène and it's worked really well. Logistically it's easier, it makes it easier for the importer to give you better discounts and they're more relaxed about sending you samples of new wines to try because they're not in competition with anyone else for your list.
How do you think a wine list should best be arranged?
Never organise your list in ascending order of price! It draws the customer's attention to pricing. You want to open up a conversation about what the customer is looking for before you get to the price.
At Enoteca da Luca, I rearranged our list by colour and then by region, so for example the Langhe Nebbiolo sits next to the Barbera and the Barolo, which makes sense from a stylistic point of view and also for cross-selling (eg "why not start with this Valpolicella and then try this one after that?").
Nick Gibson's huge, brilliant list at the Drapers Arms flits between grape and region (eg "Loire, Sauvignon and Chenin") and it works. Honey Spencer at The Mulwray is a pioneer of grouping wines by theme (eg "Wild And Free").
How important is it to offer wines by the glass, and how many should an average-sized independent outlet be offering?
At Enoteca da Luca, we have ten whites and ten reds by the glass – but part of being an 'enoteca' (an Italian wine bar with food) is offering that kind of range, so it's not for everyone. Your primary concerns are wastage and staff training. We do a lot of volume by the glass, driven mainly white and rosé. Batasiolo's Gavi at £9.80 for 175ml is a massive seller for us, as is La Scolca's Gavi. Funnily enough for an Italian group, Whispering Angel rosé – which we price very competitively at £49/bottle, or £12.60/glass – is huge. Currently, a great little Montepulciano d'Abruzzo from Masi at Forty-Five 10 at £8.20/glass is our biggest selling red.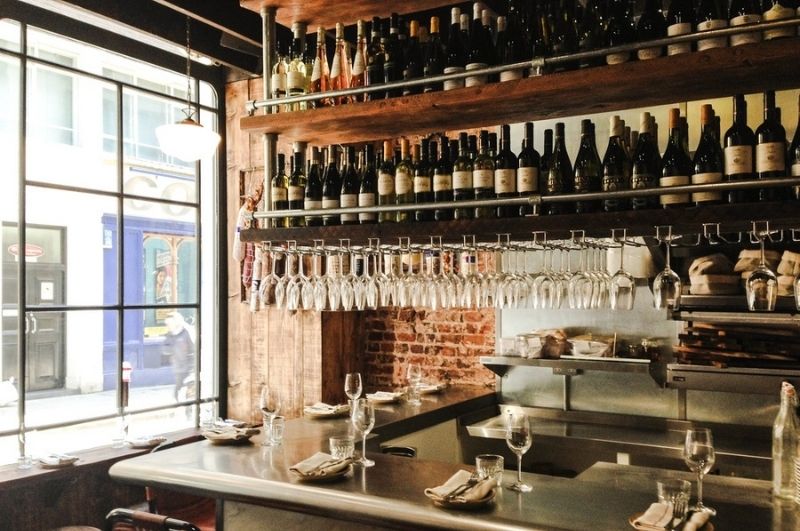 The wine bar at the Enoteca da Luca at St. Paul's.
How important do you think wine tasting notes are on a list? Do you think they add anything and what are the most important factors to convey?
It is really hard to write tasting notes that are interesting, useful and unpretentious, especially for entry-level wines and especially if you are trying to avoid jargon. Many people consider 'tannins' to be jargon but how on earth can I write a note about a Barbaresco without using that word? Certain wines lend themselves to great descriptors ("this acclaimed Chianti is made by a one-eyed Englishman living in the Tuscan hills") but for many, there's little to say beyond "refreshing with flavours of lemon and apple".
Do you think UK consumers' wine knowledge and understanding is improving, or does the appearance of a sommelier/long wine list still bring them out in a cold sweat?
There's a well-worn saying in the movie business, 'nobody knows anything', and wine is like that sometimes. There are just too many wines in the world for anyone apart from the most dedicated sommelier to have deep knowledge of what's out there. Sometimes a certain grape or appellation catches on and customers keep seeing it on wine lists and start asking for it. I'm old enough to remember how Picpoul de Pinet went from 'obscure grape that will give you a bargain' to 'oh god not that again' in the course of maybe ten years, but it was something that customers learned to recognise and ask for.
You have a largely Italian wine list - what is consumers' understanding of Italian wine like?
Italian wine is horrifically complicated even for professionals – just try to get someone in the trade to explain "Trebbiano" to you. For customers, it's hard because, unlike with French wine, so few of the grapes are grown elsewhere and therefore the grape names never end up on any label. All wine drinkers have heard of Gavi… but how many could name the grape?
We are about to list a Ribolla Gialla and I was pleased but also surprised that we had a customer just the other day asking for one.
Are there any must-have wines/regions that you think should be represented on any good wine list?
It really depends on the price point and the style of your offering. I feel like Etna wines are getting more and more attention, but finding a good Etna red for less than £10 duty paid is almost impossible. Similarly, natural wines can offer so much interest but by definition, the good ones are never cheap – artisan winemaking comes at a price.
My experience has been that at the lower end of the price list, customers are open to trying something new. I used to list a Refosco as a house red and it was a big hit. If you are going to do that across the list then of course training becomes more important. From a staff point of view, it's definitely more rewarding as it tests your sales skills.
I thought it was really interesting that Kol – a Mexican restaurant – chose to make its list exclusively from central and eastern Europe; a brilliant way to start the customer conversation.
How important do you think it is to have wines with a point of difference on your list?
I made a fuss with the owners of Enoteca da Luca when I joined that we needed to have more artisan wines because I think inner London customers expect that now, so we've added Passione Vino and FortyFive 10 as suppliers.
What about pricing? How important is it to get that right?
For casual dining, value (or the perception of value) is vital to customers, so I would absolutely stay away from famous French regions and appellations like Chablis, Bordeaux or Burgundy – you will be paying for the name. Having said that, don't get seduced by the idea of finding bargains from obscure winemaking countries like Morocco or Brazil.
What kind of markup would you recommend and how price sensitive are your customers?
I would say absolutely do not compromise on margin below £30 – you want to be doing at least 72% GP if not more; those customers are buying on price. And I would be hesitant to compromise the margin below £40 unless you have a very short list and need some clear blue water between the few wines you do have.
As restaurant operators, our sole sources of income are the mark-ups on food and drink so don't talk yourself into cutting them.
At Enoteca da Luca, our percentage margin drops fairly steeply above £40 and we think in terms of cash margin instead, rather than fixating on a GP number. As an enoteca, it's important for us to offer softer pricing as you spend more, and it really gives the customer an incentive to trade up. As the saying goes, "you can't bank a percentage". We list Cervaro, Italy's most famous Chardonnay, at £97 whereas you'll find it for double that in a posh West End restaurant. Wines under about £32/bottle don't sell well for us, maybe as a consequence of our favourable pricing policy; our sweet spot is about £38. When I started, I pruned the list of weaker sellers and was surprised by how many were the cheapest ones.
How important is a house wine?
One menu technique I've used before and definitely recommend is your 'house' wine doesn't have to be the cheapest on the list. It can be the third or fourth cheapest; it's the one that you recommend as the most versatile, and the most representative of what you're trying to do. Before I did it, I worried that we'd have customers saying "hey that wasn't the cheapest" but it never happened.
TAGS: