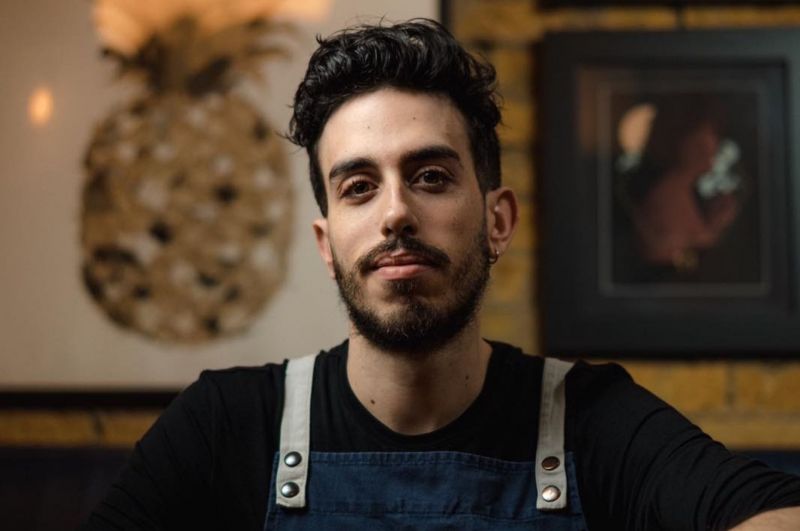 01/02/2022 How Tiago Filipe Vasconcelos manages Coupette, one of the world's best bars while keeping it from becoming pretentious for guests.
Where do you work?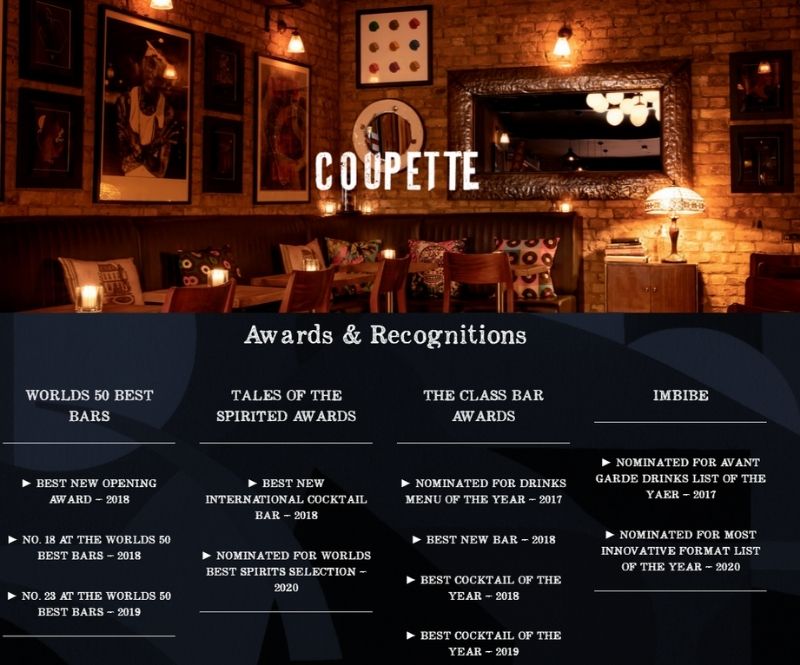 Coupette London, among one of the best bars in the world.
After launching in June 2017, Coupette soon became known for its authenticity and unpretentious style. It has since gained an international reputation, winning the industry's top awards and accolades, and has successfully retained its place in the 2019 'World's Best Bar' list as being the 23rd world's best bar. At Coupette we have always prioritised the result, using mostly classic French cooking techniques. Each of our drinks is presented in beautiful classic glassware and consciously balanced for simplicity and discovery.
[[relatedPurchasesItems-23]]
Prioritising results over techniques, Coupette's drinks are presented in beautiful classic glassware and consciously balanced for simplicity and discovery. Complex ideas and lengthy procedures take place behind the scenes rather than as showy garnishes, leaving Coupette's guests free to explore the stories, flavours, and nuances of the drink through the act of drinking it, rather than depending on elaborate serves and extended explanations. Having already proven to be a success as both a local bar and a world-renowned cocktail destination, Coupette is now looking to expand and bring its signature timeless style to other locations, both in London and internationally. Creating a new personality for each potential new site, Coupette will maintain its core values of serving exceptional drinks at a reasonable price.
Tell us a little bit about yourself. How did you begin your career and how did you progress into this role?
My career as a bartender started in Hotel School in Portugal, where a course in Bar & Hotel Management lead me to work in Hilton Hotels back in Portugal, moving to Amsterdam to work in the chain's Waldorf Astoria Amsterdam and later Door 74 until moving to London where currently I'm the Head Bartender at Coupette.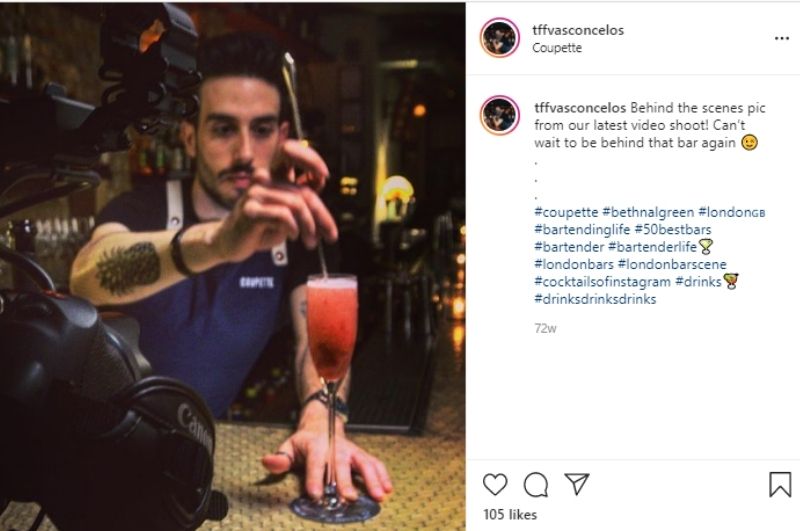 A snap from Tiago Filipe Vasconcelos' Instagram.
What are some of your recent accomplishments?
- WSET Awards - WSET Level 2 Award in Wines and Spirits
- Magellan Gin Competition- Best Signature Cocktail
- Diplomatico World Tournament 3rd Edition, Dutch Final, 2nd Place
- The Great Chase Competition 2017 Netherlands Winner
- VENUEZ 2017 Keynote Speaker
- Opening Team Shanghai Edition Hotel
- Top 100 Finalist WorldClass 2020/2021
Define your role and the tasks involved in your role.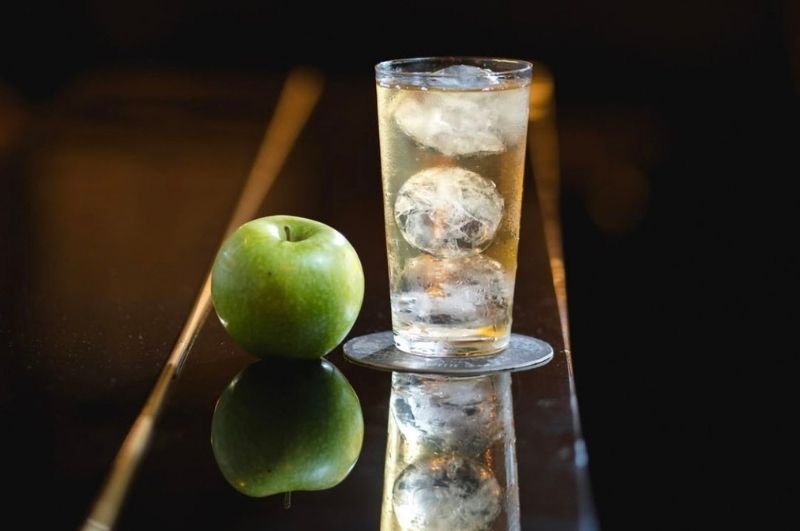 "As the Head Bartender, I am responsible for assuring the quality and standards of service. I also lead the team in the menu and drink creation" - Tiago Filipe Vasconcelos
What questions would you ask the bar owner before you plan your sales growth strategy?
There are always a lot of variables for sales in a bar, but I believe there needs to be a clear vision of what the bar wants to represent, and what the bar's essence is about. What kind of spirits do they want to specialise or what style of drinks do they actually want to sell? If the team knows what they should sell, they will.
How can suppliers work with you to drive sales?
Having good and clear communication in terms of their stock levels, offers and problems.
Give us an example of a profitable bar menu program with examples of brand names and why you have them.
We have the Sunday Development Sessions, where every Sunday we create a 4-drink menu, for 6 pounds per drink, and it's a way to keep the staff engaged and create new drinks that can eventually make their way into new menus, whilst bringing in the crowd on an otherwise quiet night.
What do you look for in items that qualify for house pours?
I believe in taste in versatility - a product needs to taste amazing on its own, but mixable and not overpowering in classic cocktails.
What do you look for in items that qualify for non-house pours?
There are 2 reasons for non-house pours - items that guests request often and items that the team is passionate about and knows how to sell.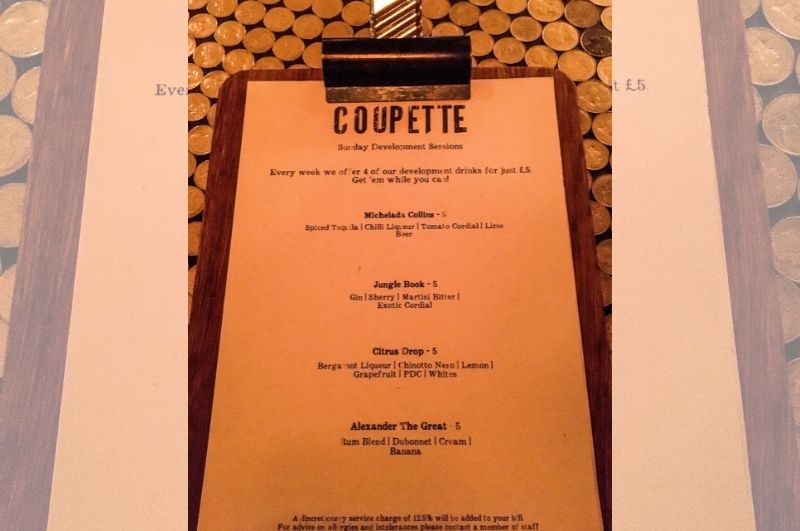 Coupette's Sunday Development Sessions menu.
What are the four main things that you focus on daily in your role?
Service standards
Bar ambiance
Prep levels
Upcoming menus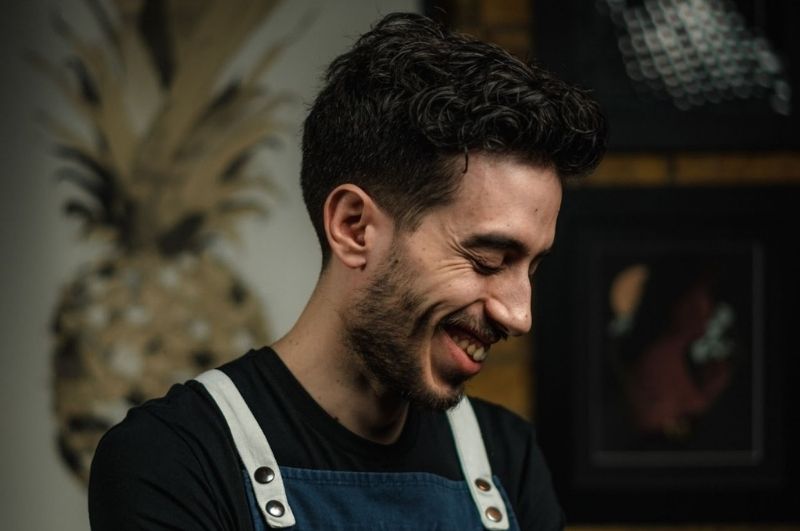 Tiago Filipe Vasconcelos' candid shot at the bar.
5 ways to upsell drinks at the bar
Asking if they want the house to pour in their classic cocktail.
Asking if they would like another drink when their drink is 30% full.
Offering the purchase of takeaway drinks at closing time.
Explaining the house specialty and creating interest in trying it.
Guiding the guest into a higher-tier product through product knowledge.
Tips on training new bartenders
Instead of showing the new team members how to do something, let them do it themselves and supervise.
Spec Testing.
Support their ideas, and give a reason why, if you disagree with them.
Make sure they understand what your bar is about and what you expect from them.
What's trending in the UK drinks scene? Which cocktails, brand names, and categories?
I believe the biggest trend at the moment is simplicity - focusing on single flavours and light/no garnishing.
What's customer service to you?
Customer service for me is treating your customers like guests, the bar being your home. You anticipate their needs and you go out of your way to make them smile.
Define a good bartender
Friendly, knowledgeable, clean, and fast.
How do you manage non-performing brands?
If they are expected by guests to be behind the bar, they will stay, otherwise, they might be used for special menus like the Sunday Development sessions.
How can you increase your beverage sales with the selection you already have?
These increases come from team training that leads to more knowledgeable staff or from special menus.
How according to you has the role of the Bartender evolved, especially now during Covid times?
There has been a need for social media-based focus and also takeaway/delivery programs, but I believe the essence of the Bartender remains unchanged.
Coupette's clip on Youtube on their post-covid precautions taken at the establishment.
What else do you look for in a brand before saying yes apart from quality, value, and package?
Eco-friendliness and history.
Give us an example of a common problem in the bar business and how you handle it.
We reuse flat sparkling wines/ beers/ciders in a welcome drink we offer to our guests and also by transforming them into ingredients for our Sunday Development Sessions.
Sunday Development Sessions Video shot at Coupette, featuring Bar manager Andrei Marcu.
Your favorite places to enjoy drinks in London?
What's the best part of your job?
One of the best feelings in this job is when you are behind the bar, with all the bar seats taken, no one knowing each other, and by introducing and having fun with them, by the end you see all of them enjoying each other's company like they've known each other forever.
What's the worst part of your job?
Probably stock-takes.
TAGS: