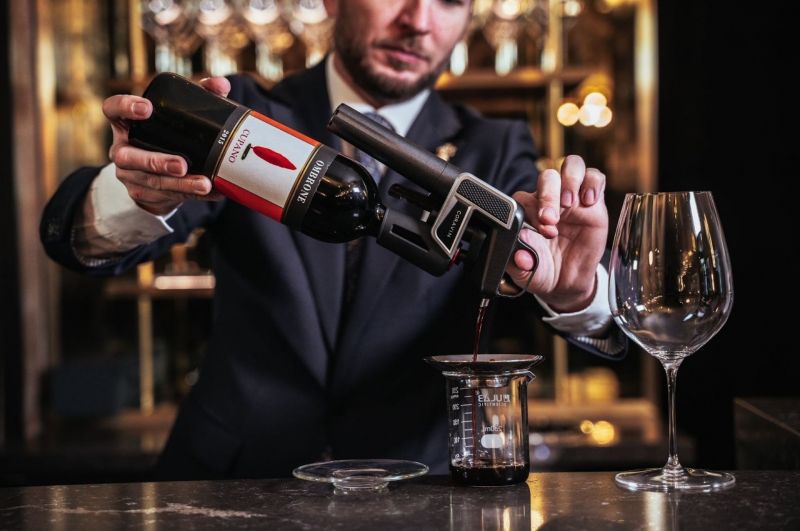 20/01/2022 Meet Daniele Arcangeli, a Sommelier who combines his love of food, wine, languages, travel with his deep commitment to serving his clients well.
Daniele Arcangeli works as a Beverage Director/Wine buyer at Piazza Italiana London.
[[relatedPurchasesItems-22]]
Tell us a little bit about yourself. How did you begin your career and how did you progress into this role?
I was born in Tuscany and my family already worked in hospitality. As my very first encounter with wine I have a sweet memory, I remember my grandpa during my childhood adding a generous splash of red wine from his "fiasco" in my glass. I studied restaurant management at the Hotel Catering School Giuseppe Minuto in Tuscany. My passion for gastronomy, wines, and foreign languages took me to travel a lot.
During my career, I had the pleasure of working with starred chefs and great professionals in Italy, Switzerland, France. Now after almost 30 years I decided to move to the United Kingdom. My first experience in this country was at the Fat Duck in Bray, a beautiful experience, after a while I decided to move to London; I worked at the iconic 67 Pall Mall with a fantastic team of 18 sommeliers. Working there was amazing, like being at a university of wine. I cemented my knowledge around wines and producers that I used to read only in wine books before working there. Since 2016 I started on the path of wine studies at the Court of Master Sommelier.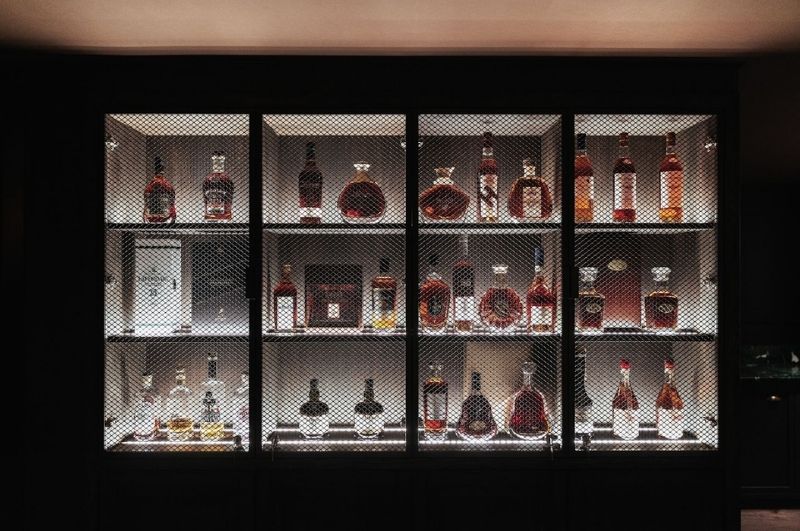 Define your role and the tasks involved in your role.
Since September 2020 I've been working at Piazza Italiana in London initially as Head Sommelier and then I was promoted to Beverage Director. Piazza Italiana is an Italian restaurant based in the city of London; I've followed and looked after the whole opening, unfortunately, postponed because of the lockdown. I'm in charge of all the beverage business operations, I have been selecting wines, spirits and recruiting beverage staff as well. We have a list of around 600 wines from all over the world that will increase soon, Italy is the main core. I'm also working on the floor dealing with customers, coaching my staff, and supporting the service in general. We have potentially 130 covers, 3 bars, and 2 private dining rooms that can host up to 16 guests. We are also involved in organizing banqueting and private events.
What questions would you ask the restaurant owner before you plan your wine sales growth strategy?
I would ask for sure the style of kitchen they want to offer, the price range of the menu and the budget related to wines and staff. These factors are really important to determine the offer, price range, and level of service. Many people think that only the product is important and the human factor is not, so many times we find people in the hospitality industry are not trained or not knowledgeable enough to deal with customers. It's a shame for the hospitality industry. I started my career as a waiter and customer care was the first thing I learned.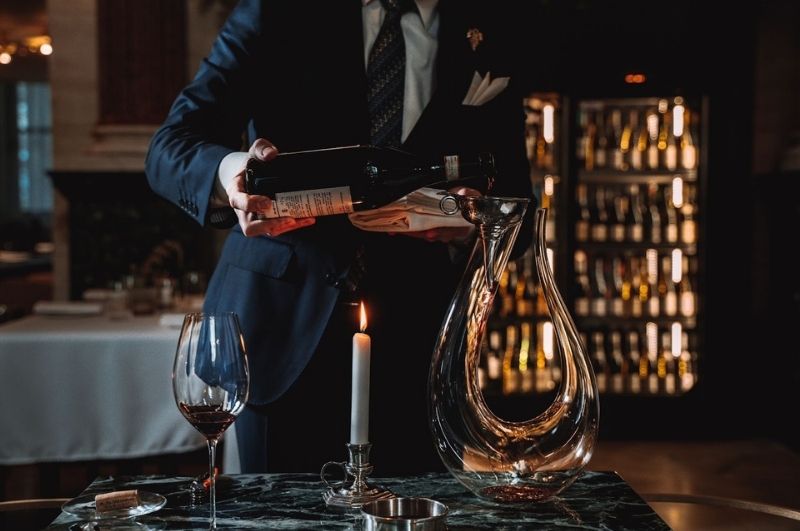 How can suppliers work with you to drive sales?
I have many suppliers but only a few I have a really good deal with. I often meet them and taste new potential wines together. We can find great value wines from all over the world with a good gross profit. Obviously being supported by our suppliers in terms of price and equipment is very important. Every deal is different, for example, I have got free Coravin preservation systems given for our wine program or Verre de Vin preservation system for our house Champagne. Moreover, I have some free stock that I've destined as a prize for whoever gets the best wine sales. I have wine trips and free wine courses for front-of-house staff.
Give us an example of a profitable wine program mentioning wines on your list and why you have them.
Our wine program changes on a monthly basis depending on the deal with suppliers. It offers around 50 wines served by the glass (125ml), by the carafe (375ml) and also by the taste (25ml). We don't buy half bottle formats but I can offer the same quantity by using Coravin, which is the most famous and commonly used preservation system. This program makes our wine stock rotate very easily and we constantly have some new entries'' to refresh our wine list every month. Not buying half bottles I save space in our outlets regarding the wine cellar, wine cabinets, and fridges. Moreover, our customers can have a taste of 25ml of different fine wines like for example Brunello di Montalcino Biondi Santi 2010, Hermitage Blanc 2012 Jean Louis Chave or Chambolle-Musigny Le Cras 2010 Meo Camuzet without spending lots of money and be satisfied at the same time for the experience offered.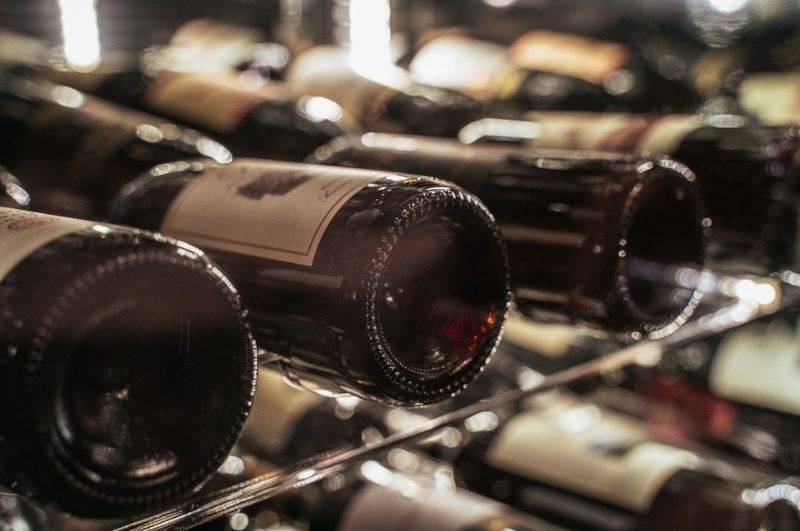 Let's dive deeper into your restaurant wine program. Break it down for us as to why certain elements were included in the wine menu and how these helped the bottom line.
Our wine program is profitable, has a fair gross profit, and is very balanced depending on the cost price range. Our white house wine's selling price is £7.00 for 125ml. That is a nice Soave Pieropan, from one of the respected wine producers for the appellation, also considering where we are based. Among our wine glass selection we offer just to mention a few examples Valdeorras Louro do Bolo Godello Rafael Palacio, Bucelas Arinto Quinta do Romeira, Xynomavro Thymiopoulos at £2.00 by the taste 25ml for whoever want to try unknown grape varieties. Our Gross profit is between the 72-55% range.
What are the three main things you focus on daily in your role?
For sure overseeing the beverage and wine service, training the staff, and doing a lot of office work.
What are the points you look at when selecting a new wine for your wine program?
There are many points I look at when I select a new wine; the style of the producer, quality, value, drinkability, price range, eventually the discounts offered and not least the reliability of the supplier.
What is the difference between the role of a sommelier and a wine director?
For me everyone should be, as a starting point, a good professional waiter, looking after customers, being welcoming and knowledgeable about food and drinks. The sommelier works mainly on the floor suggesting and serving wines and other beverages, probably the person that deals daily more often with customers. The Wine Director is a manager that looks after mainly the beverages business operations dealing with suppliers but also works with other managers like the Head Chef and General Manager. He also selects and trains his team to keep the service standards as high as possible. He must have empathy and be able to inspire people around him and deal with customer complaints.
Define a good sommelier and what qualities you would look for when hiring one.
The ability to communicate and read the guest. As human qualities, humility, respect, and empathy are very important. We never stop learning in our life so knowledge comes with time working hard day by day. Be flexible, understand what your weak points are and the margin of improvement.
What do you look for when you have to evaluate the effectiveness of a wine program?
Profitability and customer feedback are the most important points to look at. The wine list should be original and have character. Regarding my point of view nowadays a Sommelier should be complete, knowledgeable enough to cover any topic related to beverages, how they have to be served and matched with the right food: wines, beers, sake, spirits, and cocktails.
How according to you has the role of the sommelier evolved, especially now during Covid times?
The role of the Sommelier is becoming more important for the business because he or she is the person that drives beverages sales in the restaurant; there are even more customers who are more interested in wine as wine lovers that like discovering new wines. In general, there's more interest in wine. Unfortunately, Covid times together with Brexit have changed the situation a lot in terms of finding and recruiting experienced staff. For sure being a professional Sommelier and being able to work in a FOH team is an added value for the business.
What are some of the most important skills for a Sommelier to have?
For me, a good sommelier is a person that is welcoming and professional with customers, very passionate about their job, knowledgeable and detail-oriented, a good communicator, has empathy, and is able to inspire people around them.
Your favorite places to enjoy great wine in London?
Just to mention some, 67 Pall Mall and Noble Rot.
What's the best part of your job?
I have the pleasure to travel and meet many people in my life.
What's the worst part of your job?
Too many working hours and a lack of private life.
If you had to pick one red and one white wine as your personal best, which wines would they be?
I like wines to be able to show uniqueness and strong character possibly from local grape varieties. I would choose wines from different volcanic regions: as white, I would choose the Fiano di Avellino Guido Marsella from Irpinia Campania, a white that can age for a long time developing a fine smokiness and a huge complexity. As red I would go on the Etna volcano, an area that has caught the attention of the wine world. Prefilloxera vines that overcome 100yo, black soil, an altitude that ranges from around 600 to 1000 m above sea level, different styles depending on the commune. I would choose one of the pioneers of the appellation Etna Rosso Prefilloxera Vigna Don Peppino, Tenuta delle terre nere. Elegance but also the concentration of flavour, acid tension, and capacity to age well.
Any favourite food and wine pairing suggestions for London drinks enthusiasts?
I would love to propose a Valtellina Superiore Costa Bassa 2017 Sandro Fay, a wine produced in a cool climate region in Lombardy, close to Switzerland. It is based on the Nebbiolo grape variety locally called Chiavennasca and vinified in large traditional large oak barrels; an easy-drinking wine, with a subtle body, low alcohol content, crunchy red fruit, smooth tannin, and lovely acidity. I would love to match it with a traditional dish of my region called "Cacciucco alla Livornese" a slow-cooked fish soup made with deep-see bone fishes and also octopus, aromatic herbs, and tomatoes. The dish is mouthwatering and untuose and in terms of intensity of flavor is very punchy.
TAGS: